The Big India Revival
A Once-in-a-Generation Wealth Building Opportunity
With 1,000% Long-term Gain Potential
India's Defence and Semiconductor Stocks Share this Common Secret
Dec 15, 2021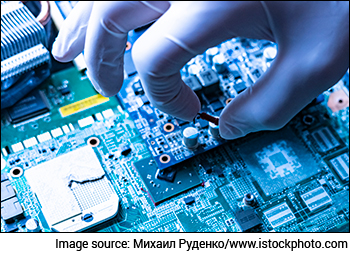 There is good reason why John Doerr, is called the Pied Piper of the Internet.
In 1990s, Doerr's venture capital firm was one of the earliest investors in Silicon Valley startups like Google and Amazon.
It certainly took more than vision and risk appetite for Doerr to bet on such wealth churning giants.
By his own admission, his early days in the semiconductor industry helped him identify the potential in Google and Amazon.
In the semiconductor industry, tens of thousands of people must get lines that are a millionth of a meter, i.e. one micron wide, exactly right.
Or else nothing works. The semiconductor chips fail.
So Doerr's eye for detail helped him see the potential in the largest internet companies across the globe, in late 1990s.
In 2004, when Google went public, Doerr propagated the idea of investing in next generation semiconductor startups. According to him, the tiny wafer like chips could hold the prospect of wealth creation across decades.
Semiconductors such as memory chips are the backbone in emerging technologies. Nothing has been left untouched by the semiconductors - Artificial intelligence (AI) reliant smartphones, Internet of Things (IoT), 5G, the auto sector....
--- Advertisement ---
The Big India Revival

3 Hidden Forces Converging To Trigger a Multi-Trillian Dollar Shockwave

That Could Mint Countless Dollar Millionaires in India

You Could Be One of Them

Full Details Here
------------------------------
Most of the US chip makers rely on foundries in Taiwan to manufacture chips. The foundries, in turn, rely on equipment, chemicals, and silicon wafers from the US, Japan, and Europe.
Semiconductor chip manufacturing involves technological complexity and scale.
Taiwan's TSMC (TSM) and South Korea's Samsung Electronics are the world's largest foundries. They have over 70% of the semiconductor manufacturing market share.
Taiwan in fact accounts for 92% of advanced semiconductor chips. TSMC, is the world's largest contract chipmaker. The current trade tensions between the US and China are likely to impact chip production in Taiwan.
Plus, supply chain disruptions and factory closures during the Covid lockdown led to acute shortage in semiconductor supplies across the globe.
However, the industry is poised for significant growth in 2020s.
Now, it's said that modern wars are fought with semiconductors.
If that's indeed the case, China has no plans to concede.
The capacity for semiconductor chips in China has swelled over the years. SMIC's new Beijing plant, with a total investment of nearly 50 billion yuan (US$ 7.7 bn), is expected to start operations in 2024. It boasts of a monthly production capacity of 100,000 12-inch silicon wafers.
Global supremacy in chip manufacturing could potentially lend China a huge geo-political edge in the post Covid world.
Where does India stand?
Currently, India imports almost all semiconductors.
Its demand is estimated to reach around US$100 bn by 2025 from about US$24 bn in 2021.
Previous efforts to get companies to invest in the semiconductor space had failed. The complex manufacturing processes requires heavy investments, apart from need for supply of uninterrupted clean water and electricity.
India is seen as strong player in chip design. But the companies here have failed to get chip foundries into the country.
When covid hit in early 2020, companies across the globe adopted the China+1 policy. This encouraged electronics makers to see India as a viable chip manufacturing hub.
The investments in India's semiconductor capacity are, expected to grow 4-fold in the next few decades.
The Indian government has approved a US$10 bn incentive plan for chip makers in December 2021.
It's here that India's defence prowess comes in...
This decade is going to be crucial for large chip making countries.
The landscape of the global semiconductor industry may change dramatically in coming decades.
China is set to become the biggest chip producer after Taiwan and South Korea. By 2024, China is expected to have 20% share of global chip capacity, Japan 12% and the US, 10%.Meanwhile, China believes the US could inflict acute economic pain by depriving it of the most essential physical resource of the 21st century: Semiconductors.
That is where India fits into the Chinese plans.
The semiconductor industry requires two key resources sand and freshwater. 10,000 litres of fresh water is needed to manufacture one 30-cm silicon wafer. So, China has been aggressively trying to acquire these critical resources in India's northern borders.
To add to that India and Taiwan are in talks for lower tariffs to shift semiconductor capacities to India. This too has made China insecure.
The semiconductor problem, the increasing vulnerability of China's economy and its military's supply constraints, will lead China to consider military action against Taiwan.
India had to rely on US military capacities during the Doklam crisis in 2017. This was the first time the country did so since the 1962 war with China.
To protect its borders and ring fence India's economic prospects in areas such as semiconductor chip manufacturing, India needs strong military capabilities.
Therefore, India's indigenous defence and chip making plans are joined at the hip.
Understanding this common link between India's leading defence and semiconductor stocks could help investors take advantage of critical policy tailwinds.
For more on the best defense stocks, I recommend watching my video presentation...
Warm regards,



Tanushree Banerjee
Editor, StockSelect
Equitymaster Agora Research Private Limited (Research Analyst)
Recent Articles