What You Should Do Now After One of the Biggest Monthly Rally in Decades
Dec 1, 2020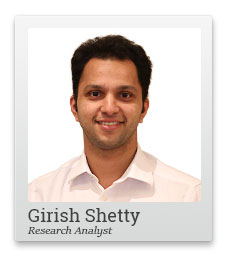 What a staggering month we've had in the stock markets.
More so in smallcaps. The BSE smallcap index was up 13% in November.
The BSE smallcap index has risen more than 10% in a month only 6 times in the last decade. Yes, 6 times in the last 120 months.
And 3 of those 6 months have occurred in 2020!
Foreign investors (FIIs) have invested a net amount of around Rs 650 bn in November. This is the biggest purchase by FIIs by a big margin so far.
The same foreign investors had withdrawn around Rs 650 billion in March this year. Post its March lows, the BSE smallcap index has seen a 90% rise.
FIIs clearly got the market wrong then. They could be on the wrong side again this time as well.
--- Advertisement ---
No crash, correction, or pandemic can STOP This..

At last, it's happening...

Right here in India...three hidden mega-trends are converging for the first time ever to trigger an economic boom of unparalleled proportions.

A boom so powerful - no crash, no correction, and no pandemic can STOP India from becoming the next economic superpower...

And those who take advantage of this mega shift could potentially generate massive wealth for themselves and their families in the long run.

We are talking about  potential 1,000% gains...and perhaps even more over the long term.

But trust me, people who pass this opportunity will regret their decision in the years and decades to come...

So, if you want to save yourself from potential downsides of this mega shift...

...and instead, leverage on it for potential windfall gains...

Join us on 15th April at my special event...

We'll reveal the full details there.

Here's Your Free Pass to Our Special Event
------------------------------
So how should you, as a retail investor, react to such a strong rally?
Here's what we are trying to do in our Hidden Treasure service for our subscribers. I believe this will be a good framework to follow for retail investors as well.
First, don't make buy or sell decisions based on the rise and fall in the stocks you hold.
Not every stock that has fallen is a bargain. Nor is any stock that has risen sharply expensive and needs to be sold.
The stock that has fallen might have fallen due to deteriorating fundamentals. It might have no place in the post covid-19 world.
If that is the case, it's better to keep a safe distance from it. In case you're holding such a stock, now is the best time to get rid of it.
There can be one more reason to sell a stock. Valuations running way ahead of fundamentals. The business might still be good but there is no margin of safety in valuations.
Revealed: 3 Stocks for Potentially Massive Gains
In such a case, it might be better to exit right now. You can always keep the stock in your watch list and look at it again when valuations turn favorable.
For our Hidden treasure service, we have closed 5 positions (including a partial sell) in the past month.
For some, it was purely based on valuations. For others, the business had deteriorated.
With so many sell calls, are we expecting the market to go down from here?
Not exactly. Our calls were all based on individual stocks and their businesses or valuations.
There are many stocks we are holding that we still believe have a huge upside.
--- Advertisement ---
[Watch Now] 3 Little-known Stocks We are Super Bullish On




Click Here to Watch Now
------------------------------
The businesses behind these stocks are intact. The prices though haven't caught up with the fundamentals yet. We continue to hold on and are positive on such stocks.
That is what we recommend to our subscribers too. Don't try and time the market.
Yes, be cautious in such a rally. Don't go chasing after anything and everything to participate in the rally.
At the other extreme, don't sell everything and hope the market crashes just so that you can buy again.
Yes, the smallcap index is up 90% from its March 2020 lows. But it is also still down 15% from its January 2018 peak.
Focus on picking and keeping fundamentally strong stocks in your portfolio.
There are still a lot of bargains left in the smallcap space. You just need to know where to look.
If you pick the right ones, the potential rebound in smallcaps and subsequently on your portfolio can still be huge.
Warm regards,



Girish Shetty
Research Analyst, Hidden Treasure
Equitymaster Agora Research Private Limited (Research Analyst)
PS: Tanushree was live at the Explosive Profits Summit yesterday. She talked about India's #1 Defence Stock. You can watch the video of the event now.
Recent Articles