Make the Most of the Smallcap Rebound with These Stocks
Dec 3, 2019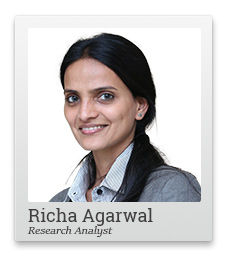 The bad news has been pouring in.
The auto sales data is out for the month of November. And it's been bad enough to make auto stocks tumble.
The GDP growth, despite all assurances, has touched 4.5%, the lowest since the first quarter of FY13.
By the way, before you let that stat keep you from investing in stocks, you should know that last time GDP growth came so low, the Sensex and smallcap index saw some of the biggest gains in the upcoming months.
GDP Growth and Market Movement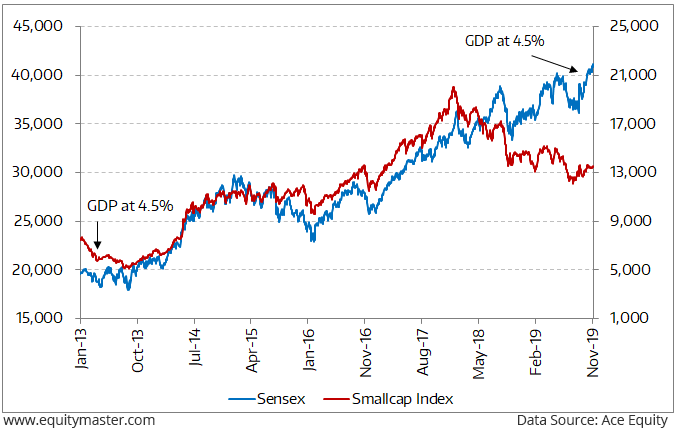 Will the history repeat this time?
To be honest, I'm not sure about the Sensex. I can't explain the Sensex's rise despite no strong show at the earnings level. But I know that people are scared and they are willing to compromise on the returns for the promise of safety. That explains the divergence between the performance of smallcap index and Sensex in last one and a half year.
Which brings me to a great investing opportunity in the smallcap stocks.
It has nothing to do with projecting historical trends. Or taking a broad -based view of the markets. Or speculating where the money will flow next.
It's based on a simple fundamental logic, which I believe will influence the long-term trends in the markets.
As I have shared before, the markets move on two factors - supply of capital and fundamentals.
The supply of capital can be erratic in the short term... like it is now... moving from small and mid-caps to large caps, especially Sensex stocks, irrespective of the earnings trend or growth potential.
To recap...
At the end of March 2019, almost 74% of the market cap was concentrated in top 100 companies qualified as large caps... This is up from 67%. On the other hand, the smallcaps contribution to overall market cap had fallen from 16% to 10%. The institutional money in smallcaps has declined from Rs 4.4 trillion to Rs 2.8 trillion, down 36%. The entire smallcap space commands just 5.1% share of institutional money.
But what about fundamentals?
--- Advertisement ---

Announcing Equitymaster's Biggest Wealth Creating Project Ever

We are very excited to introduce you to Equitymaster's Biggest Wealth Creating Project ever...

The Rebirth of India.

The wealth creating opportunity that we discuss in this project is HUGE.

You cannot afford to miss it. For anything.

Sign up today for our MEGA Summit where we will reveal full details about our Rebirth of India project...

Including details of 7 specific stocks that we believe are best poised to ride this coming boom in wealth creation.

All you need to do is, To join this FREE MEGA Summit - click here...
------------------------------
While last few years have not been encouraging for the corporate earnings across the market caps, it wouldn't be fair to paint all stocks with the same brush.
Under my coverage, there are nine smallcap stocks in Hidden Treasure that have grown earnings since FY18 despite a lackluster and uncertain global and domestic macro-economic environment, and that one could consider buying within the maximum buy price levels.
You see, amid all the fear, there has been a correction in their stock prices despite the growth. And this offers a great rebound opportunity in them but you must act soon! Smallcaps are notorious for moving fast.
Wondering where to start? I recommend you begin with my top stock pick for 2020.
Warm regards,



Richa Agarwal
Editor, Hidden Treasure
Equitymaster Agora Research Private Limited (Research Analyst)
PS: Dear reader, to know all about my #1 small-cap stock pick for 2020 please click here.
Recent Articles