Here's How You Can Double Your Income Without Slogging for It
Dec 3, 2020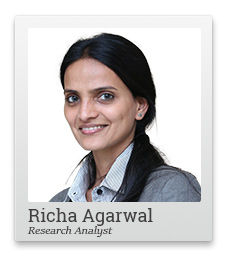 My friend is in a lot of stress these days.
He works in the advertising industry.
A year ago, he had he shifted from a far off suburb in Mumbai to Andheri, after switching to a new job that offered a pay hike.
The rent was more than double than his old place but with a fatter paycheck, he was very well in a position to afford it.
The pandemic has played havoc with his plans. To be sure, he and his family are safe. It's just that amid a cut in its budget, the company has gone for a 40% pay cut across departments.
This is a big hit for him considering the family obligations he has. To make matters worse, his landlord is insisting on increasing the rent.
I consoled him saying that he still has a job while millions have been laid off amid the pandemic.
--- Advertisement ---
[Alert] Sell These 3 Stocks Immediately

These 3 stocks are ticking time bombs in your portfolio.

It is very likely that you could be owning these 3 overvalued... fundamentally weak... ready to crash stocks... in your portfolio today.

Because many stock brokers have painted rosy pictures of these stocks.

But the reality is starkly different.

If the market crashes, then these stocks could wipe out your wealth.

You should get rid of these stocks as soon as possible.

We are going to reveal details of these 3 landmines at our upcoming special event.

You can click here to sign-up in 1-click. It's free.
------------------------------
But even to myself, my words rung hollow.
It's unfortunate it took event like Covid for people to realise their idea of a 'set' life, centered around their current job, is only as stable as a house of cards.
Rahul Shah is an exception though.
Long before the pandemic struck, he had a plan to double one's income every five years. In fact, he developed a system for it, his Automatic Income project.
Here's Rahul in his own words...
You have to put your savings into a bank that pays the highest interest rate.

An interest rate that has doubled your money every five years in the past and if you are skillful, even more.

I am talking about investing in India's best companies.

The best run and the most capital efficient of India's companies earn 15% and even more on the capital that has been employed in the business.

They are like a bank, paying 15% interest, or even more, every year like clockwork.

They then invest most of this capital back in the business and again earn 15% on it.

Thus, this 15% keeps compounding and before you know it, your investment has generated a lot of wealth or a lot of claim cheques for you.
This makes sense to me.
India's Revival: A Once-in-a-Generation Wealth Making Opportunity
The goal is to achieve the exact same monthly income an investor is earning from his regular job as fast as possible.
So, if someone is earning Rs 50,000 per month, the goal is to earn another 50,000 in a few years' time and sustain it.
If someone is earning Rs 100,000 per month, the goal is to earn another Rs 100,000 per month as quickly as possible.
Nothing fancy.
It's realistic, achievable, and something that would allow you to sleep well irrespective of the disruptions happening around you.
Best of all, you can double your income without slogging for it.
--- Advertisement ---
[Watch Now] 3 Little-known Stocks We are Super Bullish On




Click Here to Watch Now
------------------------------
So how can you put this plan to action?
Rahul Shah is going to spill the beans soon. He will be sharing the details of this strategy in a series of free video classes between 9th and 15th December.
All you need to do is register for these classes.
My friend is really looking forward to these videos. So are more than a thousand people how have already signed up.
I believe you should join them too. I believe Rahul can positively change your financial future forever.
Sign up for Rahul Shah's Automatic Income project here.
Warm regards,



Richa Agarwal
Editor, Hidden Treasure
Equitymaster Agora Research Private Limited (Research Analyst)
PS: Free registration for Rahul Shah's Automatic Income video classes is available here.
Recent Articles