Ride the EV Revolution with HDFC Bank
Dec 3, 2021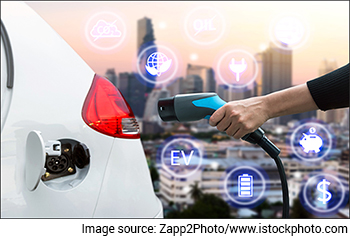 Star Wars.
I was quite taken aback by these words from a friend, who is a self-appointed advocate of this Hollywood franchise.
The reason? We were not discussing movies, but factories. More specifically, the brand new electric vehicle factories.
My friend, a journalist, had visited Ola Electric's gleaming new factory in Bengaluru.
And all she could relate the factory to was her favourite sci-fi movie series!
She was told that 5,000 robots are digitally integrated into Ola's AI-enabled mega-factory.
They optimise performance, productivity, and product quality.
Engineering major ABB's robots and automation solutions ensure remote digital connectivity at Ola's factory.
--- Advertisement ---
Rahul Shah's Lazy Millionaire Summit Is Now LIVE...

Discover the Master Key to Turning Every Market Crash to Your Advantage

Hurry up! Join in now...

Click Here to Join the Lazy Millionaire Summit
------------------------------
The automation solutions are deployed in the factory's key manufacturing process lines, including its painting and welding line.
The ABB robots are deployed extensively for the battery and motor assembly lines.
My friend was so impressed with what she saw that she cannot wait to buy the stock of Ola when it debuts on the stock market. After all, the EV opportunity is associated with the early stage billionaires.
Tesla's Elon Musk is not the only one.
A staggering amount of wealth is being generated in record time.
But now, after playing out in the United States, Europe, and China, the EV megatrend is just beginning to play out in India.
The problem is that everyone is looking for the next Tesla.
Investors take it for granted that India's Tesla could be one of the major auto stocks. While this may be the case a couple of years down the line, a gargantuan opportunity in a niche EV space is getting completely missed.
Equitymaster's Stock Screener: Identifying High-Potential Stocks Has Never Been this Easy
Consider these facts...
The number of electric vehicles sold in India could go up 15 times in the next decade.
Almost 80% of new passenger vehicles are financed in India.
EV financing in India is a Rs 3.7 trillion opportunity by 2030.
So, no matter whether it's Ola or any other EV brand that becomes popular, a handful of EV financers will have their hands full.
Being one of the biggest auto lenders in India, HDFC Bank has a lot going its way.
The bank is already making plans to tap into this massive opportunity, without compromising on its credit appraisal skills.
--- Advertisement ---
There is a new paradigm shift currently unfolding across the global economic landscape...

And at the heart of this massive SHIFT is...

INDIA!

India is on the verge of a multi-trillion-dollar rebirth that could potentially mint countless new millionaires...

If you are on the right side of this mega shift, then it could be your biggest opportunity to build potentially massive wealth over the long term.

Click here to find all the details...
------------------------------
And the bank's digital presence could help it enormously to integrate into the EV ecosystem.
My research on the EV ecosystem threw up several such hidden opportunities which are being completely ignored.
If you want to know all about this research, then I would like to invite you to join me at my upcoming special event on Tuesday, 7 December.
And please don't invest a single rupee in EV stocks before studying what we are going to reveal at this event.
You can book your free seat by clicking here.
Warm regards,



Tanushree Banerjee
Editor, StockSelect
Equitymaster Agora Research Private Limited (Research Analyst)
PS: Equitymaster's secret research has uncovered a little-known way to play the massive 15x Profit opportunity in electric vehicles. Details here...
Recent Articles