How Many Stocks in Your Portfolio Can Go Down in 2022?
Dec 6, 2021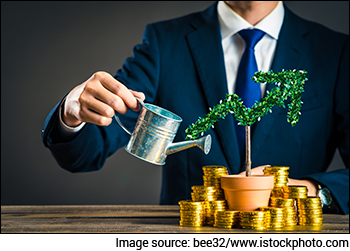 As an analyst, I love contradictions.
Especially when they involve some super smart people.
Contradictions help you analyse the subject matter at a deeper level. They often lead to new and better insights.
Take the contradiction between what Charlie Munger and Ben Graham think about how you should approach investing.
Here's Charlie Munger.
'Be a business analyst, not a market, macroeconomic, or security analyst.'
Munger and his partner Warren Buffett's rigor in identifying a good business is legendary.
They believe in owning the best businesses in the world and then let the magic of compounding do its work.
Buffett has even gone to the extent of saying that he always buys on the assumption that they could close the market the next day and reopen it for five years.
His mentor Benjamin Graham had a different view on investing though.
--- Advertisement ---
Govt's 257 Bn Rupees Boost for EVs- Your Chance for Potentially Wild Profits

Recently, the government announced that it will be pumping a whopping 257 billion rupees into electric vehicle initiatives by 2025.

We urge you to become a part of the EV gold rush that's happening now and gain the early mover advantage.

We have closed in on 3 EV stocks which could potentially hand you over insane profits in the long run.

We will be revealing all the details in one of our upcoming special online event.

Sign Me Up For the FREE Event
------------------------------
In fact, the very title of his most famous book, Security Analysis, tells you that he wanted investors to be security analysts and not business analysts.
Now, there are quite a few differences between the two approaches in my view. Here's the main one.
For a security analyst, almost every stock out there is cheap at one price and expensive at another.
A business analyst on the other hand is obsessed with the quality of the underlying business.
If he believes the quality continues to be top notch and the company has a durable competitive advantage, the time to sell the business is never.
A security analyst on the other hand, doesn't distinguish so much between a fair business and a very good business. He is of course wary of not investing in a bad business.
But beyond that, all the businesses are same to him. He is not averse to getting out of even a great quality business if he earns his 50%-100% returns over a period of 2-3 years.
Therefore, the very first thing you need to figure out for yourself is which category do you fall into?
Are you a business analyst? Is your portfolio brimming with some of the best quality businesses in India that were bought at reasonable valuations?
If that's the case, then you don't have to worry about what the stock market is going to do today, tomorrow or a couple of years from now.
Revealed: Richa Agarwal's Top 3 Stocks for 2022
Stock market matters to you only to the extent that it allows you to buy your favourite companies at not so exorbitant valuations.
However, if you are a securities analyst, which I'd like to call myself, then having some idea of what the stock market is going to do over the next 1-2 years matters a great deal.
As securities analyst my job is to put together a group of 15-20 stocks each bought at a significant discount to their intrinsic values based on a measurable parameter like price to book value or PE ratio.
In this approach to investing, there is safety in diversification. Not all the 15-20 stocks may go on to give good returns over the next couple of years. Some stocks may fall, some stocks may stay flat while some others may witness a significant jump.
However, as a group, they are likely to do well and this is what matters.
A great time to build such a portfolio is when the market has fallen at least 20%-30% from the top because then a lot of bargains become available.
Likewise, a great time to sell these stocks is after markets have gone up at least 50%-100% from their lows because by then, the group as a whole may have also gone up significantly.
Thus, it becomes very important to keep one eye on the portfolio and one eye on how the broader stock market is likely to behave over the next 1-2 years.
If there is a strong chance the market is going to go down, then one can gradually start selling and building cash so that it can be deployed in the next batch of cheap stocks.
And if there is a strong chance that the market is going to go up then we can keep a lot of money in stocks so that we capitalise on the bull run.
--- Advertisement ---
Markets in Downturn? Here's What You Must Do...

The markets corrected sharply in recent days...

And it's impossible not to be reminded of the bloodbath we saw in March 2020.

The truth is...

Stock market corrections and recessions are inevitable and painful...

But this #1 video with Rahul Shah has the power to change how you perceive corrections and crashes. In fact, you'll master the art of turning every market crash to your advantage...

Watch the COMPLETE Lazy Millionaire Summit Right Now
------------------------------
However, does any such reliable method exist? Can we know with a high degree of predictability what the stock market is likely to do over the next 12-18 months?
I have put together the following chart with exactly this idea in mind.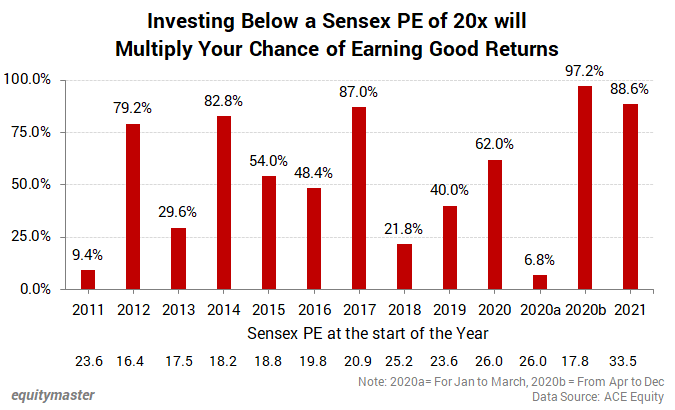 There seems to be a close link between percentage of stocks that end in the positive (universe of top 500 stocks by marketcap) in a calendar year and the market valuation at the start of that year.
Consider the year 2012, 2014, 2017, and 2020b. These are the tallest buildings in the chart where 80%-90% of stocks have ended up giving positive returns for the year.
In all four instances, the Sensex PE was below its long term average of around 20x-21x.
Likewise, some of the lowest percentages are when Sensex has traded in the region of 24x-25x. At these valuations, it's a big struggle to find stocks that will end positive for the year.
Of course there are exceptions where despite the Sensex PE being low, winning percentage has been low and despite it being high, the winning percentage has been high.
To be honest this is not surprising. Predictions in the stock market are not 100% scientific. At times, humans can remain irrational longer than what the numbers suggest.
I think we can safely conclude that whenever the broader market valuations are close to below their long term average at the start of the year, at least 70% of the stocks in your portfolio could end up in the positive over the next 12 months or so.
Of course, this is provided stocks in the portfolio are of a minimum required quality.
Likewise, when the market valuations are well above the long term average, say more than 25x, there's a high chance less than 50% of the stocks in your portfolio may end up giving negative returns.
Unfortunately, the Sensex currently trades at a PE of close to 27x. This puts the odds of your portfolio doing well over the next 12 months, at a low number.
There's a more than a decent chance that most of the stocks in your portfolio may give negative returns in 2022.
This is more for people who are security analysts and are not taking a long term view of their stocks.
So, if you fall more into the security analyst category, you may not want to take a big exposure to stocks in one go and perhaps stagger it out.
What if you already have a big corpus and are sitting on gains? Then perhaps it's a good idea to lighten up a bit and get into the safety of fixed deposits or bonds.
Warm regards,



Rahul Shah
Editor and Research Analyst, Profit Hunter
Recent Articles