India's Third Giant Leap
This Leap Could Potentially Generate Gains
Far Bigger than Anything We Have Seen in Our Lifetimes
My Smallcap Picks Beat the Index by 3X. Here's How I Did It...
Dec 6, 2022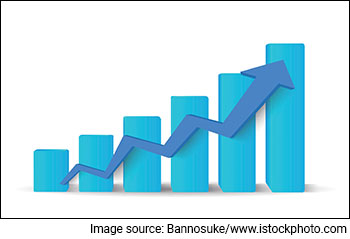 I'm very excited to write this letter to you.
A few days ago, my team and I received the audited quarterly track record of the smallcap recommendation service - Hidden Treasure.
It gives me great pleasure to share our track record with you. Since inception in February 2008, until September 2022, Hidden Treasure has delivered an internal rate of return (IRR) of 26.9%.
Over these nearly 15 years, the IRR for the Sensex and the Smallcap Index are 8.2% and 7.7% respectively.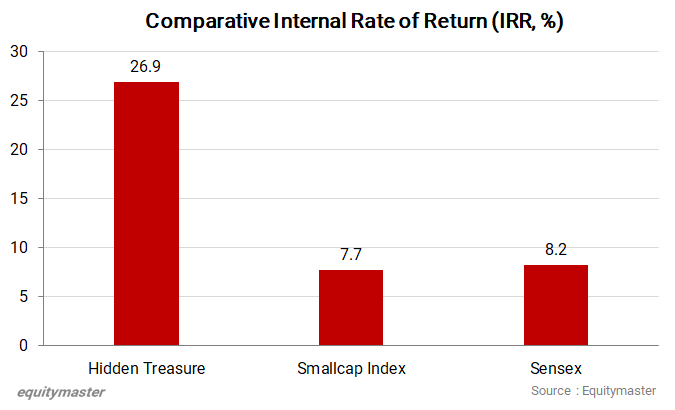 This is an outperformance of more than 3x over the benchmark indices.
All recommendations - open, closed, successful, and failed, have been considered for this. And we have not counted dividend returns. That's extra, over and above the 3x outperformance.
Before I go ahead, here are a few terms I must clarify.
Open positions are the ones that are yet to complete the recommended horizon period.
Closed positions are stocks that we have recommended subscribers to exit or in case of recommendations past the horizon period, we have not given a 'Sell' view yet.
--- Advertisement ---
India's Third Giant Leap

India is precisely at the same point in its growth journey that propelled nations like USA, Japan, China and South Korea to the pinnacle of economic success.

Our research suggests that India's third giant leap could potentially generate gains far bigger than anything we have seen in our lifetimes.

Our co-head of research, Rahul Shah, has already identified the first 3 stocks to ride this giant leap for you.

He is going to share his entire research... including details of these 3 stocks at his upcoming event.

See Full Details
------------------------------
The horizon period itself varies from 3 to 5 years across all our recommendations.
Successful positions are a subset of the closed positions.
We define 'successful recommendation' as one that has met target price within the horizon period, or open positions that are past the horizon period and have delivered a stock price CAGR of 15% or more.
Any position that is past the horizon period without yielding that CAGR or has been closed at less than 15% CAGR return, is considered a failed recommendation.
But this information about IRR would be incomplete without mentioning a few facts:
Our success ratio over this period (Successful Recommendations/Closed Recommendations) is 67%.
There are 94 recommendations that are closed or past the horizon period. 63 of these have been successful, i.e. have a CAGR of 15% or more. 31 stocks have failed to meet this CAGR cut off and are considered failed.
I know 67% does not sound impressive, especially to someone unseasoned in investing.
But that's the nature of smallcaps. The space is inherently risky. To have a 100% success ratio even in largecaps is an ambitious and illusive goal.
As the legendary investor Peter Lynch has said...
In this business if you're good, you're right six times out of ten. You are never going to be right nine times out of ten. Losses do not mean you are a bad investor.
There are times when we have been wrong and humbled. We have been transparent and have owned up our losses. Most importantly, we have learnt from them.
While there have been losers, as the IRR suggests, it has not derailed the wealth making journey for our subscribers. The gainers have more than compensated for the losses.
And that's what I like the most about smallcap investing. There is a wide universe to choose from. If you have a strong process in place, you are likely to do quite well without needing to be right 100% of the time.
In fact, we attempt to set expectations right. We are aware that not all our recommendations will perform the way we expect them to. Hence a disciplined asset allocation lies at the foundation of the service.
And that brings me to the second point...
We have considered equal allocations to all stocks. We do not recommend more than 2% of one's portfolio's exposure to a single smallcap. This helps one avoid losing sleep over potential non-performing stocks or a sharp correction. It also avoids an action triggered by fear or panic.

What this also implies is that the 26.9% CAGR is not a distorted one, based on a few outliers like Page Industries (up 16,477%), but well distributed across stocks.
While we have been lucky at times, a lot of credit is due to the process. We have never limited our research tools to screeners. Most of our recommendations are backed by insights from management interactions. And there are a few more critical elements to it.
We never used stop loss limits in our recommendations.
Now this has been a point of great discussion between me and my subscribers. I believe stop loss is a great tool for traders. But we recommend stocks with a time horizon of three to five years.
Any sharp correction in the stock is a great opportunity to buy more (and not press the panic button) unless the correction is accompanied by deterioration in fundamentals.
Now, amid a sharp correction, a stop loss seems like a great idea.
However, we have enough instances where a 60% fall was followed by 15x gains in the stock. Having stop losses will make us miss out on such rallies. A case in point are the rallies after the Covid crash and the rally after the 2018 correction in smallcaps.
I agree that the corrections can be brutal at times. The reason our process has survived this and nailed multibagger stocks is prudent asset allocation and a long-term horizon. It allows us to filter the noise and lets the power of compounding work its magic.
In short, it only enhances chances of finding 10-baggers and more, but it could also lead to an almost zero loss portfolio.
Watch my video below for details.
We have had one stock with over 15,000% gains, and four stocks with gains of 500% and above. It's easy to dismiss such big winners in investing as luck. But it takes a lot of hard work to be on the right side of luck.
It reminds me of a very powerful statement by Serena Williams in an interview to ESPN:
Luck has nothing to do with it, because I have spent many, many hours, countless hours, on the court working for my one moment in time, not knowing when it would come.
This is so true for investing. You may not know which stock would turn out to be a multibagger while picking it.
But if you do the hard work, make the right choices, do the right things, and stay disciplined, you will find one. If you can do that consistently, you may get a 100-bagger as well.
A couple of disclaimers...
No recommendations were made for hyped stocks like Zomato, Paytm, and the likes. The service never recommended investing in any IPO.
Before I end this letter, I would like to express gratitude to our subscribers who maintained their faith in us and our process, through thick and thin.
My team and I are committed to honour that.
Warm regards,



Richa Agarwal
Editor and Research Analyst, Hidden Treasure
Recent Articles