Investment in securities market are subject to market risks. Read all the related documents carefully before investing
An Emerging Opportunity for Investors
India's Lithium Megatrend
World's Richest Man Believes in this Ratio. Are You Using It?
Dec 10, 2019
The way he is going, Jeff Bezos will go down as one of the finest entrepreneurial talents the world has ever seen.
Well, that is if he isn't one already.
What I am equally impressed with, is his understanding of what constitutes a good investment strategy.
In fact, he often quotes Benjamin Graham and Warren Buffett while trying to discuss matters related to investing.
Recently, I got yet another glimpse into his sharp investing mind.
I was going through his 2004 letter to shareholders where he's got the key principle of investing in a good quality stock bang on.
Here's how he starts the letter.
Our ultimate financial measure, and the one we most want to drive over the long-term, is free cash flow per share.
Indeed.
What creates genuine wealth over the long term is not growth in earnings per share. It is instead a growing stream of free cash flow.
Bezos then goes on to present a compelling example of why this is the case.
Imagine an entrepreneur invents a machine that transports people from one location to another. The machine costs US$ 160 m and generates a profit of US$ 10 m after deducting all expenses including depreciation.
On seeing that the machine is running at full capacity all the time, the entrepreneur buys more machines in years 2 through 4. This way, the sales go up 8x in four years and the profits are also up by a similar magnitude.
Looking at the P&L statement alone, it will be hard not to conclude that this looks like a great business. After all, how many companies can grow both sales and profits by a factor of 8x in 4 years?
However, there's a catch. The entrepreneur has had to add 8 machines to grow its sales and profits by 8x and this involved spending a lot of money. The cash generated internally (profits + depreciation) by transporting people in all the 8 machines over the years, was far from sufficient to fund the purchase of all the machines.
In other words, if you look at cash generated by the business after accounting for all the 8 purchases (free cash flow per share), it was negative for all the four years. In fact, cash requirement kept rising as we moved from Year 1 to 4!
When You Frequently Run Out of Cash to Fund Growth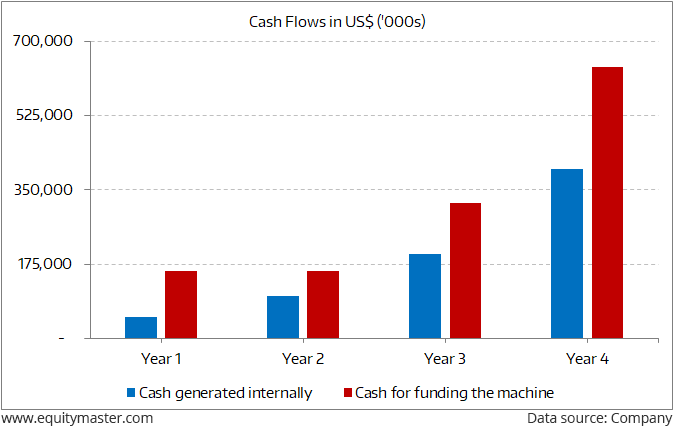 The value of a company is the present value of the cash that can be taken out of the business during its remaining life.
But in the business that we just saw, there is no cash to be taken out. In fact, we had to put in more cash every year to fund the purchase of the machines.
Such companies, as per Bezos, are wealth destroyers instead of wealth creators...and rightly so.
As a matter of fact, the faster such companies grow, the more wealth they destroy!
Had the firm not bought additional machines, we would have had positive free cash flow instead of negative. However, even then, it would have taken four years to recover the full cost of the machine.
Therefore, from the point of view of Bezos, the key metric to watch is growth in free cash flow per share and not earnings per share.
Unfortunately, as he rightly says, cash flow statements often don't receive as much attention as they deserve. Discerning investors should not stop with the income statement, they should also pay very close attention to the cash flows.
Guess what?
All the recommendations I have made in my Double Income service so far pass this all-important test.
These are stocks that have not only grown their earnings over the years but also their free cash flow per share.
And they have not just ensured the growth in free cash flow, they have also paid it back in terms of dividends.
I not only recommend stocks that consistently generate positive free cash flow year after year but also pay them out in the form of dividends.
A dividend payout of 20% of profits over the last 10 years is almost par for the course. Some of the companies have paid as high as 60% dividends in the form of profits.
This is why I am optimistic about Double Income.
I believe these stocks are genuine wealth creators. They will certainly create a lot of wealth for my subscribers in the long term.
Warm regards,



Rahul Shah
Editor, Profit Hunter
Equitymaster Agora Research Private Limited (Research Analyst)
Recent Articles