This Hidden Bear Market is a Profit Hunter's Paradise
Dec 12, 2019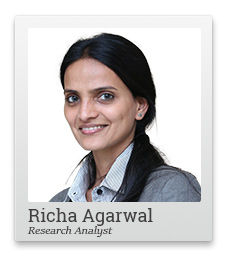 What! How can we be in a bear market?
The Sensex is near an all-time high!
Yes, precisely. That's why this bear market is 'hidden'.
The media won't tell you much about it. Nor will your stock broker.
You see, the widely used criteria of a bear market is a decline of more than 20% in the index from its high.
As you know, the BSE Sensex is far from that. In fact, its pretty much at its record high.
So the largest companies in the stock market have already run up. This means they're not going to deliver the big profits you're looking for...
But that doesn't mean all stocks are at all-time highs. Most are not and these stocks can offer you big gains.
In the entire market, small-cap stocks offer the biggest bargains and thus, the best opportunities to an investor today.
Here's the proof...
Data Source: BSE
That's right.
Small caps are way down from their all-time highs. They are a profit hunter's paradise today.
--- Advertisement ---
The Top 8 'Double Income' Stocks...

Since we launched Double Income, Rahul Shah's latest recommendation service – we've had nearly 2,000 people pay to join in.

Double Income, is a way for our readers to potentially generate an additional source of income – to add to your regular income.

And we believe this service could end up being Rahul Shah's most successful offering yet.

He has already recommended 8 stocks that are a 'BUY' right now.

And today, you could get access to these stocks right away – along with FREE 12-month access to Double Income.

Just click here to claim your free access.
------------------------------
Like the sweet smell of rain after a long hot summer, I'm seeing small caps at highly attractive prices today...prices I love...prices I've waited a long time for!
You see, the going was difficult for a while. Finding the complete package of an attractive company along with attractive valuations was an uphill task during the hey-days of 2017-2018.
Now in all my experience, I know only too well the returns a stock will give is inversely proportional to the price it is bought at. This simple truth often gets lost in the stampede of rising share prices.
Everything else constant, the lower your buy price, the higher your returns.
And prices for small caps today are low-low-low!
Many of my favourite stocks today are trading at low prices and for no fault of their own...
In many strong small-cap stocks, the correction is not because of an issue with fundamentals but simply because of the wave of market correction.
This is a space where not just the weak businesses but almost everything is down, including great businesses with great futures.
Indeed, good small cap stocks bought at low prices have the potential to multiply your money like nothing else can.
This is precisely the kind of situation I've been waiting for.
And let me tell you, such opportunities don't come often...
In Hidden Treasure, I've been recommending some great small caps at attractive valuations. I believe these stocks will prove to be great wealth creators in 2020 and beyond.
Warm regards,



Richa Agarwal
Editor, Hidden Treasure
Equitymaster Agora Research Private Limited (Research Analyst)
PS: Dear reader, to take advantage of the big rebound in small-cap stocks, I've identified the 1 stock to bet on for 2020. Get the details here.
Recent Articles