With the RBI in Disarray, Will the Markets See a Rocky Ride Ahead?
Dec 13, 2018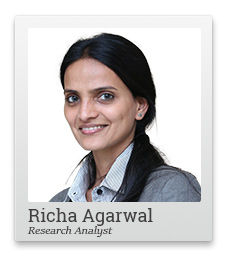 Urjit Patel's sudden resignation has left many dumbfounded. He has cited 'personal reasons'. No one's buying that explanation for sure.
Much has been said in this regard, and we won't get into the details of the controversy here.
But yes, notwithstanding the new appointment, the unease in India's most central financial institution has raised many uncomfortable questions.
The opportunistic stock market investors among you who were looking to get in on the market crash too perhaps have paused in hesitation.
Of course, the best time to invest in the share market is when you feel the market is likely to go up.
You're obviously not going to buy when the market's going to go down now, are you?
But with this important turn of events at the RBI and the issues that it points too, can you count on the market not falling further?
--- Advertisement ---


The Secrets Behind Our Most Successful Recommendations…Revealed (Claim Within 48 Hours)

Every serious investor should own a copy of this book…

Not only does it contain the lessons we've learnt in over 20 years of successful stock picking…

It also reveals the secret strategies behind some of our most successful recommendations!

And it's one of the most popular books we've ever published.

And we'd like to send you a copy…

Just confirm your address and other details, and we'll have this book delivered right to your doorstep (anywhere in India).

You don't have to pay us anything for the book – just cover postage and handling.

Here are the details.
------------------------------
And from that flows the oldest yet the most elusive information in the stock market - the answer every investor is after...
'Where is this market/stock headed next?'
The events and happenings in the market may vary from time to time, yet the question always remains the same. And the investor who knows how to answer that question makes money.
And getting rich in the market is all about being good at answering that question. The more consistently you know the answer, the richer you get.
So how do investors who make the most money in the market answer this question?
Here's Warren Buffett:
I have no idea what the stock market's going to do tomorrow or next week or next month or next year. If you're going to try to buy and sell them (stocks) based on news or something your neighbour tells you, you're not going to do well.
Yes, stock-picking enlightenment begins when you realize that question has no answer.
No one can truly and dependably know where the market is headed in the short term.
There's only two types of stock market forecasters really: The ones who don't know, and the ones who don't know they don't know.
What is the secret to profitable stock-picking then?
Picking reliable and high potential small companies before others find out about them. In all my years of experience, I've seen more money made here than any other way.
The trick is to pick companies which - even though very small in size - are already leaders in their own sub-niche or the small area of the industry they operate in.
Thus, making them much better prepared than their peers for managing their growth in the years to come.
For such companies, when the demand for their product grows, they are able to provide a much better service than all of their competitors and quickly establish themselves as the go-to guy in their niche.
So that is the kind of small companies you should look for and invest in as well.
Of course, given the uncertain nature of small caps, we cannot and should not expect every small cap stock to be an out-and-out winner.
But we know that small caps are big movers, and that the movement eventually shows in their stock prices.
So, assuming one manages to pick just 4 'reliable' small cap stocks, even if just 2 or 3 manage to endure the market uncertainties and turn multi-baggers, it would be more than worth it!
If you do this, you can conveniently forget all the other market noise and stop worrying about where the market is headed.
In fact, that is precisely what our small cap recommendation service, Hidden Treasure, aims to guide you with.
And it has done so for over a decade now with phenomenal success. You ought to check out the results.
I have narrowed down and created a list of 4 stocks that are on the verge - or in some cases have already started their rebound.
If you are a Hidden Treasure subscriber and haven't seen this report yet just click here - 4 Rebound Stocks to Profit for the Market Crash.
If you want access to this premium report just sign up here.
Regards,



Richa Agarwal (Research Analyst)
Editor, Hidden Treasure
PS: Richa's small caps are solid businesses selling at a discount in this market crash - sign up now and you will also get her latest report - 4 Rebound Stocks top Profit from the Market Crash.
Recent Articles