4 Reasons You Must Not Watch TV to Pick Your Trades
Dec 13, 2019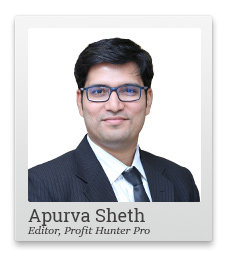 I received an email from a Profit Hunter Pro reader after he read my views that the rally in Bank Nifty could be over soon.
Here's what he wrote...
The rally in banking is continuing this week with several technical analysts (on TV) suggesting continued rally. Please advise if your view that this rally will stall still holds?

Thanks
I published my view with the following chart of Bank Nifty on December 3.
Bank Nifty Weekly Chart
Bank Nifty was nearing the parallel channel resistance placed in the range of 32,500-33,000. It was also forming a bearish divergence with price which suggests slowing momentum.
Apart from that it had moved up relentlessly over the last 8 weeks. Since 2010, Bank Nifty has only had 2 such sprints. It has dropped at the end of both these sprints.
I showed this table below and suggested there are slim chances of immediate further upside in the Bank Nifty.
The result?
Bank Nifty was down 1.88% last week.
Date
Weekly Close
Up weeks
1 week Forward Gains
2 weeks Forward Gains
Gains from First
week to last week
1-Apr-10
9507.75
8
1.56%
-1.62%
9-Apr-10
9656.5
9
-3.14%
1.62%
17%
28-Nov-14
18513.15
8
1.32%
-1.15%
5-Dec-14
18756.75
9
-2.44%
-1.48%
22%
28-Nov-19
32000.55
8
-1.88%
??
15%
I put forward all the data and price action before sharing my views on Bank Nifty.
Despite this why should someone chose to follow a person on TV?
You know you can't make money from breaking news...
You got to be kidding! They don't have time for that...and this is assuming they're interested in doing all that in the first place.
But what about the technical analysis shown on TV?
Okay...let's deal with that.
Here are 4 points why I believe you must not watch TV to pick your trades based on technical analysis.
Now that's why I believe you must not watch TV to pick your trades.
So, there are two options remaining with you...
Learn technical analysis and pick the trades yourself.
Let me do all the heavy lifting for you while you sit back and enjoy the fruits of my hard work.
What will you prefer?
If you are among the latter then watch your inbox.
You will receive details of my exclusive trading service soon!

Apurva Sheth
Editor, Profit Hunter Pro
Equitymaster Agora Research Private Limited (Research Analyst)
PS: On Friday 20 December, Equitymaster's co-head of research, Tanushree Banerjee, will reveal the Greatest Money-Making Opportunity of 2020 and beyond! Get the details of this event here.
Recent Articles