India's Third Giant Leap
This Leap Could Potentially Generate Gains
Far Bigger than Anything We Have Seen in Our Lifetimes
The Not So Obvious Winners in the EV Gold Rush
Dec 13, 2022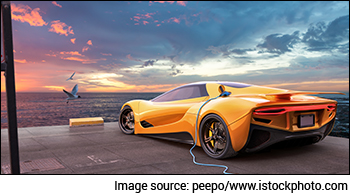 This is a story about an event that happened more than a century ago.
In 1848, James W Marshall, while building a sawmill, saw some shiny flakes in a river. When put under further examination, it was found to be gold.
The secret could not be kept for long. As the news leaked, people from all corners of the globe rushed to make money. It was the California gold rush.
About three lakh people flocked to the state. A small settlement turned into a booming town. The state's constitution was written. Schools, churches, and roads were built. The early gold seekers made money. The ones who were late had to be content with modest gains. Some even lost money.But the interesting thing here is that, in the California gold rush, merchants made more money than miners.Samuel Brannan, the first guy to get rich from the rush, was not a miner. He was an enterprising retailer with a keen eye for profit. He foresaw the real opportunity...and it wasn't in mining for gold.
Instead, he supplied the picks and shovels miners use to find gold. Over time, he cornered the mining equipment market and emerged as one the biggest beneficiaries of the California gold rush.
Another gold rush merchant was Levi Strauss. Initially in the dry goods business, Levi Strauss responded to the gold-rush need for tough miner's clothes.
He used denim and had it dyed in uniform indigo. Rivets were provided to keep pants in place. The new pants were cheap and lasted. By the 1860s, Levi Strauss' blue pants were daily wear for miners and farmers and cattlemen throughout the western US.
--- Advertisement ---
India's Third Giant Leap

India is precisely at the same point in its growth journey that propelled nations like USA, Japan, China and South Korea to the pinnacle of economic success.

Our research suggests that India's third giant leap could potentially generate gains far bigger than anything we have seen in our lifetimes.

Our co-head of research, Rahul Shah, has already identified the first 3 stocks to ride this giant leap for you.

He is going to share his entire research... including details of these 3 stocks at his upcoming event.

See Full Details
------------------------------
You may not have been aware of the history of the gold rush but I'm sure you are familiar with Levi's blue jeans.
In case you are wondering why I'm sharing these century old events and stories with you, there is a great takeaway in these for the investors. You see, not all those who chased gold rush struck gold. Nevertheless, Strauss and Brannan made money.
They were betting on the not so obvious opportunities in the California gold rush. They were supplying the tools to mine it.
Whether or not miners found the gold, these guys hit the jackpot supplying the picks and shovels to mine it.
Investors today who are chasing big themes in a direct manner, have a great learning here.
Avoid chasing anything 'hot', hyped or overpriced with potentially huge downside. Instead, focus on identifying the proxy plays with limited downside in the early stage.
Let's see how this approach could help investors in the last few years. Take airline industry in the last decade, in India and globally.
With the rise of middle class, private airlines, penetration of low-cost airlines, globalisation and e-travel platforms, air travel witnessed a boom.
While the end users benefitted, the airline industry continues to struggle. Many players have gone down. Those who have survived are often struggling due to intense competition, price cuts, debt, and capital-intensity.
--- Advertisement ---
URGENT: Your Conference Pass is on Hold...

Your Equitymaster Conference 2023 pass is on hold...

When you complete your registration form today, you'll get to experience this two-day special virtual conference...

Where India's most successful investors will get together to share their research on what'll happen in the Indian stock market for the next 10 years

HURRY: Claim Your Conference Pass Now
------------------------------
It has been one of those rare industries where investors have lost money despite the growth in the underlying trend.
A better way for investors to make money from the growth in passenger and cargo traffic was to not bet on the airlines, but proxy plays.
For instance, Accelya Kale (now Accelya Solutions Ltd).
This niche IT company provides financial and software solutions to process sales and cost management. Its business model was based on pay per use. It included partnering with airlines right from the time a ticket or an air waybill is issued, all the way through its entire financial lifecycle and until the data is converted to actionable decision support.
While individual airline companies continued to fight for market share through discounts, Accelya Solutions, as an asset light proxy play, rode the underlying growth trend.
The stock has more than quadrupled in the last decade, while the core industry stocks such as SpiceJet have destroyed wealth.
Cut to the present...
Are there any industries which are likely to witness massive growth, where investors are better off focusing on pick and shovel players?
Well, I believe the electric vehicle industry is one such example.
This decade is about to see the biggest disruption and value migration in the India's auto industry, especially two and three wheelers.
With subsidies, the cost of ownership of a two-wheeler is almost at par, and even cheaper compared to some popular internal combustion engine (ICE) models.
Even without subsidies, the total cost of operation, i.e. vehicle buying cost plus running and maintenance costs of a 2-wheeler and 3-wheeler EVs is lower than that of ICE vehicles.
All these factors have laid the ground for massive production and acceptance of EVs in two and 3-wheeler space.
This is a huge trend, as two wheelers alone comprise almost 80% of the auto volumes in India. The opportunity is huge. In China, almost 80 percent of 2-wheeler fleet is electric.
The trend in India is gaining acceptance amid EV incentives by government, committed deadlines under Paris agreement to bring down emissions below certain level, investments in EV space by domestic companies, ease of charging (2-wheelers can be charged at home), sharp decline in battery costs, and shift in the consumer sentiment.
OEMs like TVS Motors, Bajaj Auto, Greaves Cotton, Hero, Ola are investing billions, not willing to take the risk of being left behind. These are the companies and electric vehicle stocks that get the most limelight in media, and the interest of investors.
Undeservedly so I think.
These players have so far derived majority of their sales from ICEs. EV remains a small part of their portfolio. And even if that part of the portfolio grows exponentially, the disruption and cannibalisation will lead to shrinking in their legacy portfolio, which will outweigh the opportunity from the rise in EV.
Further, the upfront investments required in the EV manufacturing will be huge, and payback period for them could be longer. By the time of the payback, the competition and pricing pressure could be brutal.
As the winds of change pass and settle, there will be a list of companies affected by the change. I believe that it's only a few that will be on the winning side. And I'm here to tell you that these winners are not going to be the players you read or hear about in the media.
The real opportunities are somewhere else - the picks and shovels in the EV trend - the EV Supply Ecosystem.
A pure EV will have just 20 moving EV parts as compared to 2,000 for ICE. Companies riding this revolution will include component manufacturers, battery OEMs, players in the charging infrastructure, metal, mining, and chemical companies that could provide the much-needed minerals like lithium, silver, and so on.
Last year, I recommended two companies in the smallcap space - Fiem Industries and Minda Corporation -two lesser talked about plays in the EV space, that have delivered good returns.
The former makes LED based auto lights. This not only adds to the vehicle aesthetics, but also provides vehicle economy with lesser energy consumption (critical in an EV). The company derives over 90% of the revenue from this segment.
Minda Corporation too distinguishes itself in the EV supply ecosystem due to its specific focus on green mobility, with technology and digitisation at the core.
It focuses on advanced engineering through embedded software systems, telematics, connectivity, wiring harness design and focus on light weighting, power electronics and vehicle access (smart keys).
95% of its product portfolio is EV agnostic. The products it offers are likely to be higher in content and more premium in the electrified version.
While both these companies ride the electrification drive, their products are EV agnostic as well, providing downside protection if the trend does not take off as expected.
These are not to be considered as stock recommendations. But you may consider these examples to understand the real opportunity in the EV space.
By the way, I'm currently studying a chemical company that could be a critical supplier in the Fiem Industries and EV battery space.
Hidden Treasure subscribers should watch out for my next recommendation...
Warm regards,



Richa Agarwal
Editor and Research Analyst, Hidden Treasure
Recent Articles