This is How Value Investors Should Invest in EV Stocks
Dec 16, 2021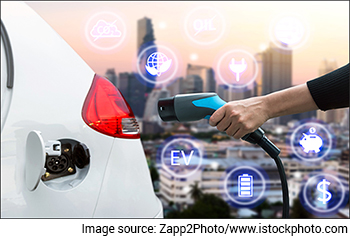 Let's face it. Hard core value investors are pathetic at identifying the next sunrise industry and making big bucks from it.
Benjamin Graham's aversion to anything hi-tech or high growth was well known.
In fact, there's an interesting story on how he missed one of the most iconic companies of the time - Xerox - simply because it was trading at slightly expensive valuations.
Warren Buffett, his most famous pupil is no different.
He counts Bill Gates among his closest friends. Still, Buffett has stayed miles away from anything that has to do with technology.
He has of course broken this habit by making Apple his biggest investment.
But truth be told, he sees Apple more as a consumer franchise than a hardcore tech company.
You can also add the late Walter Schloss to this list.
Schloss had a record as stellar as Buffett. But he showed no inclination whatsoever for investing in the next sunrise or high growth industries. He always preferred boring over exciting.
--- Advertisement ---
Revealed: The 5-Minute Blueprint for Potentially Becoming a One Stock Crorepati

At our One Stock Crorepati mega summit, Richa revealed the 5-minute blueprint for potentially becoming a One Stock Crorepati.

Richa also revealed the 3 traits of what she calls a potential crorepati stock.

Plus...she also revealed details of a tiny company that has all these 3 traits.

You too had signed-up for Richa's summit. But you missed it for some reason.

No worries. You can still watch the special replay of the summit to get all these details.

Click here to watch now (This content may go offline soon.)
------------------------------
I think one of the big reasons value investors avoid high growth or high-tech industries is because of the way they approach investing.
For them, the future is to be protected against and not profited from.
A bird in hand for them is worth two in the bush. In fact, it could be worth significantly more than two in many cases.
They know for sure there is a bird in hand. Hence, they can arrive at its fair value with greater confidence than the ones in the bush.
As far as the bush is concerned, it may have a significantly higher number of birds.
But how many exactly and from which bush will they fly out and when is a problem they find tough to deal with.
Put differently they struggle wrapping their hands around the valuations of high-tech companies.
Which is why they prefer giving up a bigger payoff in exchange for a more certain payoff.
The entire Electric Vehicles (EVs) story for them falls in the non-value investing category of a higher but more uncertain payoff.
There is no doubt that EVs are here to stay and may eventually replace the conventional ICE (Internal Combustion Engine) vehicles in a big way.
However, the standard value investing approach may not be the way to play this story for the reasons I just highlighted.
--- Advertisement ---
EXPOSED: The Big banks' odd $1.1 billion bet...

They won't say this in their interviews...

But banks like UBS, Goldman Sachs, Citibank and Standard Chartered have collectively invested over $1.1 Billion into this revolutionary technology...

Thanks to a projected 100x growth over the next 10 years!

Read the full article here...
------------------------------
Does this mean that value investor should never invest in the industries of the future or a revolutionary new technology for that matter?
Of course not.
Warren Buffett once joked that he would have been a lot poorer if he had listened to Ben Graham alone.
He likes to call himself as 85% Graham and 15% Phil Fisher.
Well, the answer to how a value investor should go about evaluating and profiting from the upcoming EV revolution lies in Buffett's equation.
A small percentage of the value investor in us will have to make way for Phil Fisher.
Phil Fisher was a famous investment guru in the US whose approach was diametrically opposite to that of Graham.
Graham was the quintessential quantity over quality guy. He believed in the company's current earnings power and if it could be maintained in the future.
Fisher was more quality over quantity.
He believed it was perfectly fine if the company is making only a small profit as long as the management and the business is of top quality with immense growth potential.
Fisher was always on the lookout for the next revolutionary technology or the next high growth industry and ways of profiting from it.
FREE Subscription: Join Our YouTube Channel Today
Thus, Warren Buffett's template of having both Grahamian as well as Fisherian elements into one's strategy is the perfect template for playing the EV story in my view.
I believe you should study the EV industry in detail. Do a deep dive into its constituent parts. Come up with your list of potential winners and losers.
Yet do not lose sight of the fact that you are investing and not speculating. You should not overpay for an EV stock.
And you should always be aware of the mood Mr Market is in.
The best of both worlds if you will.
If that sounds like a lot of work, well yes, you're right. Most people can't be bothered to do so much detailed research.
If this sounds like you, then I would like to make it easy for you.
My brilliant colleagues, Tanushree Banerjee and Richa Agarwal, have had their noses to the grindstone on this for quite some months now.
The have been hard at work doing the heavy lifting when it comes to EV research at Equitymaster.
I am happy to announce they are ready with their investing blueprint EV stocks.
Warm regards,



Rahul Shah
Editor and Research Analyst, Profit Hunter
Recent Articles