Buy These 3 Stocks with the Markets at New Highs
Dec 20, 2019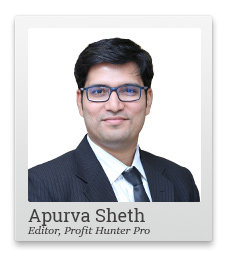 The Indian stock market is trading at a new high.
The benchmark Sensex and Nifty have both crossed their previous highs in November.
The Sensex is trading well past the psychological mark of 40,000. The Nifty is on a winning streak since it bottomed out around 11,800 last week.
People are attributing this rally to the improvement in global sentiment after the US-China trade deal. However, I believe it's more to do with price action than anything else.
In the sectoral check-up, which I do at the start of every month, I wrote that December is the most positive month for the markets.
Our markets have generated positive returns 75% of the time in last 24 years in the month of December. The average gains of December are 3.61%, higher than any other month.
The second-best month is July with average gains of 1.62%.
History suggests, December is a strong month for the markets and chances of major fall are low. So, when the markets fell in the first two weeks of December I knew the chances of a further decline was limited.
I wrote a letter on 11 December to my readers stating the Nifty was ready for a bounce back.
Now which stocks should you buy when the markets are hitting new highs daily?
I want to share three types of opportunities that I am seeing right now.
First is an opportunity in the Auto sector.
I wrote to you in September that the worst could be over in the auto sector.
It has entered the greed phase of the long-term cycle and will remain there until 2021. I have recorded a YouTube video to elaborate on the greed and fear cycles in the auto sector.
The BSE Auto index moved from a level of 15,768 on 30 August to a high of 19,054 by November 2019. That's a gain of more than 20%.
The index has cooled off over the last two months and seems ready to take off once again. So, I am keeping all the major auto and auto ancillary stocks on my radar.
--- Advertisement ---
[Alert] Sell These 3 Stocks Immediately

These 3 stocks are ticking time bombs in your portfolio.

It is very likely that you could be owning these 3 overvalued... fundamentally weak... ready to crash stocks... in your portfolio today.

Because many stock brokers have painted rosy pictures of these stocks.

But the reality is starkly different.

If the market crashes, then these stocks could wipe out your wealth.

You should get rid of these stocks as soon as possible.

We are going to reveal details of these 3 landmines at our upcoming special event.

You can click here to sign-up in 1-click. It's free.
------------------------------
The second, is a once in a year trading opportunity in a midcap textile company.
The stock is trading at a multi-month support level. This level acted as resistance in the past. It could now act as a demand zone now.
If the bulls jump in and latch on to the stock now then it could also form a double bottom out here. So, that's the second trading opportunity I am keeping a close eye on.
Finally, I have spotted a trading opportunity in a private sector bank.
This bank has underperformed its peer by a wide margin.
Both these banks have similar businesses and cater to similar customers. Most other things I look at are similar except management quality which is of course better in the bank I have already recommended to my readers.
I expect the stock to generate double digit returns over a few days.
So, these are the three opportunities in my radar right now. You already know that trading opportunities evaporate quickly.
You have seen in the past, we have closed our trades quickly. The way in which markets are moving right now it would hardly take a few sessions for the stocks to hit their targets.
So, don't miss out on these trading opportunities.
Join us at Breakout Profits today.
Warm regards,

Apurva Sheth
Editor, Breakout Profits
Equitymaster Agora Research Private Limited (Research Analyst)
PS: More than 16,000 have already signed up for my One Stock Crorepati Mega Summit Today. Do not miss this great money-making opportunity! Register for free here.
Recent Articles