4 Lessons I Learnt from Mr. Market in 2021
Dec 20, 2021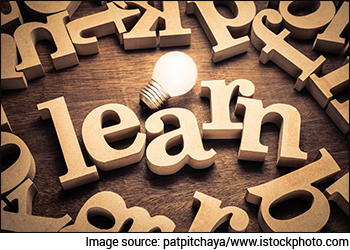 Well, we are at the business end of another action-packed year as far as the stock markets are concerned.
Notwithstanding the current correction, it has been a good year so far, especially for mid and smallcaps.
However, it would be fair to say that just as for me, not everything would have gone just one way for you.
All of us would've had our fair share of successes and failures. Hopefully, you've more of the first and less of the second.
However, there're some important lessons I learnt while studying and recommending stocks to my subscribers this year.
These lessons should help me become a better analyst and a better decision maker.
Here are 4 of the most important ones in no particular order. I hope you find them useful.
--- Advertisement ---
Last Day to Access 'One Stock Crorepati' Opportunity

As you know, recently we went LIVE with our One Stock Crorepati MEGA Summit...

Around 10,000 readers like you had registered to attend this summit.

At the summit, they learned Richa Agarwal's secret blueprint of identifying potential 'crorepati' stocks.

Plus, they also discovered the details of one stock with crorepati potential...

If you missed this summit for some reason, then you can still get all the details by watching this special replay of the summit.

Watch Now (Available till 11:59pm Tonight)
------------------------------
#1 It's Fine if You Underperform in a Bull Market
Recently, I read somewhere that had Warren Buffett been a fund manager, he would have been fired from his job a few times in his career.
He may boast of one of the best long-term track records in history but that doesn't mean he has not had a down year. In fact, several times in his career, he has underperformed for years in a row.
His most recent brush with underperformance is the rally that followed by the Coronavirus crash. He came under heavy criticism for failing to capitalise on the Coronavirus sell-off and potentially missing the record rally that followed it.
But this is perfectly fine in my view. No investment strategy is guaranteed to work all the time. Every strategy will have its share of good and bad years.
As a matter of fact, there are years like 2021 when even someone with no strategy at all can end up making a lot of money. It's only during a correction or a deep bear market, the value of a strategy comes to the fore.
So if your strategy has worked well in the past but is underperforming now, don't lose heart. A turnaround could be just around the corner.
#2 It's Impossible to Capture all the Gains in a Stock's Journey from the Bottom to the Top
Have you heard of the famous loss aversion theory?
It says, the one who loses Rs 1,000 will lose more satisfaction compared to the satisfaction gained from a Rs 1,000 gain. I guess it's just the way we have evolved as human beings.
I have a stock market version of this theory.
An investor who sold a stock at 100% profit will be more disappointed leaving another 50% gain on the table than being happy with his 100% gain.
--- Advertisement ---
"$2.5 Trillion Crypto Market Boom..."

A booming $2.5 trillion market...

Set to multiply by 100 times over the next decade...

With legendary investors like Warren Buffet, Elon Musk, and Peter Thiel pouring in billions of dollars all over...

Really Want to Miss It?
------------------------------
Well, 2021 has been the year where I have a left a lot of money on the table by giving pre-mature sell calls on a lot of my recommendations.
I closed BSE Ltd at close to Rs 1,160 thinking that 136% gains in just over a year is a good achievement. But guess what? The stock went on to climb another 100% from there.
The same thing happened with Monte Carlo Fashions. I recommended booking 107% profit and the stock went up another 100%.
Another example is Mahindra Lifespace. I recommended a sell at 85% profit and the stock has almost doubled since then.
In fact, 2021 is full of such examples across my services.
Now my subscribers certainly booked solid profits in these stocks and also got into other stocks, which have also gone up since my recommendations.
But leaving so much profit on the table and not being able to sell near the top still rankles.
However, we need to make peace with the fact that it's impossible to capture the entire upside in a stock's journey from bottom to top.
As long as you are getting adequate returns over your holding period and the returns are in line with your broader strategy, you should be happy.
And this is something I have come to embrace strongly in 2021.
Join Our YouTube Channel: Get Close to Our Editors and Stay Ahead of the Curve
#3 Stay Away from the Dangerous Cocktail of Overconfidence and Speculative Stocks
I have several of my friends boast about how they have made a killing across a bunch of small, speculative stocks in 2021.
I'm worried that if they overdo this, they're not likely to forget 2022 in a hurry. Just as those who bought speculative stocks back in 2007 and are not likely to forget 2008 in a hurry.
Warren Buffett once mentioned that nothing sedates rationality like large doses of effortless money.
And as you would be aware, a lot of effortless money has been made by a lot of investors over the past few months.
Thus, what I have learned or rather re-learned in 2021 is that speculation is not bad as long as you know that you are speculating and you restrict it to only a small percentage of portfolio i.e. not more than 5%.
But if large profits from speculative counters is making you think you're actually investing and not speculating, then in my view, you're going down a dangerous path.
#4 No One, and I Mean Absolutely No One, has Any Clue About the Stock Market
If 2020 told me that not a single soul has any clue about when the markets will bottom and start reversing, 2021 confirmed to me the opposite.
No one has any idea of when the market will top out either.
Thus, it's always a good idea to invest based on probabilities and not certainties.
Back in March 2020, I had no idea the markets could reverse so fast but I also knew there's no way I could predict what's coming next.
This is why I took the probability route. I figured out the probability of losing money from those levels from a 2-3 year perspective was a lot less than making profits.
So I recommended my subscribers start increasing exposure to stocks in a gradual manner. This strategy, as you know, was pretty successful.
Likewise, while I am negative on the stock market right now due to its stretched valuations, I have to again invest probabilistically and not be completely out of the market.
This is why I have around 50% allocation to stocks across all my services right now.
Now, there can be debates around why 50% and why not 25%. Or how about being in stocks to the tune of the maximum 75%?
Well, it all depends on your personal preference and how comfortable you are with your portfolio. As long as you are not all in or not all out and are at least 25% invested in each asset class, you should be fine over the long term in my view.
So, there you are. These were the four biggest lessons that Mr. Market taught me in 2021.
I'm sure you've also learnt a few lessons in your stock market journey this year.
Do share them here. It can help us all in our quest to become better investors.
Warm regards,



Rahul Shah
Editor and Research Analyst, Profit Hunter
Recent Articles