What Will Do Better in 2021, Fixed Deposits or Stocks?
Dec 21, 2020
Back in January this year, I had stuck my neck out and asked my subscribers to stay as much as 70% in cash and only 30% in stocks.
I argued that whoever took a big exposure to stocks was exposing himself to below par returns over the next 1-2 years.
Backing my theory was the following chart that I use quite often.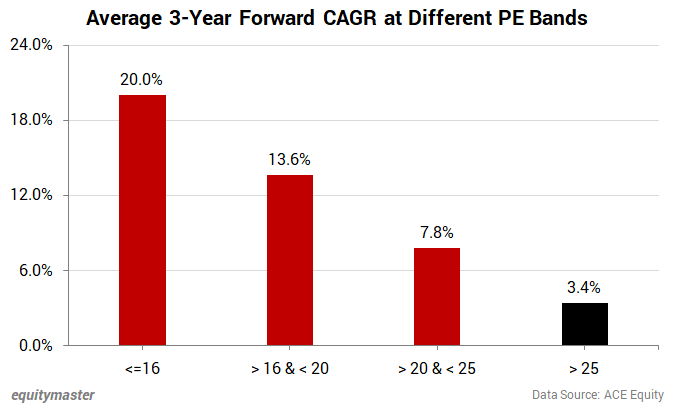 Stocks are worse on an average than even fixed deposits when the price to earnings ratio (trailing twelve month basis) of the Sensex goes past 25x.
And this was exactly the case back in January 2019.
--- Advertisement ---
3 Stocks for Potentially Massive Gains

COVID-19 has triggered a fundamental shift in the global economic and geopolitical map.

This reshuffling of the geopolitical map is just ONE of the forces fuelling the great Indian revival.

A revival that will restore the power, wealth, and influence we once enjoyed.

And, those who invest in the companies at the heart of this revival could turn a small stake into generational wealth.

Our co-head of research, Tanushree Banerjee, has narrowed down on 3 specific stocks.

She strongly believes, these 3 "revival stocks" could potentially offer massive gains.

Click here to learn more about this mega opportunity
------------------------------
The Sensex was trading at a princely multiple of around 26x, thus tilting the risk reward from a three-year perspective strongly on the risk side.
And this is the primary reason I asked my subscribers to take only a small exposure to stocks.
What a prescient call it turned out to be.
We had the Coronavirus related crash soon and within weeks, the market had lost almost 40% of its value. Billions of dollars worth of shareholder wealth went up in smoke.
My subscribers who had acted on my recommendation escaped the carnage with minimum damage.
Not just that, they were now sitting on huge cash, ready to be deployed into stocks once the risk reward turns favourable.
Well, the opportunity came sooner than they expected. From a high of 26x, the Sensex multiple had fallen to under 17x, making stocks mouth-wateringly attractive from a 2-3 year perspective.
Revealed: 3 "Revival Stocks" for Potentially Massive Gains
It was now time for my subscribers to go the other way and increase exposure to stocks.
I made a flurry of stock recommendations over the next few weeks and took the stock exposure to 50%. I would have gone even higher but the market ran up too fast.
Nevertheless, despite being still 50% in cash, their overall returns are now an impressive 40% since the lows of March 2020.
If one considers the stock only portion, the gains are even more impressive at 74%.
What is even more noteworthy is how a simple PE indicator proved its worth two times in less than a year.
It was right in asking us to get out of stocks and again bang on when it comes to getting back into stocks.
Well, that's the good news.
The bad news is that this indicator is again flashing a danger sign.
Even after taking into account the economic disruption due to Covid, the Sensex PE has once again entered the high risk zone.
Looks like we are again in that territory where fixed deposits may end up giving better returns than stocks.
Well, a lot of people may not agree with me.
As per them this is a different era. Past earnings multiples may no longer be relevant as we are in a different economic, financial and social environment.
In fact, in their view, we should brace ourselves for significantly higher price to earnings multiple going forward.
To be honest, there could be some merit in their argument. We may be living in an era of higher valuation standards than earlier.
But what is this new standard? Isn't its history extremely limited for us to arrive at any reasonable conclusion around it?
I don't think anyone can say with any degree of certainty whether we have indeed entered a new era or whether the old rules still apply.
I propose a pretty simple solution to this conundrum. The solution that has allowed my subscribers to make close to 20% per annum in a period where the benchmark has returned just 12%.
This solution is nothing but what we did earlier this year and again in April. It is split one's allocation between stocks and fixed deposits or bonds.
March-April 2020 was a great time to be 75% invested in stocks. The market has run up more than 70% since then without a concomitant growth in earnings. Thus, this is definitely not a time to be the same 75% in stocks. One can either be 50% or even lower at 25%. It is entirely up to you to move between this range depending on how you perceive the market to be.
However, I don't think this is a market where you can be maximum 75% in stocks. I am not a big believer of being 100% into stocks or out of it.
Doing this would mean you are absolutely certain about the future. I don't think anyone can make that claim especially after what transpired in 2020. Thus, one should be a minimum of 25% in both stocks as well as fixed deposits/bonds.
Where to deploy the remaining 50% should be based on the broader market valuation as well as your own understanding of the market.
Good Investing,



Rahul Shah
Editor, Profit Hunter
Equitymaster Agora Research Private Limited (Research Analyst)
PS: Tanushree Banerjee has identified a huge wealth creating opportunity in the market. Read more about it here.
Recent Articles