Investment in securities market are subject to market risks. Read all the related documents carefully before investing
Last Chance Before The Price Hike


Small Cap Recommendation Service
Hidden Treasure at 50% Off
Opportunity Ends In
A Must Have 'Essential' Stock to Beat the Omicron Sell Off
Dec 21, 2021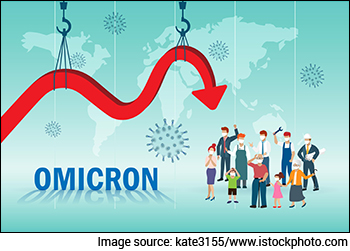 The Sensex fell1,100 points yesterday. Wall Street would say, there was blood on the street.
Due to worries about Omicron, we hear some countries are considering lockdowns.
Add to that, the tapering by Fed and FIIs selling in loads.
The markets were spooked.
2021 is being touted as the risk taking investors' year. The flood of IPOs, oversubscription even to some loss making businesses, crypto investing, launch of new fund offers, and last but not the least, the rise of retail investors. We have seen it all.
Until 2019, the country with the population over 140 crore had just 50 lakh demat accounts. By October 2021, in less than 2 years, the demat accounts have risen nearly 4x.
Retail investors have really shown some appetite for risk. However, it's in this correction, their true mettle will be tested. Especially the new entrants.
After all, it's easy to be upbeat about the markets when you see it going in one direction - up.
It's the ability to stomach a 20%-30% correction in the stocks of good businesses that differentiates long term investors from speculators.
If you see a sea of red in your portfolio daily, remember that not even 100-baggers have been spared.
--- Advertisement ---
Investment in securities market are subject to market risks. Read all the related documents carefully before investing

Last Call: Goodbye at 11.59pm Today

Last few hours to lock in our premium Small Cap Research at lower than its current price

Get a 50% discount on its current price if your act right now

Offer Disappears at 11.59pm Tonight

Click Here
Details of our SEBI Research Analyst registration are mentioned on our website - www.equitymaster.com
---------------------------------------------
Consider the journey of this textile stock my team and I recommended in August 2017.
The stock barely showed any movement for 2 years. It even corrected 62% in the March 2020 crash.
If we did not have the conviction in and patience with the stock, backed by our research, we would have recommended a 'Sell' before March 2020.
And we would have missed the spectacular ride the stock has rewarded us with. It's up 1,567% from the lows and up by over 500% from the recommendation price.
This smallcap, with once a market cap of less than Rs 44 bn, is well on its way to become a midcap. Its current marketcap stands at Rs 280 bn.
My Smallcap Textile Stock Recommendation
Data Source: Ace Equitymaster
Now, I don't intend to scare you or imply that smallcaps are going fall 60%.
To be honest, I don't know if this correction will go deeper, or will reverse in the coming days.
But does that matter?
Afterall, we have been through enough viral waves and lockdowns.
The corporate performances in the interim and thereafter have shown that nothing can stop good businesses from making a comeback.
If decades of history are anything to go by, we know that speculative excesses do not last. There will be some big gainers that would see the best behind them. Those would either be lost names or will be remembered with a tinge of regret in the years to come.
--- Advertisement ---
Investment in securities market are subject to market risks. Read all the related documents carefully before investing

Value for Money Stocks?

You see, most stocks are either trading at super-expensive valuations... or they are trading way below their true worth because they are actually worthless stocks...

There are very few stocks in the market that you can call 'value for money' stocks.

But these 'value for money' stocks are some of the safest stocks available in the market... that you can buy at bargain prices.

If you're interested in these stocks where your downside is limited... but upside potential is huge... then it is highly recommended that you check out our 'value for money' stocks research...

See Details Here
Details of our SEBI Research Analyst registration are mentioned on our website - www.equitymaster.com
--------------------------------------------
So without attempting to make a forecast, I would rather work on how to guide my subscribers in making the most of whatever comes.
This approach has never failed us. In the depths of the crash in 2020, it helped me and my team recommend businesses that were critical to the economy and their clients.
When the world was staring at indefinite lockdowns and a seemingly never ending crisis, we added further filters to our process and stuck to recommending 'essential' businesses.
What this means is that unlike hotel and airline businesses, these firms were vital cogs that kept churning their services and products. In fact, some benefitted from the unprecedented disruption.
I was confident about the long term prospects of these businesses. But didn't know the recovery would be so fast and gains so handsome.
As I write this, the gains in these 'essential' stocks have been over 500% in a few of them.
As Omicron spreads and the possibility of another lockdown grows, I believe it's time to focus on 'essential' businesses again.
These are businesses with the capacity to survive a prolonged crisis in case Omicron gets worse. What's more, they have the fundamentals to emerge stronger.
The recent correction is, in fact, a great opportunity to 'buy' these stocks.
In my last edition of the Profit Hunter, I wrote about an exciting stock in the agrochem segment. Hidden Treasure subscribers can read the report here.
Today, I would like to draw your attention to another essential stock in a related sector.
--- Advertisement ---
Investment in securities market are subject to market risks. Read all the related documents carefully before investing

2 stocks to buy as Nifty50 heads towards 40,000

We have identified 2 stocks. These stocks are not in the Nifty50 index today.

But they have a very high chance of entering Nifty as it heads towards 40,000.

We believe you should buy these 2 stocks right away.

See Full Details Here
Details of our SEBI Research Analyst registration are mentioned on our website - www.equitymaster.com
----------------------------------------------
This company is the market leader with a solid 10% market share in its niche. The niche itself deals with food security. This makes the business as 'essential' as it gets. This segment is also poised to grow in double digits.
Most of its peers are concentrating on a single category within the niche. But this player already has a diversified product portfolio.
This makes the business resilient to seasonality and also one of the best placed candidates to ride the growth in its sector.
Fundamentally, the stock ticks all the boxes of a value investor. It's debt, net of cash, is zero. Cash and liquid investments on the balance sheet is close to 12% of the marketcap.
There is sufficient fuel to fund self-reliant growth in case the macro environment turns adverse. In the last decade, the business has shown impressive growth while generating positive free cash flows in every single year.
It enjoys healthy operating profit margins of above 30%. The return ratios too are in the similar range.
For any long-term bet in smallcap segment, assessing management quality is a must. The Chairman of the company is a first generation entrepreneur. Over the years, the management has focused on strong in-house R&D capabilities. This will help the company stay ahead of the competition and launch new products with better margins.
And the market correction has led to a great entry opportunity in the stock.
Now, my tam and I make these recommendations from a long term perspective. It's possible these stocks can be volatile in the short term. They may even fall if there is a sharp correction in the market.
However, these are strong businesses. They're placed favorably on both valuations and fundamentals.
To make the most of these opportunities, it's critical to develop a long term investment horizon and focus on the business rather than day to day stock price movements.
Successful investing is not about making quick gains in stock markets. Unless you are following a proper process, chances are the gains you have made are speculative, and could be lost in the next bet.
A long-term successful track record in investing needs discipline. Fear of missing out, the action itch, the ease of getting in and out of stocks, often lead to behaviors that can be detrimental to your returns.
For more insights into the best investment strategy, here's a video I highly recommend.
For more such opportunities in the smallcap space...stay tuned.
Warm regards,



Richa Agarwal
Editor and Research Analyst, Hidden Treasure
Recent Articles