The #1 Tech Stock for 2020 and Beyond
Dec 23, 2019
Editor's note: Dear Profit Hunter reader, I want to bring to your attention that more than 10,000 people have tuned in for the One Stock Crorepati Mega Summit to watch our Co-head of research, Tanushree Banerjee, talk about her best stock pick for 2020 and beyond! This exciting tech stock could be a once-in-a-decade money-making opportunity and I don't want you to miss out on it. Read about it below and act now!
---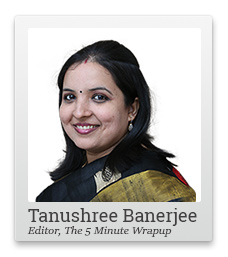 I have a peculiar habit while travelling in a crowded place. Since most of my travel is in Mumbai, crowds are almost always there.
I count a random sample of ten people in a crowd. I then check how many of them are glued to their smartphones. The number is usually 7 or more.
This means, at least 70% of people are glued to their smartphone almost all the time.
Recent studies have shown the average Indian spends an average of three hours on their smartphone daily.
So, it's not surprising when we talk about the future, it is invariably related to technology.
Just search online for the most promising future careers and you will find tech-related jobs at top of the list.
If you search for the most valued start-ups in India, most of them will be tech companies.
I strongly believe, the next decade and beyond will be all about technology.
A simple question comes to my mind...
What are the things in our life that can technology improve in the future?
Can technology improve productivity of businesses?
By quality control and better customer engagement, technology is already helping businesses. Most big businesses are using technology to improve productivity.
I see this becoming the norm in the future even in small businesses.
Can technology improve customer experience?
Think online shopping. Think of digital content viewed by millions daily on their smartphones. Technology is bringing every possible experience to the homes of customer.
Can technology improve healthcare?
It sure can. Data is used to collect history of an individual and his/her families' medical history. This helps in better prediction of future occurrence of a disease.
We may be at a nascent stage in terms of technology. But for a country like India, the size of the opportunity is huge. We can clearly see the wealth-creating opportunity now.
But how do you benefit from it, dear reader?
--- Advertisement ---

FREE Report: 7 Overlooked Multibagger Opportunities amidst the Coronavirus Scare...

Our Senior Research Analyst and Co-Head of Research, Tanushree Banerjee, has identified 7 stocks set to climb sharply in the coming years riding on a rare economic phenomenon in progress right now.

These 7 stocks are being overlooked right now amidst the Coronavirus Scare.

But Tanushree believes they could rise and enable one to potentially build wealth lasting generations from them in the coming years.

And the best part - till 11:59pm TOMORROW only...you can get Tanushree's special report with details of these 7 stocks virtually FREE.

To find out how, just click here...
------------------------------
Look for a company with technology at the core of everything it does.
A player that is not your run of the mill technology services company...but one that is building products for the future.
Products that you won't see right now...but ones with big future potential.
I've been tracking just such a company for a long-time and I believe it is doing all the things I've just mentioned...and more!
It's a safe bet to profit from the technology wave that we will see in the coming decade.
I recently wrote to you about the traits I look for in a crorepati stock. The stock I've identified shows all the traits.
And this stock is the topic of my One Stock Crorepati Mega Summit.
I've written a premium guide sharing my views about the futuristic technology this company is working on. You can sign up for the summit and download the guide right away.
I would like to thank you for the enthusiastic response to my summit. It has been amazing. More than 10,000 have viewed it already!
Warm regards,

Tanushree Banerjee
Editor, The 5 Minute WrapUp
Equitymaster Agora Research Private Limited (Research Analyst)
PS: Dear reader, more than 10,000 people have watched Tanushree speak at the One Stock Crorepati Mega Summit. She revealed details of the top tech stock for 2020 and beyond! The video of the summit won't be available for viewing once it is taken down. Watch the One Stock Crorepati Mega Summit NOW.
Recent Articles