Not Infosys or Bajaj Finance. A 240 Bagger 'Distressed Stock' Deserves Your Attention in 2021
Dec 23, 2020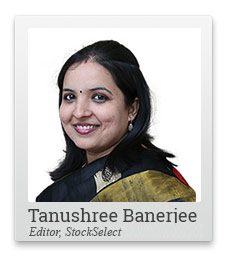 An investment of just Rs 10,000 would have grown to over Rs 2.4 million in 10 years.
How many such fairytale stories have your heard in the stock markets?
They all sound too good true to be true, right?
Well, you won't be alone to dismiss such tall claims at the first instance.
But the fact remains there are a few stocks that have created humungous wealth in the past two decades.
They made a huge difference to the portfolios of handful of investors. Over the years such investors added several crores to their bank accounts.
And only because they took a safe approach to create long-term wealth in the stock markets.
--- Advertisement ---
FREE Event on Equitymaster's New Project

On May 17, we are holding a FREE event to reveal Equitymaster's Great Indian Wealth Project.

At this event, we'll reveal the details of your first stock for a potential Rs 7 crore in long-term wealth.

Seats for this event are filling up fast.

Since there are limited seats, we urge you to register at the earliest.

Click here for free sign-up
------------------------------
What about the rest?
Investors dependent on fixed deposits have cumulatively lost Rs 900 bn in interest income, every time rates were cut by 1%.
And that Rs 900 bn is not coming back to their bank accounts anytime soon!
Smart investors would rather take a calculated exposure to future proof businesses than be at the mercy of central banks.
When I say future proof, I mean...
You would be wrong to assume these future proof businesses are only in the software or fintech space.
FREE Event: The Great Indian Wealth Project
Yes, stocks like Infosys and Bajaj Finance may continue to do well.
But there are others which have yet to showcase their wealth creation prowess.
In fact, there are plenty of businesses that have a prominent role in niche sectors. These businesses can survive any kind of crisis.
And can in fact turn every crisis into an opportunity.
I will soon write to my StockSelect subscribers about a 240-bagger stock.
What excites me about this business is its ability to bounce back from the temporary crisis.
More importantly, the stock could be among those to create immense wealth for its long-term investors.
--- Advertisement ---
How to Earn a Fortune in Gold, the Smart Way

Gold is on 'the verge of a decadal run' says Vijay Bhambwani, India's #1 Trader and Editor of Fast Profits Daily at Equitymaster.

He says gold has the potential to generate staggering gains in the coming years...And those who are betting on gold right now will hit the jackpot.

But wait.

While gold is an attractive investment destination, there's a very specific way to play this opportunity...

A way that ensures you rake in maximum profit and perhaps hit the jackpot...while minimizing potential pitfalls. Thankfully, Vijay - India's #1 Trader - can guide you step-by-step in the upcoming gold rush and help hit the jackpot just at the right time.

Sure, you don't want to be an average trader. That's not how you make a fortune.

Here's how you can get Vijay's guidance...
------------------------------
Meanwhile, I am putting down the exact blueprint to accumulate several crores in safe long-term wealth, in a guide - Eight Steps to Your Eight Figure Fortune.
I will reveal more details about the guide at a special online event on 30 December.
At the event I will also show you, how to potentially accumulate Rs 7 crore in wealth over the long-term.
And there is a lot more I'll cover at the event.
I'm calling this event The Great Indian Wealth Project.
Don't miss it dear reader.
Warm regards,

Tanushree Banerjee
Editor, StockSelect
Equitymaster Agora Research Private Limited (Research Analyst)
PS: Block your seat today for my Great Indian Wealth Project.
Recent Articles