The Most Important Chart You Need to See to Make the Most of the Rebound in Smallcaps
Dec 24, 2019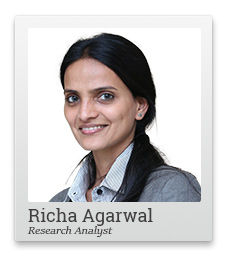 It's been quite some time since I have been talking of a rebound in smallcap stocks.
While Sensex is making new highs, the smallcap index remains neglected. The divergence between the two has just gone wider.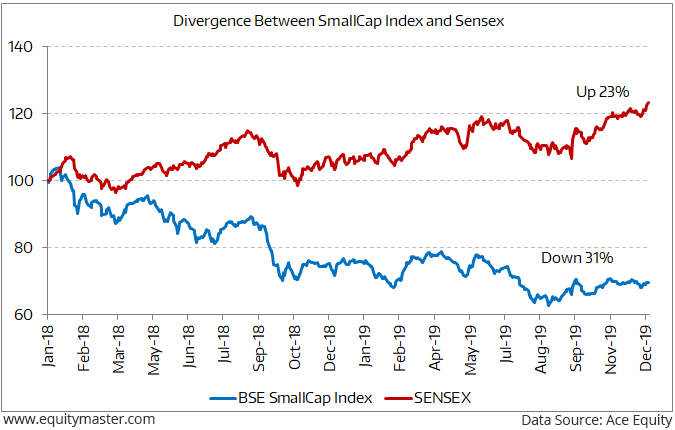 I must be sounding like a broken record, but I stand by my view that there is no margin of safety in so called safe stocks that are rising higher and higher.
As Sensex is touching new highs, you have reasons to worry. For this rise is driven by liquidity chasing these stocks with little support from the growth in the earnings.
I have shared my views in detail about this divergence in the video below:
Smallcaps, on the other hand, are telling an entirely different story. They say a picture is worth thousand words. So here it is.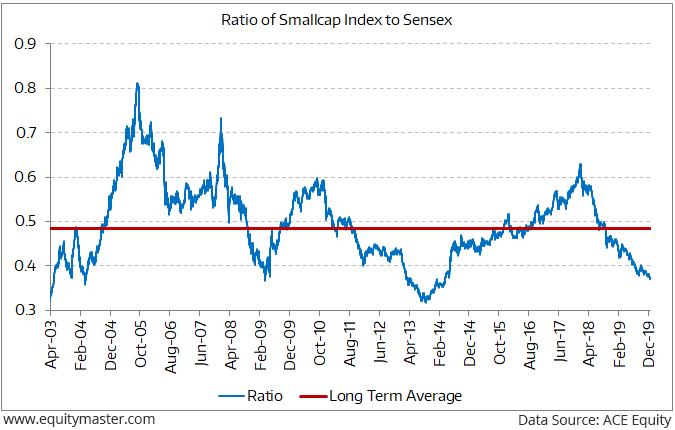 I believe this is the most important chart you need to see to assess the potential of a sharp rebound in smallcaps.
It shows the ratio of smallcap index to Sensex since April 2003.
The long- term average of this ratio has been at 0.44 times. At present, the ratio is at 0.32 times. Since April 2003, the index has seen such lows in 2003-04, 2009 and 2013-2014.
And every single time, it has made a sharp comeback.
From 2003-04 lows, the rebound in the smallcap index was over 350% by 2006.
From the lows in March 2009, the rebound was over 292% in less than 2 years.
From the lows in August 2013, the rebound in the smallcap index was upto 293% until the next peak...and the index moved almost unidirectionally.
I believe it will be a similar story this time.
--- Advertisement ---

FREE Report: 7 Overlooked Multibagger Opportunities amidst the Coronavirus Scare...

Our Senior Research Analyst and Co-Head of Research, Tanushree Banerjee, has identified 7 stocks set to climb sharply in the coming years riding on a rare economic phenomenon in progress right now.

These 7 stocks are being overlooked right now amidst the Coronavirus Scare.

But Tanushree believes they could rise and enable one to potentially build wealth lasting generations from them in the coming years.

And the best part - till 11:59pm TOMORROW only...you can get Tanushree's special report with details of these 7 stocks virtually FREE.

To find out how, just click here...
------------------------------
To be sure, I do not want to make any claim about the smallcap index itself. There are thousands of companies in it - the good, the bad and the ugly.
I'm only focused on the quality smallcaps - the ones that are the market leaders in the niches they operate in, that have a strong balance sheets and able managements in the drivers' seats. And that nonetheless have taken a beating amid widespread correction in smallcaps.
When the smallcap index rebounds, I believe these quality smallcaps will bounce back with a greater force, and will be first among equals.
But the question remains: When will that happen? How long the wait will be?
I wish I had a definitive answer to it. While I have no crystal ball to gaze into to give you a specific time, I sure see signs of it happening sooner rather than later.
I recently pulled out the constituents of smallcap index and tracked the activity of big investors in them. The results are interesting and encouraging.
You see, in around 190 small cap stocks, the institutional investors (these include mutual funds, FPIs/FIIs among others) have increased stake - not just on a quarter on quarter basis, but as compared to the levels in December 2017.
Now if you remember, it was in January 2018 that smallcap index peaked. The increase in stake over that period suggests that it won't be long before smallcaps are in obvious favour again.
Do note that this is the list after excluding stocks where promoter pledge is over 20% or where promoter has sold more than 2% of his stake in the latest quarter.
And here is the interesting part: 13 of these companies are under our coverage in Hidden Treasure and within the Buy zone. And most have shown earnings growth despite a degrowth in the economy.
To know the names of these companies, tune in to my upcoming webinar which I'll release by the end of this month for Hidden Treasure subscribers.
But even for now, you need not wait to participate in the massive rebound opportunity in smallcaps. If you are wondering where to start, I recommend you to begin with my special report: Rebound Riches: 3 Stocks Set to Become India's Next Mega-Stocks.
Warm regards,



Richa Agarwal
Editor, Hidden Treasure
Equitymaster Agora Research Private Limited (Research Analyst)
PS: I believe 3 small-cap stocks are on the verge of a rebound. Read more about these 3 stocks here.
Recent Articles