How NESCO Became Our Biggest Winner of 2019
Dec 27, 2019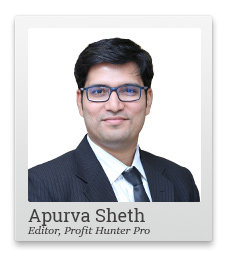 Did you see the solar eclipse yesterday? People from states like Karnataka, Kerala and Tamil Nadu could see the ring of fire in the sky for some time.
The ring of fire or the annular solar eclipse happens when the Moon covers the Sun's center. The Sun's visible outer edges form a 'ring of fire'.
The enthusiasm dried up in other parts of the country as many people couldn't see the eclipse due to cloud cover. However, the bar of enthusiasm of my readers has only moved up.
For an eclipse to occur you need trifecta of sun, moon, and earth in perfect alignment. Our biggest winner also aligned perfectly in the year 2019, not once, not twice but thrice!
During this week, we closed our biggest winner of the year - NESCO Ltd.
I recommended buying the stock of NESCO thrice this year and closed it for almost double-digit profits on all the three occasions.
--- Advertisement ---
Good News: Our No.1 Stock Pick for 2021 has Already Started to Move

Our Head of Small-Cap Research, Richa Agarwal, revealed her top stock for 2021 just a couple of days ago.

...And now, the stock has already started to move. Meaning, it has begun to potentially make its early investors rich.

As the word spreads, there's a chance that this could move up RAPIDLY.

You Could Find the Complete Details of this Revolutionary Stock Here in this Note
------------------------------
First, I recommended to buy in two parts at 483.5 and 460 in March. We closed these trades at 550 and 496.80. We generated average gains of 10.88% in little over 2 months.
Our second trade was much quicker. We closed it for gains of 8.46% in just 7 days in September.
I wrote to you about it immediately after I closed it for a profit the second time. Read about it here.
It is a fundamentally strong stock so I kept it on my radar and waited for a fresh opportunity to recommend it to my readers.
NESCO - A Three Time Winner
I got this opportunity in November. I recommended it in two tranches at 605.7 and 580.
The stock didn't even drop below 600 after I recommended it. This itself suggested that the stock was super strong and it was only a matter of time that it would hit our target of 670.
The stock traded at an intra-day high of 666 earlier in the month and cooled off. However, instead of making an early exit, I decided to recommend holding on because the price action suggested the stock was headed up.
It hasn't disappointed me at all. In fact, it exceeded my expectations just like Eicher Motors did a few weeks ago.
The stock was up more than 7% on Monday. It traded at an intraday high of 694.70 on the NSE. That's a full Rs 24 higher than our target of 670.
REVEALED: How to Unlock Almost 3x More Gains During the Corona-Crisis...
No one knows what the exact high point of the stock will be, else everyone would prefer to sell only at that level.
But when a stock exceeds your expectation after a long consolidation it does give you a boost.
NESCO has certainly boosted our confidence. We closed this recommendation with gains of 10.62% in 41 days on Monday.
I congratulate all of you who were part of this winning trade.
NESCO has helped us generate a total return of 30% in the year 2019. That's biggest winner of all in the year 2019 for us.
You know that 2018 and 2019 have been difficult years for traders. It is really amazing to see gains like these in a challenging environment.
It may look difficult but it isn't if you know where to look for such gains. For us, it is simply looking at only fundamentally strong stocks.
We trade only in good quality companies which have gone through the lens of the Equitymaster research team. This has helped my readers sail through in such an environment and could help you too.
Join them in Breakout Profits right now.
Warm regards,



Apurva Sheth
Editor, Breakout Profits
Equitymaster Agora Research Private Limited (Research Analyst)
PS: Our small-cap stocks guru, Richa Agarwal, is bullish on 3 small-cap stocks which are on the verge of a big rebound. Read about these 3 stocks here
Recent Articles