Stocks to Avoid in 2022
Dec 27, 2021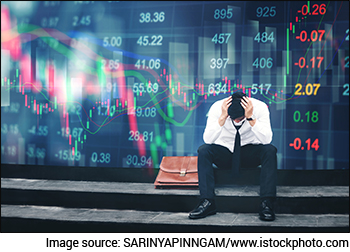 How do you know which stocks in your portfolio are toxic i.e. wealth destroyers and which ones are wealth creators?
You might think it's pretty simple.
The ones that have done well and are multi-baggers are wealth creators. The ones that have not done well are wealth destroyers.
From this, it can be inferred that every stock that does well is an investment and every stock that does badly is a speculation.
Hmm...
Something doesn't seem right here.
A stock like Alok Industries is up 5x since April 2020 whereas a blue chip like Hindustan Unilever Ltd is down since then. Does this mean that Alok Industries is an investment worthy stock and HUL a speculative stock?
I don't think so.
Let's consider another criterion. How about considering companies that are loss making as wealth destroyers and companies that are profit making as wealth creators?
This point has merit and sounds logical too. But there's a small problem. Investing is all about looking into the future and not the past.
--- Advertisement ---
Last Day to Access 'One Stock Crorepati' Opportunity

As you know, recently we went LIVE with our One Stock Crorepati MEGA Summit...

Around 10,000 readers like you had registered to attend this summit.

At the summit, they learned Richa Agarwal's secret blueprint of identifying potential 'crorepati' stocks.

Plus, they also discovered the details of one stock with crorepati potential...

If you missed this summit for some reason, then you can still get all the details by watching this special replay of the summit.

Watch Now (Available till 11:59pm Tonight)
------------------------------
What if current loss-making companies are on the verge of a turnaround and are now going to become profitable? What if currently profit-making companies go loss making?
So, we can't say for sure that all loss making companies are wealth destroyers and all profit making ones are wealth creators.
Well, we are back to square one, aren't we?
So how do we find the answer?
How about valuations? Are all low PE stocks wealth creators and all high PE ones wealth destroyers?
Here again, we know from experience this doesn't seem to be the case.
A lot of high PE companies have done well over the next 3-5 years. Also, a lot of low PE companies have done poorly over a similar period.
This is perplexing, isn't it? If there is no clear demarcation between wealth creating and wealth destroying companies, what hope do investors have, especially value investors?
Should they abandon investment entirely and jump into speculative activities? Should they become traders and focus more on price and price trends instead of intrinsic values?
Well, that's not required to be honest.
If you accept a few shortcomings of value investing and allow it time to work its magic, you can certainly end up with more wealth creators than destroyers in your portfolio.
However, you do have to realise there is no such thing as a sure-shot wealth creator.
--- Advertisement ---
"$2.5 Trillion Crypto Market Boom..."

A booming $2.5 trillion market...

Set to multiply by 100 times over the next decade...

With legendary investors like Warren Buffet, Elon Musk, and Peter Thiel pouring in billions of dollars all over...

Really Want to Miss It?
------------------------------
In other words, no matter how good the fundamentals of the stock and how attractive its valuations, the risk of a downside still remains.
Therefore, our job as a value investor is to minimise these risks and let the upside take care of itself.
For example, take a look at this list.
These are the top 22 stocks in the BSE 500 I think can be wealth destroyers over the next year or two.
Potential Wealth Destroyers in 2022 and Beyond
Company name
Adani Green Energy Ltd.
Adani Power Ltd.
Aditya Birla Fashion and Retail Ltd.
Alok Industries Ltd.
Bharti Airtel Ltd.
Chalet Hotels Ltd.
GMR Infrastructure Ltd.
Interglobe Aviation Ltd.
Kalyan Jewellers India Ltd.
Lemon Tree Hotels Ltd.
Mahindra Holidays & Resorts India Ltd.
Mangalore Refinery And Petrochemicals Ltd.
MMTC Ltd.
Network 18 Media & Investments Ltd.
SpiceJet Ltd.
Sun Pharma Advanced Research Company Ltd.
Suzlon Energy Ltd.
Swan Energy Ltd.
Tata Motors Ltd.
Tata Teleservices (Maharashtra) Ltd.
Vodafone Idea Ltd.
Wockhardt Ltd.
Source: ACE Equity, Equitymaster
In my services at least, I will stay away from recommending these stocks unless there's a drastic change in the fundamentals of any of them.
These stocks possess all the three characteristics of a potential wealth destroyer i.e. very high or non-existent PE ratio, leveraged balance sheet, and losses in at least two of the last five years.
I'm fine with paying a substantial premium for buying the best quality businesses or settling for a slightly lower quality businesses if the valuations are attractive.
However, a poor-quality business with leveraged balance sheets and exorbitant valuations to boot is what gets my goat.
It's akin to playing snakes and ladders where the pit is full of venomous snakes and there is hardly any ladder in sight.
Join Our YouTube Channel: Get Close to Our Editors and Stay Ahead of the Curve
Now I know a lot of these stocks have done quite well in the current bull run and are multibaggers from their March 2020 lows. Besides, the prospects of some of these companies look genuinely good from a 2-3 year perspective.
Well, it all goes back to the point I made earlier that just because a stock goes up doesn't mean it qualifies as a good quality investment. A lot of speculative stocks have also gone up in the last year and a half. As per my definition, almost all of them fall into this category.
Now, speculation is not bad per se. But it's very important to know that you're indulging in speculation. Then you won't end up put your investment corpus under serious threat by overdoing it.
What about the second point i.e. the prospects of some of these companies being good? Well, it pays to be conservative here.
It's always a good idea to go with a stock with a stellar track record and a high probability of that continuing. It's much better than betting on a frequently loss-making company with a balance sheet loaded with debt.
Now, there are stocks that are priced on their current earnings power and their assets and then there are stocks that are priced mostly on sentiments. These stocks have no earnings or assets to speak of. Most of their value is derived from positive sentiments about the future.
The problem with sentiments is they can improve and worsen on a dime.
And when the latter happens, the bottom falls out of the stock prices because there are no assets or earnings to back them.
But when there are real assets and real earnings to support the price, the downside is limited.
In the group of stocks above, many of them are sentiment driven rather than assets or earnings driven.
So when the sentiment gets worse, a lot of these stocks are going to get killed. Some will perhaps rise again but others may enter a long period of deep sleep.
What do you think, dear reader? Do you agree with my list?
Share your thoughts by writing to me.
Warm regards,



Rahul Shah
Editor and Research Analyst, Profit Hunter
Recent Articles