2021 Could be for This Stock What 2004 Was for Titan
Dec 30, 2020
Editor's note: Join me online at 5 pm today at the Great Indian Wealth Project.
---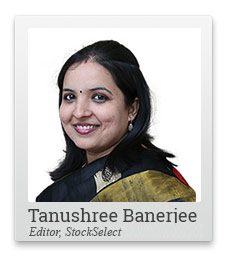 The world was barely recovering from a pandemic.
Indian stock market had seen one of the worst corrections just a few months back. The BSE Sensex had been hammered by more than 20%.
Bad loans of the banking sector were just coming off the peak ratio of 9%.
Most corporates were gasping for breath. Many had been referred to the Insolvency Board (BIFR).
The year was 2004.
The coronavirus was SARS (Severe Acute Respiratory Syndrome).
It took grit, determination, and discipline for a long-term investor to invest in Indian stock markets even back in 2004.
--- Advertisement ---
This is a Powerful Mega Trend Playing Out in India

We have uncovered a powerful mega trend that is playing out in India right now.

It could potentially generate immense wealth for early movers.

Our co-head of research Tanushree Banerjee has also zeroed in on one specific stock riding this mega trend.

It's her #1 stock pick right now.

And she believes, this could be one of the top stocks to get to potential Rs 7 crore wealth over the long term.

Tanushree will reveal all the details about this mega trend and her #1 stock at her special online event on May 17.

At the event Tanushree will also show you, how to potentially accumulate Rs 7 crore in wealth over the long term.

What you learn at the event could possibly change your financial fortunes forever.

Click here for sign-up. It's free.
------------------------------
The macro environment as challenging as it is today. Even the best businesses seemed to be in distress.
A particularly well known, trusted and well managed consumer durable company was bogged down by debt. Its debt to equity ratio (of almost 3.5x) made its return on capital of 9% look measly.
But one particular segment of the business had the potential to explode.
And explode it did!
With profits soaring, over the next five years, the company became debt free. Its return on capital multiplied to 34%.
After that there was no looking back.
The stock of Titan gained over 350% in six years after I first recommended it to StockSelect subscribers in January 2005.
Learn: How to Potentially Accumulate Rs 7 Crore in Wealth Over the Long-term
So, every lakh turned into Rs 4.5 lakh.
Holding on to the stock till date would have fetched Rs 1.4 crores!
And there is more to it.
You did not even need a big sum to accumulate these crores. Even a tiny investment of Rs 1,000 per month in the stock of Titan, since 2002, would have led to mouth watering results.
Take a look at how the power of compounding has gone wild here...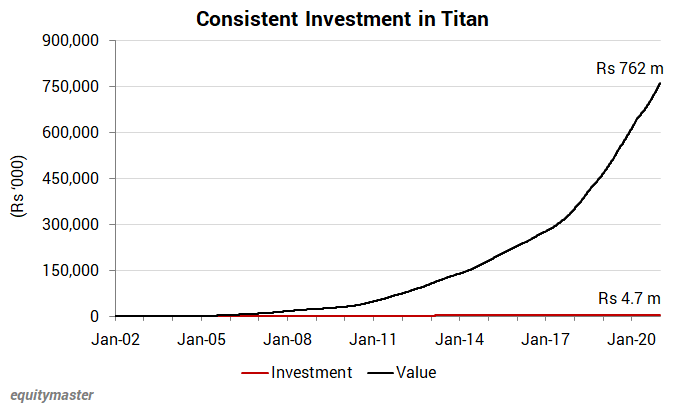 It's possible to accumulate a few crores by investing small amounts in good businesses. Especially when the business is in distress and comes with margin of safety in valuations.
Like the stock in my latest special report - First Stock to Potentially Rs 7 Crore Long-term Wealth.
Business headwinds and macro and regulatory issues have kept the stock out of favour in most of 2020.
Given its pedigree, balance sheet strength and cash flows, the stock has a very high chance of rerating once the temporary clouds of uncertainty disperse.
In fact, I believe that 2021 could be for this stock what 2004 was for Titan.
--- Advertisement ---
How to Earn a Fortune in Gold, the Smart Way

Gold is on 'the verge of a decadal run' says Vijay Bhambwani, India's #1 Trader and Editor of Fast Profits Daily at Equitymaster.

He says gold has the potential to generate staggering gains in the coming years...And those who are betting on gold right now will hit the jackpot.

But wait.

While gold is an attractive investment destination, there's a very specific way to play this opportunity...

A way that ensures you rake in maximum profit and perhaps hit the jackpot...while minimizing potential pitfalls. Thankfully, Vijay - India's #1 Trader - can guide you step-by-step in the upcoming gold rush and help hit the jackpot just at the right time.

Sure, you don't want to be an average trader. That's not how you make a fortune.

Here's how you can get Vijay's guidance...
------------------------------
Of course, the broader markets may be volatile. So, the plan to increase exposure to the stock may have to be staggered.
But I recommend conceding a few battles to win the war.
What excites me about this business is its ability to bounce back from the temporary crisis.
More importantly, the stock could be among those to create immense wealth for its long-term investors.
Meanwhile, I am putting down the exact blueprint to accumulate several crores in safe long-term wealth, in a guide - Eight Steps to Your Eight Figure Fortune.
You will hear more from me about this stock soon.
I will talk about the guide as well as the stock in detail at the Great Indian Wealth Project special online event later today at 5 pm.
I will also show you, how to potentially accumulate Rs 7 crore in wealth over the long-term.
And there is a lot more I'll cover.
I'm excited to talk about this huge wealth creating opportunity and by the number people who have already booked their seats for the event, I can tell my readers are too.
In fact, I'm expecting an attendance of more than 10,000!
I hope to see you online at 5 pm today.
Warm regards,

Tanushree Banerjee
Editor, StockSelect
Equitymaster Agora Research Private Limited (Research Analyst)
PS: Join me online at 5 pm today at the Great Indian Wealth Project.
Recent Articles