Make Profitable Investments in 2019 - 2 Simple Steps to Get you Started
Dec 31, 2018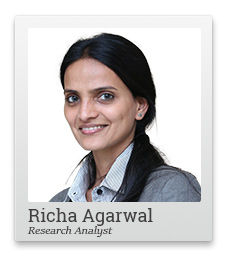 If I had to choose just one word that sums up the way to make the most money in the stock market, it would have to be the word: NEGLECT.
The best stocks, especially in the small cap world, can be bought at the most lucrative prices when they are being neglected by investors.
And then there are times when the whole category - i.e. small cap stocks as a group - are being neglected. Investors have always had a manic love/hate relationship with small caps. And they begin to neglect them when they're in the 'hate' phase and want nothing to do with them.
This usually happens when they've fallen or gone nowhere for a while. It is then that neglect begins to creep in, volumes and liquidity in these stocks starts drying up, investors start ignoring fundamentals, and stocks begin to fall further getting caught in a vicious downward spiral.
Why am I telling you all this now?
Because that is exactly what we're seeing right now!
Pick the one-year chart of the average small cap stock and you'll quickly realise what I'm saying. A lot of small market cap stocks are being unfairly judged and penalized these days...
And investors seem to be doing this with least regard for their long-term potential and fundamentals.
Now I realize that this might seem to some like a bad thing. If small caps are being treated this way, why would any investors want to buy them?
After all, if the stock market doesn't care about these small caps and their fundamentals don't show in their stock prices, what is the use of such fundamentals?
This brings us to...
One of the most interesting things about small cap companies...
You see, small caps are very moody creatures.
They behave very differently in different markets. And you need to know how to work their moods to be able to make big money from them...
They're much like a double-edged sword.
When sentiment turns against them, they perform much worse than large cap stocks or the overall market.
And when sentiment turns for them, investors take them to the moon, and then some. They then easily leave the rest of the market in the dust.
But I love this about them! And if you know the trick to taking advantage of this quality of theirs, you will too.
Because it is this quality of theirs - if harnessed wisely - that lets you walk away with much higher returns than the rest of the market.
And the way to do that is two simple steps:
Do your homework to know what is the right price to buy and sell them; and then,
Have the strict discipline to actually go ahead and buy/sell when the price is right.
Most investors try to work the world of small cap stocks without doing step 1.
And even if they do 1, they have a very hard time doing step 2 without getting emotional about them.
But doing both steps 1 and 2 well is the trick to making sure you buy your ticket to ride the big upside in small cap stocks without becoming part of the downside by buying small caps with junky and declining businesses.
Our small-cap service Hidden Treasure does exactly that.
It discovers those hidden small cap companies that have the potential to become future multibaggers, letting subscribers ride the upside in these stocks while avoiding the big disasters.
Neglect produces the best prices in the world of small cap stocks. With neglect ruling over the small cap street right now, this is the time to take advantage of it.
Regards,



Richa Agarwal (Research Analyst)
Editor, Hidden Treasure
PS: The steps to small cap success are easy, but they are not simple. Unless, of course, you have someone making it easy for you. And that is exactly what Richa does for her readers. Join them here... if you join by midnight tonight you get a free year of her most successful service.
Recent Articles