The Great Indian Wealth Project
Dec 31, 2020
Editor's note: Tanushree was live at the Great Indian Wealth Project last evening. Thousands of astute investors joined her for this exciting event. You can watch the video here. In this editorial, Richa shares her view on Tanushree and her new project. Read on...
---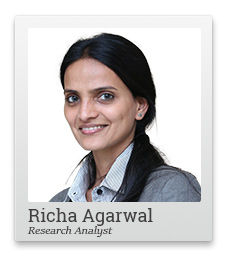 In stock markets, it's easy to get influenced by people who hold the same beliefs as you.
But you only grow as an investor when you look for success stories that come into being with different kinds of approaches.
I'm lucky to have the chance to learn such lessons from my mentors at Equitymaster.
You see, I started with an aggressive approach when it comes to expecting returns from stock markets. And that's the reason I picked smallcaps as my domain. I had always believed that to generate an alpha, one needs to look beyond the obvious- well known large caps.
But I stand corrected.
--- Advertisement ---
The Smallcap Fortunes Summit

Join us on the evening of 16th March to learn,

• Why despite rallying over 100% since March-2020 lows... small-cap stocks are set for a massive rally over the coming months and years
• Details of our top 3 stocks to capture potentially huge gains from this upcoming small-cap rally
• And how to spot opportunities, even in the current market, with potential to generate 200%, 400%, and even 900% long-term gains

Plus there is a lot more that we are going to cover.

The summit is free to attend for Equitymaster readers.

But since there are limited seats, we would recommend you to register at the earliest.

Click here to register. It's free
------------------------------
Not because smallcaps have disappointed. In fact, Hidden Treasure has beaten Sensex nearly 2.5 times over 11 years, since inception in Feb 2008.
It is my view about safe large caps that has seen a huge shift.
You see, a careful selection of so called safe large caps, over a period of 15 years, has beaten benchmark index by a wide margin.
It's a period long enough to see different investing themes come into being and fade. And to accommodate economic up and downcycles, different governments and geopolitical developments ...basically all the factors that make markets swing from bubble zone to oversold territory.
The underlying philosophy behind this track record is deceptively simple - If you take care of the downside, the upside will take care of itself.
In my initial years at Equitymaster, after meeting the managements, with full-fledged models in place and top three reasons why the stock looks good, when I used to present stock ideas to the senior team, there was always one person who dwelt more on what could go wrong. That was Tanushree. She made sure I give risks more importance than the positives.
Initially, her approach seemed a bit pessimistic to me. But overtime, and I must admit after burning my fingers in some cases, I have learnt to appreciate it.
Thanks to her, Equitymaster Risk Matrix is an integral part of all our recommendations. And has helped us avoid some real value traps.
It's difficult to stand out when you choose safe stocks as your domain. But Tanushree has managed this feat.
In 2013, when Public Sector Banks were in the pink of health and investors' favorites, her subscribers were among the first to be warned about their asset quality issues.
In 2016, when Sensex was trading at around 25k, she was among the first to predict 40k level for Sensex in 2 to 3 years.
Over the years, she has saved her subscribers from overhyped IPOs that could never stand the test of the time. And from the hot themes and stock tips that many unsuspecting investors fall victim to.
Her subscribers have repeatedly side stepped crisis like Punjab National Bank, Zee, IL&FS, ICICI Bank due to the process in place to say no to a lot of things. And have bagged multibaggers by subscribing to a process that chooses the right stocks at the right time.
Learn: How to Potentially Accumulate Rs 7 Crore in Wealth Over the Long-term
Like I said, the research process at Equitymaster is much stronger, thanks to her experience, feedback and guidance.
You can benefit from her expertise too by following her recommendations in what she believes is her most ambitious project yet - The Great Indian Wealth Project.
Tanushree has picked a high-quality stock which she believes will be one of the biggest and safest wealth creators over the next 10 years.
Tanushree revealed about the guide at The Great Indian Wealth Project special online event yesterday.
She also showed, how to potentially accumulate Rs 7 crore in wealth over the long-term.
If you missed this event, watch the video here.
Warm regards,



Richa Agarwal
Editor and Research Analyst, Hidden Treasure
PS: Tanushree was live at the Great Indian Wealth Project last evening. Watch the video here.
Recent Articles