On This Day - 21 JANUARY 2019
It Made Americans Rich... It Made the Japanese Rich... Now it's India's Turn


Editor's Note: Dear reader, I have been keeping you updated on Tanushree's big event that we are really excited about. If you attend this event, you will learn how to make massive returns from stocks...multibagger returns that could change your life forever. This is not an exaggeration on our part. I invite you to hear all the details for yourself at the event. Tanushree calls it the Rebirth of India. It will be held online on Thursday, 31 January and it's completely free. You can register here.
---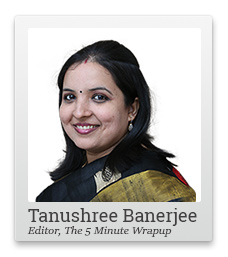 Japanese railways are renowned for their punctuality and precision.
The country's largest high-speed railway line has operated for almost half a century. But what is remarkable is that it never had a single derailment or collision.
If that's not enough, last year, its average departure delay was a mere 18 seconds, along a 320-mile route.
Can we expect such degree of safety and efficiency in Indian railways? Even though the country may soon have its first bullet train of Japanese make, we remain skeptical.
What is unique about Japanese railways is that it was amongst the first ones in the world to get privatised.
--- Advertisement ---


WARNING: Not Reading This Message Could Be the BIGGEST Mistake of Your Life!

As a father of two daughters, the ONE thing I want the most for them is to live the rest of their lives without ever worrying about money. This is something I want for you too.

And the once-in-2000 years phenomenon – which we call "Rebirth of India" – holds the potential to make financial security a reality for you and me…and for every Indian.

That's why I'm hosting our first-ever MEGA "REBIRTH OF INDIA" SUMMIT at 5pm on 31st January to tell you all about this rare phenomenon.

And access to this summit is FREE for EVERY INDIAN CITIZEN.

So hurry! All you need to do is register right away.

Be a part of this MEGA summit that could transform many lives INCLUDING YOURS…
------------------------------
In 1987, the government privatised the Japanese National Railways. The company operated every type of transit except trams and inner-city metros. Eventually all the regional railway companies in Japan also had private sector owners.
With privatisation, the railway companies could repay their debt. They invested capital to improve and modernise their networks. And in the process, reversed the stagnation and decline that Japanese railway companies had seen over the previous decade.
By the year 2000, East Japan Railway Company featured in Forbes' Top 200 companies globally in terms of market cap.
And not just that. Subsequently, even during Japan's lost decades in the stock market, the stock multiplied nearly three times.
Privatisation did to Japanese railway companies what no government in the world could do to state owned transport entities. And the health of these companies was best reflected in their stock market fortunes.
Now just as Japanese railways are renowned for precision, the US Military is known to be the hotbed of new technology. Even the research on the internet, as we know it today, was originally funded by the US Department of Defence.
The end of the Cold War was a major turning point for the American defense industry. And with the privatisation of several defence related manufacturing entities in the 1980s, the sector was flush with funds for research.
--- Advertisement ---


Your Best Chance to Grab A Lion's Share of The Coming Stock Market Boom

India was the world's richest economy about 2,000 years ago. And many believe it's on the verge of repeating history again.

Yes! All across India, old businesses and new, are booming like never before. And it's creating the opportunity of a lifetime.

The real question is – Will you be there to claim your share of the greatest wealth creation event in Indian history?

Sign up FREE for our mega "REBIRTH OF INDIA" summit, and discover ways to potentially maximize your gains from it
------------------------------
Companies like Boeing and Northrop Grumman Corporation were amongst the first to benefit from this trend. These companies saw their stock prices multiply nearly 61 times and 56 times over past three decades.
You know that privatization is not a trend that is seen in economies every now and then. It usually occurs only once. Or possibly after decades.
Fortunately, few sectors in India are on the cusp of this trend for the first time ever.
And as investors in Indian stock markets, we find ourselves at the right place at the right time.
Like in the case of Japan and the US, privatization may not just create tremendous stock market wealth. But also push several Indian companies in the reckoning of global leaders.
I want to know what you think about this, dear reader. Which government company or industry would you like to see privatised? How much wealth do you think that would create?
Write to me with your opinion.
Warm regards,



Tanushree Banerjee (Research Analyst)
Editor, The 5 Minute WrapUp
PS: Do you think India can regain its status as one of the greatest countries on earth? Equitymaster's co-head of research, Tanushree Banerjee, certainly thinks so. In a free online summit on Thursday, 31 January, Tanushree will show you how to amass life-changing wealth from India's rise to the pinnacle it last occupied nearly 2,000 years ago! You don't want to miss this, dear reader. Register now for the free online summit here.
Copyright © Equitymaster Agora Research Private Limited. All rights reserved.
Any act of copying, reproducing or distributing this newsletter whether wholly or in part, for any purpose without the permission of Equitymaster is strictly prohibited and shall be deemed to be copyright infringement
Disclosure & Disclaimer:
Equitymaster Agora Research Private Limited (Research Analyst) bearing Registration No. INH000000537 (hereinafter referred as 'Equitymaster') is an independent equity research Company. The Author does not hold any shares in the company/ies discussed in this document. Equitymaster may hold shares in the company/ies discussed in this document under any of its other services.
This document is confidential and is supplied to you for information purposes only. It should not (directly or indirectly) be reproduced, further distributed to any person or published, in whole or in part, for any purpose whatsoever, without the consent of Equitymaster.
This document is not directed to, or intended for display, downloading, printing, reproducing or for distribution to or use by, any person or entity, who is a citizen or resident or located in any locality, state, country or other jurisdiction, where such distribution, publication, reproduction, availability or use would be contrary to law or regulation or what would subject Equitymaster or its affiliates to any registration or licensing requirement within such jurisdiction. If this document is sent or has reached any individual in such country, especially, USA, Canada or the European Union countries, the same may be ignored.
This document does not constitute a personal recommendation or take into account the particular investment objectives, financial situations, or needs of individual subscribers. Our research recommendations are general in nature and available electronically to all kind of subscribers irrespective of subscribers' investment objectives and financial situation/risk profile. Before acting on any recommendation in this document, subscribers should consider whether it is suitable for their particular circumstances and, if necessary, seek professional advice. The price and value of the securities referred to in this material and the income from them may go down as well as up, and subscribers may realize losses on any investments. Past performance is not a guide for future performance, future returns are not guaranteed and a loss of original capital may occur. Information herein is believed to be reliable but Equitymaster and its affiliates do not warrant its completeness or accuracy. The views/opinions expressed are our current opinions as of the date appearing in the material and may be subject to change from time to time without notice. This document should not be construed as an offer to sell or solicitation of an offer to buy any security or asset in any jurisdiction. Equitymaster and its affiliates, its directors, analyst and employees will not be responsible for any loss or liability incurred to any person as a consequence of his or any other person on his behalf taking any decisions based on this document.
As a condition to accessing Equitymaster content and website, you agree to our
Terms and Conditions of Use
, available here. The performance data quoted represents past performance and does not guarantee future results.
SEBI (Research Analysts) Regulations 2014, Registration No. INH000000537.

Equitymaster Agora Research Private Limited (Research Analyst) 103, Regent Chambers, Above Status Restaurant, Nariman Point, Mumbai - 400 021. India.
Telephone: +91-22-61434055. Fax: +91-22-22028550. Email: info@equitymaster.com. Website: www.equitymaster.com. CIN:U74999MH2007PTC175407