On This Day - 4 FEBRUARY 2019
The Budget and the Stock Market - What You Need to Know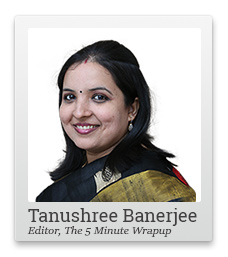 2019 is a crucial year for the Modi government: It is the year of general elections.
Will the Modi magic help the government get elected for another term? Or is the Modi euphoria fading?
But before we get to that, it would be safe to say that 2018 was a particularly challenging one for the government.
Global oil prices soared for a larger part of the year until October. This took its toll on the rupee, which lost around 15%. It was one of Asia's worst-performing currencies.
Then in the month of November, five states of Rajasthan, Chhattisgarh, Madhya Pradesh, Mizoram, and Telangana went to the polls, with the BJP not emerging victorious in any and the Congress gaining the upper hand in three states.
So the outcome of the general elections is bound to influence the movement of the Indian stock market.
But today, let's talk about the Budget.
Typically, Budgets presented in the year of elections do not carry as much weight as the other Budgets. After all, it does not make sense to make spending plans when you don't know if you will be in power to carry them out.
But that didn't stop the government from announcing the transfer of Rs 750 billion to farmer's bank accounts.
Then there was the pension scheme for the unorganised sector that grabbed the headlines.
And of course, tax relief for the middle class which will give a boost to consumption.
From the market's point of view, this was as good as it gets. There was no major disruptive announcement. The minor slip up in the fiscal deficit target was largely expected and the market brushed it aside.
The market will probably now take cues from global markets which are rallying after the US Fed's dovish stance on interest rates.
All things considered, the short-term looks good for the market.
That said, I strongly believe this Budget should not be the yardstick by which you chart your investment portfolio.
What matters are the big long-term trends that will greatly support India's growth story.
These trends will go a long way in powering the Sensex to 100,000.
I was not surprised the Finance Minister spoke about some of the 50 irreversible trends I've identified - road construction, tourism, Jan Dhan, Aadhar, RERA, startups, increased tax collections...and more.
You see, it is not short-term events like the Budget that will decide India's future. Rather the 50 irreversible trends will drive a historic transformation that I call the Rebirth of India.
Warm regards,



Tanushree Banerjee (Research Analyst)
Editor, The 5 Minute WrapUp
PS: Our special report, "4 Rebound Stocks To Profit From This Market Crash," is available for instant download. If you're interested in growing your wealth, we believe these 4 small caps are a must-have in your portfolio. But the prices of small caps move really fast...so get in now before it's too late. To find out how you could claim a copy of this report, click here...
Copyright © Equitymaster Agora Research Private Limited. All rights reserved.
Any act of copying, reproducing or distributing this newsletter whether wholly or in part, for any purpose without the permission of Equitymaster is strictly prohibited and shall be deemed to be copyright infringement
Disclosure & Disclaimer:
Equitymaster Agora Research Private Limited (Research Analyst) bearing Registration No. INH000000537 (hereinafter referred as 'Equitymaster') is an independent equity research Company. The Author does not hold any shares in the company/ies discussed in this document. Equitymaster may hold shares in the company/ies discussed in this document under any of its other services.
This document is confidential and is supplied to you for information purposes only. It should not (directly or indirectly) be reproduced, further distributed to any person or published, in whole or in part, for any purpose whatsoever, without the consent of Equitymaster.
This document is not directed to, or intended for display, downloading, printing, reproducing or for distribution to or use by, any person or entity, who is a citizen or resident or located in any locality, state, country or other jurisdiction, where such distribution, publication, reproduction, availability or use would be contrary to law or regulation or what would subject Equitymaster or its affiliates to any registration or licensing requirement within such jurisdiction. If this document is sent or has reached any individual in such country, especially, USA, Canada or the European Union countries, the same may be ignored.
This document does not constitute a personal recommendation or take into account the particular investment objectives, financial situations, or needs of individual subscribers. Our research recommendations are general in nature and available electronically to all kind of subscribers irrespective of subscribers' investment objectives and financial situation/risk profile. Before acting on any recommendation in this document, subscribers should consider whether it is suitable for their particular circumstances and, if necessary, seek professional advice. The price and value of the securities referred to in this material and the income from them may go down as well as up, and subscribers may realize losses on any investments. Past performance is not a guide for future performance, future returns are not guaranteed and a loss of original capital may occur. Information herein is believed to be reliable but Equitymaster and its affiliates do not warrant its completeness or accuracy. The views/opinions expressed are our current opinions as of the date appearing in the material and may be subject to change from time to time without notice. This document should not be construed as an offer to sell or solicitation of an offer to buy any security or asset in any jurisdiction. Equitymaster and its affiliates, its directors, analyst and employees will not be responsible for any loss or liability incurred to any person as a consequence of his or any other person on his behalf taking any decisions based on this document.
As a condition to accessing Equitymaster content and website, you agree to our
Terms and Conditions of Use
, available here. The performance data quoted represents past performance and does not guarantee future results.
SEBI (Research Analysts) Regulations 2014, Registration No. INH000000537.

Equitymaster Agora Research Private Limited (Research Analyst) 103, Regent Chambers, Above Status Restaurant, Nariman Point, Mumbai - 400 021. India.
Telephone: +91-22-61434055. Fax: +91-22-22028550. Email: info@equitymaster.com. Website: www.equitymaster.com. CIN:U74999MH2007PTC175407