On This Day - 5 FEBRUARY 2019
Do You Have the Stomach to Survive a Small Cap Crash?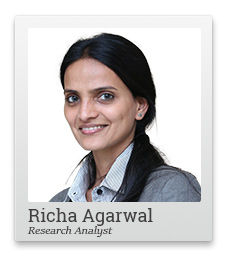 In the long term, stock market returns are expected at 15%. That's a widely quoted fact.
To be precise, Sensex has returned 13% compounded average growth rate. The time interval under consideration is from Feb 2001 to Feb 2019.
Just take a look at the chart below...
A Smooth Ride?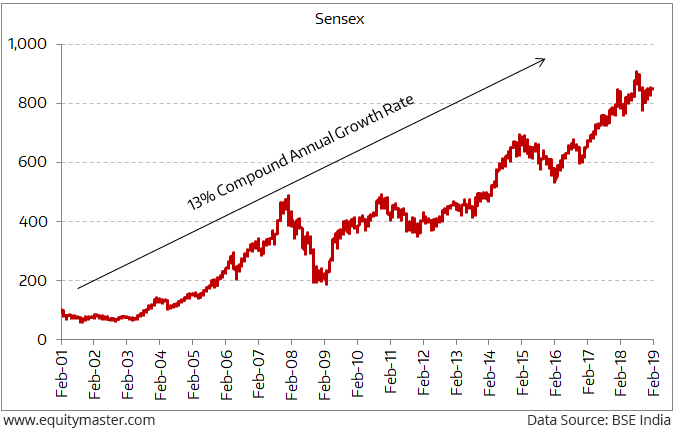 However, what is known, but often forgotten is that the market has never offered 15% every year, year after year. Far from it. Its highs and lows have varied from 52% loss in a year to positive 81% return in another year. In fact, the only year it gave a 13% return year on year (YoY) was FY04.
Take a look.
You Think It's a Roller Coaster Ride?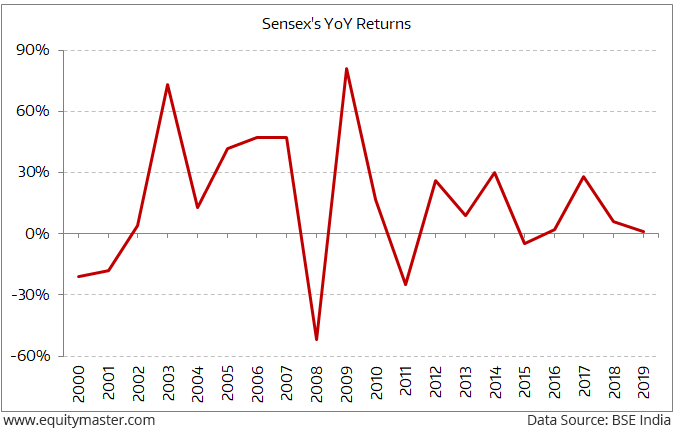 If that's the case with Sensex, imagine what it would be like for smallcaps, which are notorious for volatility.
This is what the ride looks like...
Smallcaps - Only For Bravehearts?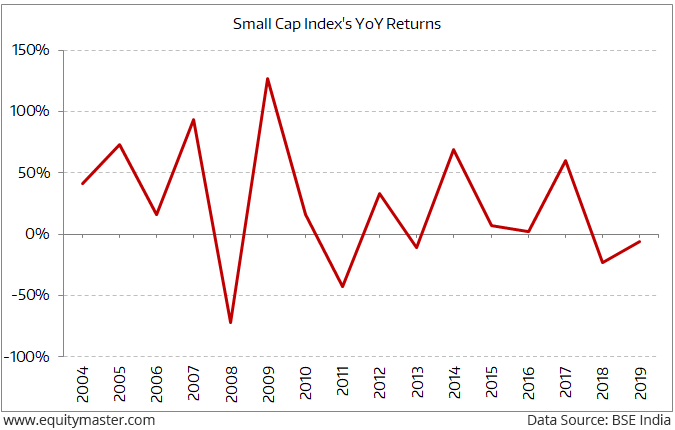 The swings are wild enough to scare anyone off. However, the above volatility hides the fact that the small cap index's CAGR has been 19.4% over the last 15.8 years.
Fortune Favours the Brave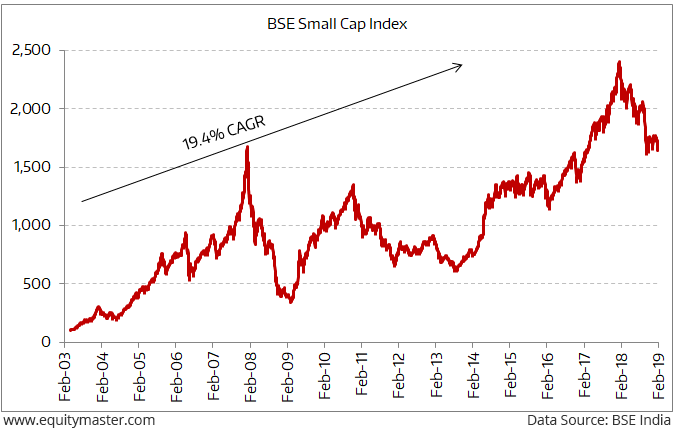 Do note that index constituents keep changing with time.
Small cap businesses that perform well become big enough to shift to the midcap space. And those that fail become obsolete, or penny stocks.
It is also important to note that the individual phases of these cycles are not selective to stocks or quality of businesses. In a bull market, good, bad, ugly, all swim. In a bad market, even the babies are thrown away with the bath water.
A business in the small cap space, unless fundamentally strong, is highly unlikely to recover after facing a downcycle. On the other hand, for fundamentally strong small caps, the recovery is much sharper.
In fact, bear phases are a boon for value investors. They let you pick quality small caps at the price of pennies.
So why don't retail investors buy more during corrections?
Well, the reason is widespread fear and the inability to see beyond the price charts.
They forget that fundamentals of businesses don't change year on year the way prices do. A few even say: 'It's too bad to be true'.
To be honest, it's not easy. It is impossible to predict when the next upcycle will start or how long a downcycle will continue. Some still try - after all, no one gets paid to 'not know'. Most fail. A few get lucky.
But one thing is sure. Every market downcycle is followed by an upturn. While selecting good businesses is relatively easy task in a bearish phase, where most people fail is in having enough patience to hold the quality stocks until recovery.
While some investors are keen to own companies with the capacity to suffer business downcycles, their own capacity to suffer a market downcycle is extremely low. And they often end up losing to less smarter, less active, but more patient investors.
As small caps remain in a bear grip , I hope that you will not only make the most of this phase to pick quality small caps, but stay focused on fundamentals rather than short term price movements.
Regards,



Richa Agarwal (Research Analyst)
Editor, Hidden Treasure
PS: Get started on building wealth with these 4 small cap stocks that Richa believes are set to rebound from big time as the market recovers from the crash...
Copyright © Equitymaster Agora Research Private Limited. All rights reserved.
Any act of copying, reproducing or distributing this newsletter whether wholly or in part, for any purpose without the permission of Equitymaster is strictly prohibited and shall be deemed to be copyright infringement
Disclosure & Disclaimer:
Equitymaster Agora Research Private Limited (Research Analyst) bearing Registration No. INH000000537 (hereinafter referred as 'Equitymaster') is an independent equity research Company. The Author does not hold any shares in the company/ies discussed in this document. Equitymaster may hold shares in the company/ies discussed in this document under any of its other services.
This document is confidential and is supplied to you for information purposes only. It should not (directly or indirectly) be reproduced, further distributed to any person or published, in whole or in part, for any purpose whatsoever, without the consent of Equitymaster.
This document is not directed to, or intended for display, downloading, printing, reproducing or for distribution to or use by, any person or entity, who is a citizen or resident or located in any locality, state, country or other jurisdiction, where such distribution, publication, reproduction, availability or use would be contrary to law or regulation or what would subject Equitymaster or its affiliates to any registration or licensing requirement within such jurisdiction. If this document is sent or has reached any individual in such country, especially, USA, Canada or the European Union countries, the same may be ignored.
This document does not constitute a personal recommendation or take into account the particular investment objectives, financial situations, or needs of individual subscribers. Our research recommendations are general in nature and available electronically to all kind of subscribers irrespective of subscribers' investment objectives and financial situation/risk profile. Before acting on any recommendation in this document, subscribers should consider whether it is suitable for their particular circumstances and, if necessary, seek professional advice. The price and value of the securities referred to in this material and the income from them may go down as well as up, and subscribers may realize losses on any investments. Past performance is not a guide for future performance, future returns are not guaranteed and a loss of original capital may occur. Information herein is believed to be reliable but Equitymaster and its affiliates do not warrant its completeness or accuracy. The views/opinions expressed are our current opinions as of the date appearing in the material and may be subject to change from time to time without notice. This document should not be construed as an offer to sell or solicitation of an offer to buy any security or asset in any jurisdiction. Equitymaster and its affiliates, its directors, analyst and employees will not be responsible for any loss or liability incurred to any person as a consequence of his or any other person on his behalf taking any decisions based on this document.
As a condition to accessing Equitymaster content and website, you agree to our
Terms and Conditions of Use
, available here. The performance data quoted represents past performance and does not guarantee future results.
SEBI (Research Analysts) Regulations 2014, Registration No. INH000000537.

Equitymaster Agora Research Private Limited (Research Analyst) 103, Regent Chambers, Above Status Restaurant, Nariman Point, Mumbai - 400 021. India.
Telephone: +91-22-61434055. Fax: +91-22-22028550. Email: info@equitymaster.com. Website: www.equitymaster.com. CIN:U74999MH2007PTC175407