On This Day - 6 FEBRUARY 2019
How Soon Before the Market Reaches New Heights Again?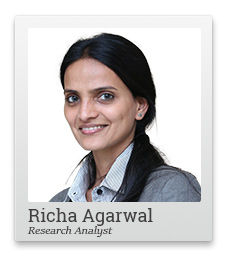 Just yesterday I wrote to you about why retail investors don't buy more during crashes even though corrections offer a chance to pick quality small caps at the price of pennies.
The answer, I wrote, lay in widespread fear and the inability to see beyond the price charts.
In the depths of a market crash, it is impossible to predict when the next upcycle will start or how long a downcycle will continue.
Be that as it may, every once in a while, there comes along a set of numbers that gets one totally thrilled.
The kind that gets you up from your seat, pacing the room, amazed at what goes on in the circus of the stock market.
I stumbled upon such a statistic recently. In researching stock prices going back to 1985 and all the market crashes since then, guess what I discovered?
--- Advertisement ---


The 4 Small Caps That Could Shoot Up in 2019…

Richa Agarwal, the editor of Hidden Treasure calls this the BIGGEST wealth-creating opportunity in a decade…

The last time something like this happened, smart investors walked away with triple and quadruple digit gains in just a few years.

And this time Richa believes the money-making potential may be even bigger (especially for these 4 stocks…)

Read this before you make any money decisions.
------------------------------
Over the last three decades or so, on average it has taken only 1.8 years to go from the dreadful depths of a stock market crash to the lofty pinnacle of a market high!
Do note that this is not the time taken only to get out of a crash. This is actually the average time it has taken to get from the depths of a market crash to the next market high.
And wait till you hear this next bit...
The BSE Sensex's average gain during such periods was 165%!
That's more than two and a half times your money in less than two years!
Talk about gain after the pain!
Here's the entire story:
Date when market
hit a high
Time taken to swing from depths of
previous crash to the high (years)
Gain in the Sensex
27-Feb-86
1.2
143%
09-Oct-90
2.5
300%
22-Apr-92
1.2
367%
16-Sep-94
1.4
127%
05-Aug-97
1.5
61%
11-Feb-00
1.3
115%
14-Jan-04
2.3
138%
10-May-06
2.0
180%
08-Jan-08
1.6
134%
05-Nov-10
1.7
157%
29-Jan-15
3.1
96%
Average
1.8
165%
Now that's an exciting statistic!
It gets even more exciting though...
Small caps, notorious for volatility, tend to see exaggerated price moves on both the upside and the downside.
What this means is that their moves form market crash to market high tend to be even more dramatic!
While data for the BSE Small Cap index is not available for such a long period as the Sensex, this is more than evident from even a cursory look at comparable numbers for the Small Cap index.
For example, as you can see in the table above, the gain in the BSE Sensex when it swung from the depths of the previous crash to its high in Nov 2010 over a span of 1 year and 8 months was 157%.
What was the gain in the BSE Small Cap Index over this same period?
A massive 254%.
Here's the thing. Falling stock prices are usually an equity investor's biggest source of pain.
And a market crash?
Well, that can cause outright depression. It can paralyze existing investors and scare away new ones.
But down in the depths of a stock market crash like the one we're in currently, when fear rules and everywhere you look is red, remember these numbers.
And the power of small caps to make money through this volatility!
Regards,



Richa Agarwal (Research Analyst)
Editor, Hidden Treasure
PS: 4 small caps stocks that Richa has identified are going to soar from their current cheap prices to new highs very soon - these 4 rebound stocks could change your fortunes - if you get in now.
Copyright © Equitymaster Agora Research Private Limited. All rights reserved.
Any act of copying, reproducing or distributing this newsletter whether wholly or in part, for any purpose without the permission of Equitymaster is strictly prohibited and shall be deemed to be copyright infringement
Disclosure & Disclaimer:
Equitymaster Agora Research Private Limited (Research Analyst) bearing Registration No. INH000000537 (hereinafter referred as 'Equitymaster') is an independent equity research Company. The Author does not hold any shares in the company/ies discussed in this document. Equitymaster may hold shares in the company/ies discussed in this document under any of its other services.
This document is confidential and is supplied to you for information purposes only. It should not (directly or indirectly) be reproduced, further distributed to any person or published, in whole or in part, for any purpose whatsoever, without the consent of Equitymaster.
This document is not directed to, or intended for display, downloading, printing, reproducing or for distribution to or use by, any person or entity, who is a citizen or resident or located in any locality, state, country or other jurisdiction, where such distribution, publication, reproduction, availability or use would be contrary to law or regulation or what would subject Equitymaster or its affiliates to any registration or licensing requirement within such jurisdiction. If this document is sent or has reached any individual in such country, especially, USA, Canada or the European Union countries, the same may be ignored.
This document does not constitute a personal recommendation or take into account the particular investment objectives, financial situations, or needs of individual subscribers. Our research recommendations are general in nature and available electronically to all kind of subscribers irrespective of subscribers' investment objectives and financial situation/risk profile. Before acting on any recommendation in this document, subscribers should consider whether it is suitable for their particular circumstances and, if necessary, seek professional advice. The price and value of the securities referred to in this material and the income from them may go down as well as up, and subscribers may realize losses on any investments. Past performance is not a guide for future performance, future returns are not guaranteed and a loss of original capital may occur. Information herein is believed to be reliable but Equitymaster and its affiliates do not warrant its completeness or accuracy. The views/opinions expressed are our current opinions as of the date appearing in the material and may be subject to change from time to time without notice. This document should not be construed as an offer to sell or solicitation of an offer to buy any security or asset in any jurisdiction. Equitymaster and its affiliates, its directors, analyst and employees will not be responsible for any loss or liability incurred to any person as a consequence of his or any other person on his behalf taking any decisions based on this document.
As a condition to accessing Equitymaster content and website, you agree to our
Terms and Conditions of Use
, available here. The performance data quoted represents past performance and does not guarantee future results.
SEBI (Research Analysts) Regulations 2014, Registration No. INH000000537.

Equitymaster Agora Research Private Limited (Research Analyst) 103, Regent Chambers, Above Status Restaurant, Nariman Point, Mumbai - 400 021. India.
Telephone: +91-22-61434055. Fax: +91-22-22028550. Email: info@equitymaster.com. Website: www.equitymaster.com. CIN:U74999MH2007PTC175407