On This Day - 12 FEBRUARY 2019
When My Mom Gave a Big Thumbs Up to the Rebirth of India...

A couple of years back when I told my mom we were going on a family vacation to Singapore, she could barely contain her excitement.
This was the first time she was going to set foot on a foreign soil and she was so looking forward to it.
Although not that tuned into current affairs, she was well aware that Singapore is a rich country, with state-of-the-art infrastructure and world class amenities.
'So, did the city live up to your expectations?', I asked mom on our flight back home.
'Ha saari che. Saachu kau to aamathi ghanu badhu toh have India ma e jova made che', she replied in our mother tongue Gujarati.
When translated, it means 'Yes, the city did impress me. But to tell you the truth, you can even find similar experiences and amenities in India also.'
Well, my mom was pretty much echoing the sentiments of the rest of us.
Of course, this is not to say that India is at par with Singapore.
Singapore Has Remarkable Infrastructure. India May Not Be Too Far Behind...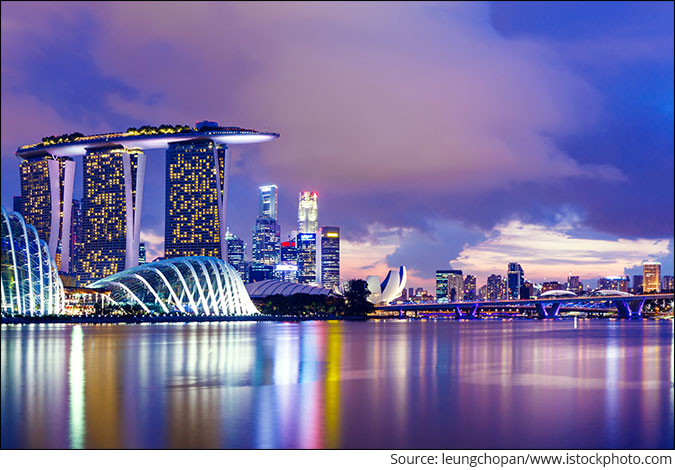 The quality and the experience on offer across some of Singapore's tourist hotspots are truly world class. And Singapore is way, way richer in terms of its per capita income and the kind of lifestyle it offers its citizens.
But my mom did not have the analytical lens that we tend to use when comparing two countries. Her reaction was totally visceral.
She just told what she saw, what her senses could feel, and she was right that India is indeed making great progress across a wide variety of sectors.
Take, for example, the cars on the road that we saw in Singapore. I don't think the cars that we make in India are in any way inferior to what we saw there. They offer the same comfort, pack in the same visual appeal and offer the same driving experience.
Even the metros in our big cities like Delhi can give the ones in Singapore a run for their money.
And while the intra city roads in our country leave a lot to be desired, a lot of inter-state or inter-city highways in the country are in no way inferior to the ones we travelled on in Singapore.
No wonder my mom, and the rest of us, felt that there are indeed pockets or sectors where the country has certainly made tremendous progress over the years.
Oh, and did I tell you my nephew and niece found the rides and the thrills on offer in Imagica in our very own Aamchi Mumbai better than what Universal studio offered...
Of course, there are certain things that stuck out like a sore thumb.
Wherever we went in Singapore, we never encountered a slum. That is, of course, not the case with our big cities. In Mumbai for eg, slums are as omnipresent as the high rises.
Probably because our per capita income is way lower than Singapore. Another big challenge is that there is very little land with clear titles.
Which is why the ratio of land costs to per capita income is significantly higher than in rich cities like Singapore. And which is why a huge majority of people living in cities like Mumbai cannot afford homes.
India needs to learn a lot from Singapore in the area of creating jobs as well.
This reality dawned on me at the time of checking into our hotel. There was no one to assist us to help shift our luggage to our rooms. We had to haul it ourselves with the help of a big trolley.
My first impression was maybe the hotel is trying to cut costs and therefore has less staff on payroll. But I was wrong. I observed a similar pattern across a lot of other places where we had to do such low value add stuff ourselves.
This was in stark contrast to India where one has the luxury of hordes and hordes of humans at our beck and call.
What did this tell me? It told me that Singapore has a lot of its workforce employed in high income generating industries like the modern sector, whereas India has the bulk of its workforce in low productivity fields like agriculture and the transition sector.
Of course, there are quite a few other examples where the island nation fares much better than India and it will be some time before we are able to close the gap to a significant extent.
What makes me happy though is that the wheels to achieve this goal have already been set in motion.
India is on the verge of a series of transformative events that could accelerate our economy's growth to a level we haven't seen in millennia.
So, while the reforms of 1991 and thereafter helped us reach par with rich nations like Singapore in some areas, what's going to come next will certainly help bridge the gap a lot more.
Take, for example, the enactment of the Real Estate Regulation Act or RERA as it is popularly known as. Its mission is to create more fair transaction between the sellers and the buyers of properties, and make the scenario more buyer-friendly. In other words, work towards making a lot of our cities slum free.
Reports show that tightening of rules has already brought down housing prices in the major cities in the last few years... And with the tight enforcement of RERA, things could get even better for homebuyers in the years to come.
Then there are the massive programmes the Government has rolled out to create more high value add jobs. Various initiatives started by the government like Make In India, Skill India, Start Up India, Stand Up India, Digital India and others are all important steps in this regard.
These two reforms, I believe, are just a part of the story.
There are few more that put together, will give a big boost to the Indian economy and stock market leading to the Rebirth of India.
And by the way, the aim of this write up is not just to highlight that while we have peeled a few layers of the onion, there's a lot we could still peel away in the years to come.
I'm writing this to also show how you and I could use this period of massive economic growth to amass life-transforming wealth for ourselves and also another five, or six or even seven future generations!
The last time something not even half this big happened, Indian investors had a chance to turn Rs 1 lac into Rs 44 lacs...or into Rs 1.08 crores...or even into Rs 4.89 crores in around 25 years..
This time around, investors could potentially make bigger - much bigger -- returns.
Now this is something that will certainly get a big thumbs up even from my mom.
Good Investing,



Rahul Shah (Research Analyst)
Editor, Profit Hunter
PS: It is time to focus on small caps again by the way. Make sure you stock up on these 4 small cap stocks that are prepared to bounce back from the recent heartbreaking lows in the index - get in now or you WILL miss the rebound spike!
Copyright © Equitymaster Agora Research Private Limited. All rights reserved.
Any act of copying, reproducing or distributing this newsletter whether wholly or in part, for any purpose without the permission of Equitymaster is strictly prohibited and shall be deemed to be copyright infringement
Disclosure & Disclaimer:
Equitymaster Agora Research Private Limited (Research Analyst) bearing Registration No. INH000000537 (hereinafter referred as 'Equitymaster') is an independent equity research Company. The Author does not hold any shares in the company/ies discussed in this document. Equitymaster may hold shares in the company/ies discussed in this document under any of its other services.
This document is confidential and is supplied to you for information purposes only. It should not (directly or indirectly) be reproduced, further distributed to any person or published, in whole or in part, for any purpose whatsoever, without the consent of Equitymaster.
This document is not directed to, or intended for display, downloading, printing, reproducing or for distribution to or use by, any person or entity, who is a citizen or resident or located in any locality, state, country or other jurisdiction, where such distribution, publication, reproduction, availability or use would be contrary to law or regulation or what would subject Equitymaster or its affiliates to any registration or licensing requirement within such jurisdiction. If this document is sent or has reached any individual in such country, especially, USA, Canada or the European Union countries, the same may be ignored.
This document does not constitute a personal recommendation or take into account the particular investment objectives, financial situations, or needs of individual subscribers. Our research recommendations are general in nature and available electronically to all kind of subscribers irrespective of subscribers' investment objectives and financial situation/risk profile. Before acting on any recommendation in this document, subscribers should consider whether it is suitable for their particular circumstances and, if necessary, seek professional advice. The price and value of the securities referred to in this material and the income from them may go down as well as up, and subscribers may realize losses on any investments. Past performance is not a guide for future performance, future returns are not guaranteed and a loss of original capital may occur. Information herein is believed to be reliable but Equitymaster and its affiliates do not warrant its completeness or accuracy. The views/opinions expressed are our current opinions as of the date appearing in the material and may be subject to change from time to time without notice. This document should not be construed as an offer to sell or solicitation of an offer to buy any security or asset in any jurisdiction. Equitymaster and its affiliates, its directors, analyst and employees will not be responsible for any loss or liability incurred to any person as a consequence of his or any other person on his behalf taking any decisions based on this document.
As a condition to accessing Equitymaster content and website, you agree to our
Terms and Conditions of Use
, available here. The performance data quoted represents past performance and does not guarantee future results.
SEBI (Research Analysts) Regulations 2014, Registration No. INH000000537.

Equitymaster Agora Research Private Limited (Research Analyst) 103, Regent Chambers, Above Status Restaurant, Nariman Point, Mumbai - 400 021. India.
Telephone: +91-22-61434055. Fax: +91-22-22028550. Email: info@equitymaster.com. Website: www.equitymaster.com. CIN:U74999MH2007PTC175407