On This Day - 22 MARCH 2019
The FIIs Have Come Shopping... What Will You Buy?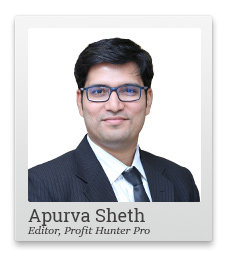 The Indian stock markets have been racing ahead ever since they broke out of the resistance at 11,000. The benchmark Nifty gained 500 points in no time and even crossed the 11,500 mark after 6 months.
Now, the index has managed a smart up move over the last few days, and I imagine most of that can be attributed to the buying spree by Foreign Institutional Investors (FIIs).
FII are coming back to shop for goodies from the Indian equity markets.
Let me just show you the net investments by the FIIs in both the capital and debt markets...
I shared this below chart with my Profit Hunter Pro readers just before the markets collapsed in September 2018.
In this chart, you can see the Nifty's daily price movements in red. And along with that, the net FII inflows in debt and equity markets on a one year rolling basis in blue.
Looking at the FII inflow figures on a rolling basis smoothens the data and shows the trend clearly.
Nifty and FII Flows on a One Year Rolling Basis
FIIs have been on a buying spree over the last two months. They have bought equities worth Rs 17,000 crores in February and Rs 27,000 crores in March so far. They are net sellers in the debt market over the same period but the net purchases in equities have overwhelmed the net sales in debt.
Now a major portion of the purchases in equities is because of block deals in stocks like Kotak Mahindra Bank, Wipro etc. But there are also stocks which were bought through exchange traded funds (ETF's) and actively managed funds.
Now, is this a sign of turnaround in FII flows?
Well nobody can tell that for sure but we will keep our eyes on the above chart for more cues. And there is more action right now too...
After block deals, FII fund flows have been the highest through ETF's. Last Friday, one of the world's largest ETF companies, Vanguard, bought shares of 10 Indian companies worth Rs 12.94 billion.
John Bogle founded the Vanguard group and popularized investing in low cost index funds. Mr Bogle's fund generated compounded annual returns of 13.6% over 40 years.
Vanguard funds have a reputation of generating market beating returns at a fraction of a cost of regular funds. So, when Vanguard funds opens its kitty and buys stocks we need to sit up and take notice of the stocks they bought.
Now here's the list of 10 stocks Vanguard bought under its Emerging Markets Fund. Have a look.
What Vanguard Bought
| Date | Security Name | Quantity Traded | Trade Price / Wght. Avg. Price (In Rs) | Investment (in Rs) |
| --- | --- | --- | --- | --- |
| 15-Mar-19 | Aarti Industries Ltd. | 416,418 | 1,425 | 593,528,904 |
| 15-Mar-19 | Bata India Ltd. | 851,362 | 1,375 | 1,170,452,478 |
| 15-Mar-19 | Castrol India Limited | 5,083,059 | 166 | 844,041,947 |
| 15-Mar-19 | DCB Bank Limited | 4,004,628 | 202 | 807,693,421 |
| 15-Mar-19 | NIIT Technologies Limited | 839,889 | 1,337 | 1,122,772,014 |
| 15-Mar-19 | RBL Bank Limited | 10,060,965 | 648 | 6,524,435,193 |
| 15-Mar-19 | Teamlease Services Ltd. | 107,447 | 2,830 | 304,071,787 |
| 15-Mar-19 | TTK Prestige Ltd. | 75,662 | 8,536 | 645,855,372 |
| 15-Mar-19 | V-Guard Industries Limited | 2,326,669 | 221 | 513,472,582 |
| 15-Mar-19 | Vmart Retail Ltd | 155,838 | 2,628 | 409,557,848 |
| | | | Total | 12,935,881,544 |
Most of these companies are from the midcap space. Some have even gone through the Equitymaster lens at one point or other.
While going through each of these companies I found one to be particularly worthy of our attention.
This stock has been in a strong uptrend for many months.
The recent correction in markets is providing an excellent opportunity to get in to this compounding machine. I thus recommend it enthusiastically.
And that's not all. I also have 5 fundamentally strong stocks in my radar already. I have recommended these stocks to Profit Hunter Pro readers and have my eyes on atleast 5 more stocks which could trigger an entry opportunity anytime.
I have never seen so many entry opportunities crop up at the same time ever since I started publishing the Profit Hunter Pro.
I am very excited about the upcoming opportunities - especially after a pretty down period in the markets.
I am sure you don't want to be left out as FIIs pour money into our markets. If you want to benefit from this surge join me and my Profit Hunter Pro readers right away.

Apurva Sheth
Editor and Research Analyst, Profit Hunter Pro
PS: 6 trading opportunities ready-to-buy right now. If you are sick of waiting months and years for profits, get in now to see results in a few days to a few weeks. There has never been a better time. Click here now.
Copyright © Equitymaster Agora Research Private Limited. All rights reserved.
Any act of copying, reproducing or distributing this newsletter whether wholly or in part, for any purpose without the permission of Equitymaster is strictly prohibited and shall be deemed to be copyright infringement
Disclosure & Disclaimer:
Equitymaster Agora Research Private Limited (Research Analyst) bearing Registration No. INH000000537 (hereinafter referred as 'Equitymaster') is an independent equity research Company. The Author does not hold any shares in the company/ies discussed in this document. Equitymaster may hold shares in the company/ies discussed in this document under any of its other services.
This document is confidential and is supplied to you for information purposes only. It should not (directly or indirectly) be reproduced, further distributed to any person or published, in whole or in part, for any purpose whatsoever, without the consent of Equitymaster.
This document is not directed to, or intended for display, downloading, printing, reproducing or for distribution to or use by, any person or entity, who is a citizen or resident or located in any locality, state, country or other jurisdiction, where such distribution, publication, reproduction, availability or use would be contrary to law or regulation or what would subject Equitymaster or its affiliates to any registration or licensing requirement within such jurisdiction. If this document is sent or has reached any individual in such country, especially, USA, Canada or the European Union countries, the same may be ignored.
This document does not constitute a personal recommendation or take into account the particular investment objectives, financial situations, or needs of individual subscribers. Our research recommendations are general in nature and available electronically to all kind of subscribers irrespective of subscribers' investment objectives and financial situation/risk profile. Before acting on any recommendation in this document, subscribers should consider whether it is suitable for their particular circumstances and, if necessary, seek professional advice. The price and value of the securities referred to in this material and the income from them may go down as well as up, and subscribers may realize losses on any investments. Past performance is not a guide for future performance, future returns are not guaranteed and a loss of original capital may occur. Information herein is believed to be reliable but Equitymaster and its affiliates do not warrant its completeness or accuracy. The views/opinions expressed are our current opinions as of the date appearing in the material and may be subject to change from time to time without notice. This document should not be construed as an offer to sell or solicitation of an offer to buy any security or asset in any jurisdiction. Equitymaster and its affiliates, its directors, analyst and employees will not be responsible for any loss or liability incurred to any person as a consequence of his or any other person on his behalf taking any decisions based on this document.
As a condition to accessing Equitymaster content and website, you agree to our
Terms and Conditions of Use
, available here. The performance data quoted represents past performance and does not guarantee future results.
SEBI (Research Analysts) Regulations 2014, Registration No. INH000000537.

Equitymaster Agora Research Private Limited (Research Analyst) 103, Regent Chambers, Above Status Restaurant, Nariman Point, Mumbai - 400 021. India.
Telephone: +91-22-61434055. Fax: +91-22-22028550. Email: info@equitymaster.com. Website: www.equitymaster.com. CIN:U74999MH2007PTC175407