On This Day - 22 MARCH 2022
Metaverse: How to Invest in the Future of the Internet


Editor's note: We are very close to bringing back Equitymaster.com.

Here's a note on the latest status of the ransomware attack on Equitymaster. Also, we have posted a detailed FAQ on the status of our Portfolio Tracker. You may read it here.
---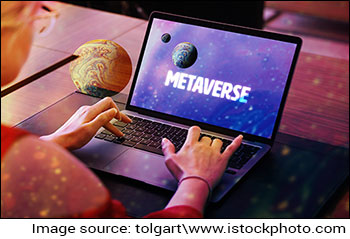 As I write this, I'm still working from home.
When it all started, it seemed like a huge disruption to me, personally.
This was not the way of working I could have imagined for an analyst. For me, management meetings had been the foundation of finalising or rejecting a recommendation.
But I adapted. I haven't had a single meeting in person.
But nothing seems amiss. I have these interactions on video calls now. It's something I would have never thought of until the pandemic forced it on me.
The good part is, with the reduction in travelling, my team and I have more virtual meetings. If anything, I believe it's only going to get more virtual and immersive.
You see, the last decade had been all about internet and technology. The real and virtual worlds have merged. We spend most of the time online, are more connected to friends virtually.
Yet, for a lot of us, this still remains a 2-dimensional experience. But that might soon change for the better with the Metaverse.
You see the Metaverse became a buzzword ever since Facebook rebranded itself to Meta. It's a digital world in which physical, augmented, and virtual realities (collectively called extended reality) come together to offer real time experiences.
Think of being a character in a 3D online video game, immersed in a very real experience with a few conferencing tools and platforms.
You could put on a device - glasses or a headset - and enter a 3-D world. Here you can define the rules of the game. You could even earn or spend money there.
So it would not be an exaggeration to call metaverse the future of internet. And it's not a disruption happening in just far off lands. It's already creeped into people's lives in India.
For instance, a Tamil Nadu based couple was recently in news for hosting India's first wedding reception in the metaverse. The plan included a virtual venue where friends and family would join to bless them, including the girl's deceased father.
Then there are gaming apps like Zepeto, a metaverse platform where you can create your 3D avatar and can interact with other real participants' avatar.
This could seem science fiction becoming reality...but if you think about it, almost all mainstream inventions today were once a figments of imagination. Be it internet, smartphones, interplanetary travel and so on.
It has fancy of Mr Subhash Chandra, who prefers calling it Mayaverse. More entrepreneurs will want to create something with this concept.
But the million dollar question is this: Can investors create real wealth by investing in this theme that redefines 'virtual'?
Let's see why the Metaverse is becoming a buzz word among investors.
As per an industry report, India's augmented and virtual reality (AR &VR) market was about Rs 135 bn in FY20. But with a projected growth of 38% every year, this could grow to 10 times by 2027.
Worldwide, spending on AR and VR, is forecast to reach US$ 160 bn by 2023, up from the US$ 16.8 bn forecast for 2019.
Globally, companies like Nike are investing millions into the concept. It recently bought a company RTFKT that uses gaming engines, NFTs, blockchain technology, and augmented reality to create its footwear designs and digital artifacts.
Now it's easy to find global firms riding the Metaverse. These include all big tech firms like Facebook, Google, Apple, Tencent, and Microsoft and so on.
There are platforms like Decentraland where you can buy virtual real estate with a virtual currency called Mana, that one can buy on a global exchange.
Then there is the NFT gaming metaverse Axie Infinity, where collective digital pets can be bred. One can play and earn an income.
But it's not just about gaming.
When it comes to end use applications - infotainment, education tech, retail, manufacturing, media, entertainment, fashion, travel, tourism, healthcare - this theme will become a very tangible reality across sectors in a few years.
There is already a long list of startups, working on extended reality technologies.
Opportunities in the Ecosystem
Sectors and segments that will benefit rise of metaverse will include consumer electronics (these could be smartglasses, eye wear or headsets), semiconductor companies, and companies making hand held devices.
Then there will be IT companies developing immersive or extended reality solutions such as Infosys, Wipro, Tata Elxsi, L&T Tech, Cyient, HCL Tech, Happiest Minds, Kellton Tech, etc.
There could be opportunities in the companies that will create physical infrastructure, such as telecom and the 5G ecosystem such as Himachal Futuristic and Tejas Networks.
Cyber security companies like Subex will also have a role to play.
Which Indian firms have shown serious intent to enter the metaverse?
First on the list is Reliance Industries.
In 2020, Reliance Jio announced smart glasses called Jio Glass. Jio Glass apparently will use a combination of AR and VR to help make video conferencing better.
Second on my list is Nazara Technologies Ltd. One of the ways this mobile gaming company generates revenue is by selling in-app virtual items representing functional items or feature enhancements to the game players. These can be purchased and used within the app.
Nazara Tech has invested in VR gaming firm InstaSportz that is engaged in the business of running sports and virtual reality entertainment zones across India and abroad.
Nazara has stakes in two firms: Nodwin, an Indian esports firm that is partnering with other firms for more immersive experiences and Next Wave Multimedia, that is actively looking to launch its own non-fungible tokens.
Then there are some unusual contenders that could potentially ride this wave through optionality.
For instance, as per media reports, Hindustan Media Ventures Ltd has invested in WURKR. This is a UK and India-based SaaS platform that enables teams to work together from anywhere in an immersive virtual workspace. In simple words, it's an 'office in the cloud' company.
Triveni Engineering and Industries is an investor in Jet Synthesis, a gaming startup in which Flipkart, Sachin Tendulkar, and Adar Poonawalla have invested as well as per media reports.
Then there is adtech firm Affle (India). The company has been granted a patent by the US Patent Office, related to gesture-based voice intelligence driven interactions.
This is to prepare it for the metaverse, in which human interaction with the machines or technology would not be a voice command or type-in and touch...but a simple gesture.
This gesture could be to one's avatar or your digital persona, causing it to act in a certain way based on subtle gestures.
For more about this opportunity, watch the video below:
Please note that none of the above stocks are recommendations either buy, hold, or sell.
This editorial is an attempt to make you aware of the emerging investing themes and potential beneficiaries that you must keep on your watchlist.
This is still an evolving theme that needs to be tracked closely. This edition of the Profit Hunter is just the beginning of a lot more research to be shared.
Stay tuned for more updates on new, exciting, and disruptive trends.
Warm regards,



Tanushree Banerjee
Editor, StockSelect
Equitymaster Agora Research Private Limited (Research Analyst)
PS:Equitymaster.com is currently not accessible due to technical reasons. We regret the inconvenience caused. Meanwhile, please access our content on LiveMint.com and NDTV.com. You can also track us on YouTube and Telegram.
Copyright © Equitymaster Agora Research Private Limited. All rights reserved.
Any act of copying, reproducing or distributing this newsletter whether wholly or in part, for any purpose without the permission of Equitymaster is strictly prohibited and shall be deemed to be copyright infringement
Disclosure & Disclaimer:
Equitymaster Agora Research Private Limited (Research Analyst) bearing Registration No. INH000000537 (hereinafter referred as 'Equitymaster') is an independent equity research Company. The Author does not hold any shares in the company/ies discussed in this document. Equitymaster may hold shares in the company/ies discussed in this document under any of its other services.
This document is confidential and is supplied to you for information purposes only. It should not (directly or indirectly) be reproduced, further distributed to any person or published, in whole or in part, for any purpose whatsoever, without the consent of Equitymaster.
This document is not directed to, or intended for display, downloading, printing, reproducing or for distribution to or use by, any person or entity, who is a citizen or resident or located in any locality, state, country or other jurisdiction, where such distribution, publication, reproduction, availability or use would be contrary to law or regulation or what would subject Equitymaster or its affiliates to any registration or licensing requirement within such jurisdiction. If this document is sent or has reached any individual in such country, especially, USA, the same may be ignored.
This document does not constitute a personal recommendation or take into account the particular investment objectives, financial situations, or needs of individual subscribers. Our research recommendations are general in nature and available electronically to all kind of subscribers irrespective of subscribers' investment objectives and financial situation/risk profile. Before acting on any recommendation in this document, subscribers should consider whether it is suitable for their particular circumstances and, if necessary, seek professional advice. The price and value of the securities referred to in this material and the income from them may go down as well as up, and subscribers may realize losses on any investments. Past performance is not a guide for future performance, future returns are not guaranteed and a loss of original capital may occur. Information herein is believed to be reliable but Equitymaster and its affiliates do not warrant its completeness or accuracy. The views/opinions expressed are our current opinions as of the date appearing in the material and may be subject to change from time to time without notice. This document should not be construed as an offer to sell or solicitation of an offer to buy any security or asset in any jurisdiction. Equitymaster and its affiliates, its directors, analyst and employees will not be responsible for any loss or liability incurred to any person as a consequence of his or any other person on his behalf taking any decisions based on this document.
As a condition to accessing Equitymaster content and website, you agree to our
Terms and Conditions of Use
, available here. The performance data quoted represents past performance and does not guarantee future results.
SEBI (Research Analysts) Regulations 2014, Registration No. INH000000537.

Equitymaster Agora Research Private Limited (Research Analyst) 103, Regent Chambers, Above Status Restaurant, Nariman Point, Mumbai - 400 021. India.
Telephone: +91-22-6143 4055. Fax: +91-22-2202 8550. Email: info@equitymaster.com. Website: www.equitymaster.com. CIN:U74999MH2007PTC175407