On This Day - 23 MARCH 2018
Revealing the Ground-Breaking SCOREFAST System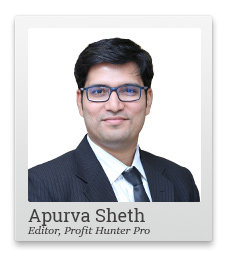 I have developed a proprietary system called SCOREFASTTM which uses nine indicators to identify stocks that are on the cusp of long-term reversal.
This system has the potential to generate returns like 50%, 61%, 109% and even higher in a matter of just weeks to a few months.
Most people believe technical analysis is only for day traders. But they're wrong.
The fact is that technical analysis was developed long before computers, and it was initially used for medium to long-term investments only.
This is news to most investors...that technical analysis can be used to trade from a medium to long-term perspective.
I already knew that, in the quest for quicker and bigger commissions, the broking industry has largely neglected longer-term technical analysis.
Brokers earn more commissions if people traded frequently. It was never in their interest to tell their clients about medium or long-term trends.
But it is in your interest, dear reader.
All this while, you have missed out on lucrative opportunities. So, I knew I had to see to it that our readers wouldn't be on the losing end.
That's how work on this project began. My aim was to build a solid process to identify long-term trends in stocks.
--- Advertisement ---


How to retire at 40 instead of 60?

In our view, one of the best ways to retire wealthy involves small cap stocks.

In fact, investing in right small cap stocks, one could potentially...

Retire at 40 instead of 60.
Retire by multiplying money instead of saving money.
And retire within 5 to 10 years instead of working for 35 to 40 years.
Today we are going to reveal how exactly you can do that, using our small cap stocks recommendation service.

And there is also one good news for you...

Now you can claim 1 year access to our Small Cap service... virtually FREE!

But this unique opportunity ends on 31st March 2018.

So, you need to act fast...

Click here to learn more...
------------------------------
(In fact the 2- year greed and fear cycle in IT stocks and 8-year greed and fear cycle in Sensex is a byproduct of this project.)
If you can identify these long-term trends, you can make higher returns.
I built the system after studying hundreds of stocks experiencing cyclical up and down trends.
And this system has generated returns like 50%, 61%, 109% and even higher returns in a matter of few weeks to few months in the backtests that we have conducted.
Presenting SCOREFASTTM
I call it the SCOREFASTTM system. The name is an acronym for the nine indicators we use to identify stocks on the cusp of a long-term reversal. These indicators help us identify trading opportunities that could generate big returns in a few weeks to a few months...
| | |
| --- | --- |
| S: | Stretch Indicator: The stretch indicator tells us how far (in percentage terms) a stock is from its 200-day moving average (DMA). Stocks that have deviated far away from their mean tend to revert to the mean. |
| C: | Crash or %Drop: The crash indicator tells us how much (in percentage terms) a stock has crashed from its highs. Stocks that have crashed more than 30% are more inclined to move up again. |
| O: | Oscillators: Oscillators are indicators like Relative Strength Index (RSI), Moving Average Convergence and Divergence (MACD) and Rate of Change (ROC) help identify a shift in momentum from down to up. |
| R: | Reversal Patterns: A break out from reversal patterns like inverse head and shoulder, double bottom, rounding bottom, and rectangle patterns often confirms a reversal of trend from down to up. |
| E: | Entry/Exit: We recommend a stock only after it has witnessed a sharp fall and has limited downside. And we exit a stock only when the up move has exhausted. |
| F: | Fibonacci Retracement: Retracement levels are specific intervals or percentages such as 38.2%, 50%, 61.8%, and 78.6% of the previous move around which the stocks tend to find support or resistance. We look at price action around these levels for identifying an opportunity. |
| A: | Stock Cycle Accumulation: The price of every stock moves in a repeating 4-phase cycle: Downtrend-Accumulation-Uptrend-Distribution. We look for stocks that are in the accumulation phase and are ready to move in the uptrend phase. |
| S: | Support and Resistance: Previous highs and lows act as supports for stocks. So we look for stocks trading near such multi-month support levels. |
| T: | Time: Stock prices tend to stay in a range for a while before they can move further up. Once the stock has spent adequate time consolidating gains, we can enter for the big upside. |
I use this proprietary SCOREFASTTM system to make recommendations in my premium trading service, Peak Profit Alert.
In fact, one of my recommended trades, Tech Mahindra, closed at gains of 43.36% for our subscribers.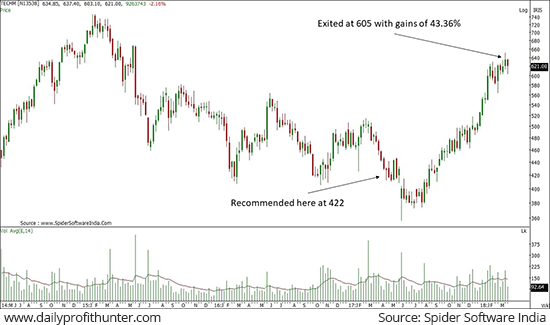 If you are interested in trading stocks which are on the cusp of a long-term reversal, then you should check out this system. There is nothing else like this out there.
And if you still believe technical analysis is for short term traders - now is the time to change that belief, and realise that medium term investments might have the power to really make a difference to your wealth.
Regards,

Apurva Sheth (Research Analyst)
Editor, Profit Hunter Pro
PS: Great news! The markets are crashing. According Apurva Sheth, editor of our premium Profit Hunter Pro newsletter, 'this could be the first such lucrative opportunity for investment after the demonetisation low in November 2016." Subscribe now - to get his recommendations as the opportunities come...
Copyright © Equitymaster Agora Research Private Limited. All rights reserved.
Any act of copying, reproducing or distributing this newsletter whether wholly or in part, for any purpose without the permission of Equitymaster is strictly prohibited and shall be deemed to be copyright infringement
Disclosure & Disclaimer:
Equitymaster Agora Research Private Limited (Research Analyst) bearing Registration No. INH000000537 (hereinafter referred as 'Equitymaster') is an independent equity research Company. The Author does not hold any shares in the company/ies discussed in this document. Equitymaster may hold shares in the company/ies discussed in this document under any of its other services.
This document is confidential and is supplied to you for information purposes only. It should not (directly or indirectly) be reproduced, further distributed to any person or published, in whole or in part, for any purpose whatsoever, without the consent of Equitymaster.
This document is not directed to, or intended for display, downloading, printing, reproducing or for distribution to or use by, any person or entity, who is a citizen or resident or located in any locality, state, country or other jurisdiction, where such distribution, publication, reproduction, availability or use would be contrary to law or regulation or what would subject Equitymaster or its affiliates to any registration or licensing requirement within such jurisdiction. If this document is sent or has reached any individual in such country, especially, USA, Canada or the European Union countries, the same may be ignored.
This document does not constitute a personal recommendation or take into account the particular investment objectives, financial situations, or needs of individual subscribers. Our research recommendations are general in nature and available electronically to all kind of subscribers irrespective of subscribers' investment objectives and financial situation/risk profile. Before acting on any recommendation in this document, subscribers should consider whether it is suitable for their particular circumstances and, if necessary, seek professional advice. The price and value of the securities referred to in this material and the income from them may go down as well as up, and subscribers may realize losses on any investments. Past performance is not a guide for future performance, future returns are not guaranteed and a loss of original capital may occur. Information herein is believed to be reliable but Equitymaster and its affiliates do not warrant its completeness or accuracy. The views/opinions expressed are our current opinions as of the date appearing in the material and may be subject to change from time to time without notice. This document should not be construed as an offer to sell or solicitation of an offer to buy any security or asset in any jurisdiction. Equitymaster and its affiliates, its directors, analyst and employees will not be responsible for any loss or liability incurred to any person as a consequence of his or any other person on his behalf taking any decisions based on this document.
As a condition to accessing Equitymaster content and website, you agree to our
Terms and Conditions of Use
, available here. The performance data quoted represents past performance and does not guarantee future results.
SEBI (Research Analysts) Regulations 2014, Registration No. INH000000537.

Equitymaster Agora Research Private Limited (Research Analyst) 103, Regent Chambers, Above Status Restaurant, Nariman Point, Mumbai - 400 021. India.
Telephone: +91-22-61434055. Fax: +91-22-22028550. Email: info@equitymaster.com. Website: www.equitymaster.com. CIN:U74999MH2007PTC175407