On This Day - 25 MARCH 2019
FIIs or DIIs? Who Should You Follow?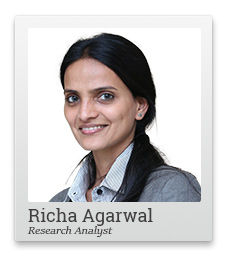 Last week, I wrote to you about how foreign institutional investors (FIIs) have ramped up their focus on India and are propping the stock markets up.
However, at a time when FIIs have found renewed interest in the Indian markets, DIIs or domestic institutional investors are seemingly pulling back.
If you look at the chart below...you will see that while FIIs have pumped in more than Rs 230 billion in just the first twenty days of March, DIIs have been net sellers to the tune of Rs 115 billion in the same period.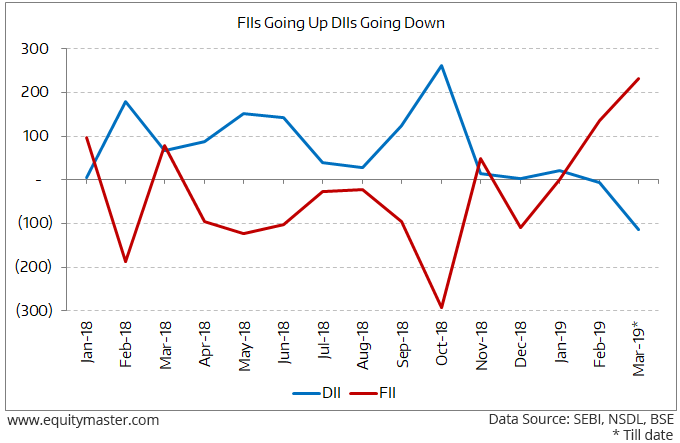 The chart shows us that DII selling activity is the biggest it has been in over three years.
While FIIs and DIIs are moving in opposite directions, there's nothing in the economy that could suggest an improvement or downturn.
Why the big gap then?
After being net sellers for most of the last calendar year, FIIs are now finding value in India. FII purchases in March 2019 were the biggest since November 2017. The FII push may largely be fueled by amplifying liquidity in developed markets and controlled by the central banks of those countries. This has allowed them room to invest in riskier assets and geographies like India.
On the other hand, DIIs are cautious ahead of the elections and may be pulling out in anticipation of a post-election rally.
However, such a rally may not even materialize as the election outcome may already be priced in.
So, who should you as an individual follow, FIIs and DIIs?
The answer is neither.
While FII activity can be an indicator of market activity, one cannot base their investing decisions on whether FIIs are buying or not. The benchmark indices surged in the last calendar year, even without much FII participation.
As I have said repeatedly, it is best to go for a bottom-up approach.
Investors should place their bets only on companies that have strong fundamentals and are available at reasonable valuations.
And the smallcap space is exactly where such value buys are likely to be found.
For example, at the time of the market low a month back I had shared rebound opportunities in 4 quality small caps.
Of those, two rebound stocks have moved sharply up and are now beyond the buy zone - great news for those who pounced on the opportunity at the time.
Fortunately, the other two are still actionable!
While the BSE Sensex is within touching distance of its all-time high levels, the BSE Smallcap index is still trading more than 25% down from the highs seen in January 2018.
As I write this, I have over 20 fundamentally strong smallcap stocks in the 'Buy' position to choose from.
So, act now, and take advantage of the opportunity that is available in the best smallcap stocks today and ignore all the noise.
Regards,



Richa Agarwal
Editor and Research Analyst, Hidden Treasure
PS: Follow the 'smart money' and make sure you profit from these favourable market conditions. Get over 20 small cap recommendations here.
Copyright © Equitymaster Agora Research Private Limited. All rights reserved.
Any act of copying, reproducing or distributing this newsletter whether wholly or in part, for any purpose without the permission of Equitymaster is strictly prohibited and shall be deemed to be copyright infringement
Disclosure & Disclaimer:
Equitymaster Agora Research Private Limited (Research Analyst) bearing Registration No. INH000000537 (hereinafter referred as 'Equitymaster') is an independent equity research Company. The Author does not hold any shares in the company/ies discussed in this document. Equitymaster may hold shares in the company/ies discussed in this document under any of its other services.
This document is confidential and is supplied to you for information purposes only. It should not (directly or indirectly) be reproduced, further distributed to any person or published, in whole or in part, for any purpose whatsoever, without the consent of Equitymaster.
This document is not directed to, or intended for display, downloading, printing, reproducing or for distribution to or use by, any person or entity, who is a citizen or resident or located in any locality, state, country or other jurisdiction, where such distribution, publication, reproduction, availability or use would be contrary to law or regulation or what would subject Equitymaster or its affiliates to any registration or licensing requirement within such jurisdiction. If this document is sent or has reached any individual in such country, especially, USA, Canada or the European Union countries, the same may be ignored.
This document does not constitute a personal recommendation or take into account the particular investment objectives, financial situations, or needs of individual subscribers. Our research recommendations are general in nature and available electronically to all kind of subscribers irrespective of subscribers' investment objectives and financial situation/risk profile. Before acting on any recommendation in this document, subscribers should consider whether it is suitable for their particular circumstances and, if necessary, seek professional advice. The price and value of the securities referred to in this material and the income from them may go down as well as up, and subscribers may realize losses on any investments. Past performance is not a guide for future performance, future returns are not guaranteed and a loss of original capital may occur. Information herein is believed to be reliable but Equitymaster and its affiliates do not warrant its completeness or accuracy. The views/opinions expressed are our current opinions as of the date appearing in the material and may be subject to change from time to time without notice. This document should not be construed as an offer to sell or solicitation of an offer to buy any security or asset in any jurisdiction. Equitymaster and its affiliates, its directors, analyst and employees will not be responsible for any loss or liability incurred to any person as a consequence of his or any other person on his behalf taking any decisions based on this document.
As a condition to accessing Equitymaster content and website, you agree to our
Terms and Conditions of Use
, available here. The performance data quoted represents past performance and does not guarantee future results.
SEBI (Research Analysts) Regulations 2014, Registration No. INH000000537.

Equitymaster Agora Research Private Limited (Research Analyst) 103, Regent Chambers, Above Status Restaurant, Nariman Point, Mumbai - 400 021. India.
Telephone: +91-22-61434055. Fax: +91-22-22028550. Email: info@equitymaster.com. Website: www.equitymaster.com. CIN:U74999MH2007PTC175407