On This Day - 29 MARCH 2019
9.78% Profit Target Achieved... Here Are Your New Trades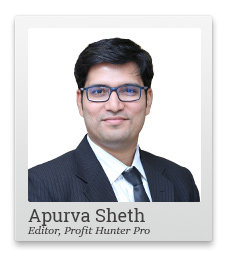 The scientists at the Defence Research and Development Organisation (DRDO) must have been thrilled when the anti-satellite (ASAT) missile hit its target - an Indian satellite orbiting in 'Low Earth Orbit'.
PM Narendra Modi congratulated the nation when DRDO achieved this feat as India became the only fourth nation to acquire the capability to shoot down a live satellite after US, Russia and China.
Now scientists at the DRDO aren't the only ones to feel exhilarated on achieving their target. My Profit Hunter Pro readers are also quite a cheerful lot as they have one more reason to be delighted.
I wrote to you about 5 fundamentally strong stocks in my radar two weeks ago. One of them was IDFC First Bank.
It closed with gains of 9.78% yesterday. I recommended my Profit Hunter Pro subscribers to buy this stock on 11th March 2019 at a level of 50.10 after it broke out of an inverse head and shoulder pattern.
The stock took some time to reach its target but nevertheless it didn't disappoint us. It achieved our target price of 55 yesterday. Now I am sure it has added to the spirits of Profit Hunter Pro subscribers as this is the third winner in a row after GE Shipping and Oil India.
But that's not all. Right now, we have 8 open trading recommendations in fundamentally strong stocks. I spoke about some of them earlier. Some are already up with gains like...
This chemical stock in breakout mode is already up 6.71% until yesterday within 9 days of recommendation.
This pharma company which has bucked the trend is already up 5.11% until yesterday and waiting to achieve its target.
Out of the remaining there are a few stocks which are trading close to their recommended price and are immediately actionable.
For eg. an auto company which has broken out of a double bottom formation and expected to generate 10% gains.
Another stock is from the hospitality industry which broke out of a 10-year consolidation last year. I expect it to generate average gains of atleast 20% in the medium term.
One more stock is nothing less than buying a ₹100 note for ₹50. It also enjoys a healthy dividend yield of 6%.
These recommendations are open for a while. And apart from them I have added 3 new recommendations during this week itself.
First is an auto company trading close to its 52-week lows which has the potential to generate gains of 10.41%
Second is a PSU stock trading significantly below book value
Third is the most diversified player in the real estate market of Mumbai
Like always I've picked these companies from a basket of stocks which are carefully selected and researched by Equitymaster team at one point or another. All the above stocks are fundamentally strong and have good potential to generate solid returns over the medium to long term.
But we are not interested in holding on to them for the long term. Like you just saw with IDFC First Bank. We held it for 17 days only to generate a gain of 9.78%. I expect most of our stocks to close and generate such gains within a similar time frame. Off course the exact number of days will vary depending on market conditions.
But you know that we are not in them for the long haul. If this is something which excites you then join me right away along with hundreds of my Profit Hunter Pro subscribers.
I don't see any reason which should hold you back from being a part of this profitable journey.
Warm regards,



Apurva Sheth
Editor and Research Analyst, Profit Hunter Pro
PS: Apurva has 8 trading recommendations you can act on right now. With profits like 9.78% in just over two weeks - why would you miss out? Join him now.
Copyright © Equitymaster Agora Research Private Limited. All rights reserved.
Any act of copying, reproducing or distributing this newsletter whether wholly or in part, for any purpose without the permission of Equitymaster is strictly prohibited and shall be deemed to be copyright infringement
Disclosure & Disclaimer:
Equitymaster Agora Research Private Limited (Research Analyst) bearing Registration No. INH000000537 (hereinafter referred as 'Equitymaster') is an independent equity research Company. The Author does not hold any shares in the company/ies discussed in this document. Equitymaster may hold shares in the company/ies discussed in this document under any of its other services.
This document is confidential and is supplied to you for information purposes only. It should not (directly or indirectly) be reproduced, further distributed to any person or published, in whole or in part, for any purpose whatsoever, without the consent of Equitymaster.
This document is not directed to, or intended for display, downloading, printing, reproducing or for distribution to or use by, any person or entity, who is a citizen or resident or located in any locality, state, country or other jurisdiction, where such distribution, publication, reproduction, availability or use would be contrary to law or regulation or what would subject Equitymaster or its affiliates to any registration or licensing requirement within such jurisdiction. If this document is sent or has reached any individual in such country, especially, USA, Canada or the European Union countries, the same may be ignored.
This document does not constitute a personal recommendation or take into account the particular investment objectives, financial situations, or needs of individual subscribers. Our research recommendations are general in nature and available electronically to all kind of subscribers irrespective of subscribers' investment objectives and financial situation/risk profile. Before acting on any recommendation in this document, subscribers should consider whether it is suitable for their particular circumstances and, if necessary, seek professional advice. The price and value of the securities referred to in this material and the income from them may go down as well as up, and subscribers may realize losses on any investments. Past performance is not a guide for future performance, future returns are not guaranteed and a loss of original capital may occur. Information herein is believed to be reliable but Equitymaster and its affiliates do not warrant its completeness or accuracy. The views/opinions expressed are our current opinions as of the date appearing in the material and may be subject to change from time to time without notice. This document should not be construed as an offer to sell or solicitation of an offer to buy any security or asset in any jurisdiction. Equitymaster and its affiliates, its directors, analyst and employees will not be responsible for any loss or liability incurred to any person as a consequence of his or any other person on his behalf taking any decisions based on this document.
As a condition to accessing Equitymaster content and website, you agree to our
Terms and Conditions of Use
, available here. The performance data quoted represents past performance and does not guarantee future results.
SEBI (Research Analysts) Regulations 2014, Registration No. INH000000537.

Equitymaster Agora Research Private Limited (Research Analyst) 103, Regent Chambers, Above Status Restaurant, Nariman Point, Mumbai - 400 021. India.
Telephone: +91-22-61434055. Fax: +91-22-22028550. Email: info@equitymaster.com. Website: www.equitymaster.com. CIN:U74999MH2007PTC175407