On This Day - 16 APRIL 2019
My Master Series on How to Trade Election 2019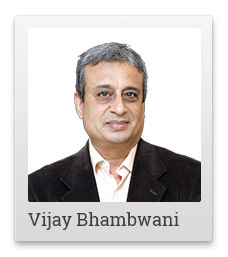 Dear reader,
Welcome to my Master Series on How to Trade the Elections. Yesterday, I wrote to you about my 30-odd years of trading experience. In that time, I have learned that there are certain events that impact the market in a massive way. Elections are one of those events - a stone tossed into a pond, its ripples spreading across the economy and markets.
In a routine market scenario, our tools of the trade are corporate balance sheets, P&L statements, charts, trading screens, et al...
But election time requires a different set of skills altogether. Think of it as equanimity. Total harmony emanating from the knowledge gleaned through experience of what can transpire next.
Markets are a combination of emotions, i.e. irrationality, and logic, i.e. rationality.
In the near term, irrationality maybe a dominant force, but over time, logic prevails. And logic tells us that the cause and effect theory determines where markets are headed. It's a function of inflows and outflows. Money flows into a stock and the price rallies. And vice versa.
There is no doubt in anyone's mind that elections mean money changing hands.
The political class is at its benevolent best at this time. Seek and thou shalt get.
Yet, does any politician dole out money out of their own pocket?
No!
Why do that, when there are PSU banks? The money taps are opened. Fresh loan disbursals (we used to call them loan melas), and existing loan write-offs reach their peaks. The result - PSU bank stocks tend to under perform in the quarter after the elections.
Another sector that often ends up at the receiving end are the oil marketing companies (OMCs). Pre-election, prices at the pump must be kept low for obvious reasons. The OMCs are bled to gain political mileage. Invariably, the stock prices tend to get beaten down even before the elections itself. But the quarterly earnings after the elections are possibly lower still. As are the stock prices.
The average party worker is a hard working chap. He toils day and night to help his political master win. He gets paid for doing his bit.
Once paid, he likely spends it on - a) non-discretionary consumer goods and b) aspirational items. So personal care products like soaps, shampoos, clothing and footwear companies' stocks tend to do well after elections. These are non-discretionary goods. The aspirational goods - two wheelers - are incomparable as a rural/lower middle class status symbol.
And don't forget the liquor stocks. Open any newspaper and you read about how much liquor the cops/EC officials have confiscated from how many locations. After cash, liquor is the most common mode of bribing. What better season to boost the topline of liquor companies than elections?
Can we ignore where the wars are fought before the voter goes to the poll booths?
In the print and electronic media. Political parties grab mindshare of the voters by inserting full page advertorials and catchy jingles in the print and electronic media respectively. That could mean more advertisement revenues for the media.
Remember the promises of a shining new neighbourhood, city, state or country that we are invariably promised?
Can you do it without paints, varnishes and allied products? The 'spit and polish' is kept till the end to impress us voters. That could mean paint companies' toplines will turn healthy after the elections.
The sales of electronic goods manufacturers often go hand in hand with elections. Many parties are known to give away TVs, tablets, laptops and even mobile phones to a select segment of the votebank. Additionally, the aspirational demand is another demand driver.
So, you see, the impact of an election on our economy and our markets is widespread. As traders, the better we see the larger effects of these election-induced ripples, the better we are able to finetune our trades and profit from it.
Tomorrow, in the second part of my series on How to Trade the Elections, I will write to you in greater detail about a sector that is usually greatly affected by the elections...and one you need to pay attention to now.
Until then, happy trading!
Warm regards,



Vijay L Bhambwani
Editor and Research Analyst, Weekly Cash Alerts
PS: Come back tomorrow and you will learn which sectors and which opportunities are poised to throw up profits... Don't miss this brilliant election trading analysis.
Copyright © Equitymaster Agora Research Private Limited. All rights reserved.
Any act of copying, reproducing or distributing this newsletter whether wholly or in part, for any purpose without the permission of Equitymaster is strictly prohibited and shall be deemed to be copyright infringement
Disclosure & Disclaimer:
Equitymaster Agora Research Private Limited (Research Analyst) bearing Registration No. INH000000537 (hereinafter referred as 'Equitymaster') is an independent equity research Company. The Author does not hold any shares in the company/ies discussed in this document. Equitymaster may hold shares in the company/ies discussed in this document under any of its other services.
This document is confidential and is supplied to you for information purposes only. It should not (directly or indirectly) be reproduced, further distributed to any person or published, in whole or in part, for any purpose whatsoever, without the consent of Equitymaster.
This document is not directed to, or intended for display, downloading, printing, reproducing or for distribution to or use by, any person or entity, who is a citizen or resident or located in any locality, state, country or other jurisdiction, where such distribution, publication, reproduction, availability or use would be contrary to law or regulation or what would subject Equitymaster or its affiliates to any registration or licensing requirement within such jurisdiction. If this document is sent or has reached any individual in such country, especially, USA, Canada or the European Union countries, the same may be ignored.
This document does not constitute a personal recommendation or take into account the particular investment objectives, financial situations, or needs of individual subscribers. Our research recommendations are general in nature and available electronically to all kind of subscribers irrespective of subscribers' investment objectives and financial situation/risk profile. Before acting on any recommendation in this document, subscribers should consider whether it is suitable for their particular circumstances and, if necessary, seek professional advice. The price and value of the securities referred to in this material and the income from them may go down as well as up, and subscribers may realize losses on any investments. Past performance is not a guide for future performance, future returns are not guaranteed and a loss of original capital may occur. Information herein is believed to be reliable but Equitymaster and its affiliates do not warrant its completeness or accuracy. The views/opinions expressed are our current opinions as of the date appearing in the material and may be subject to change from time to time without notice. This document should not be construed as an offer to sell or solicitation of an offer to buy any security or asset in any jurisdiction. Equitymaster and its affiliates, its directors, analyst and employees will not be responsible for any loss or liability incurred to any person as a consequence of his or any other person on his behalf taking any decisions based on this document.
As a condition to accessing Equitymaster content and website, you agree to our
Terms and Conditions of Use
, available here. The performance data quoted represents past performance and does not guarantee future results.
SEBI (Research Analysts) Regulations 2014, Registration No. INH000000537.

Equitymaster Agora Research Private Limited (Research Analyst) 103, Regent Chambers, Above Status Restaurant, Nariman Point, Mumbai - 400 021. India.
Telephone: +91-22-61434055. Fax: +91-22-22028550. Email: info@equitymaster.com. Website: www.equitymaster.com. CIN:U74999MH2007PTC175407