On This Day - 4 MAY 2018
This Mutual Fund Rule Could Make Small Caps Profitable Again!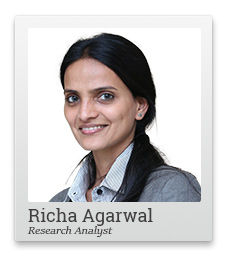 I've often spoken to you about your edge over big investors in the small cap space - that big investors avoid small caps because of low liquidity. And you, as a small investor, have an advantage because you can jump right in.
But to be honest, dear reader, your edge has been shrinking over time.
That's kind of hard to swallow, I imagine. You must be wondering if you have taken enough advantage of this edge while you had it... Let me explain why you can STILL benefit if you just pay attention now.
Over the last three to four years, there has been a significant influx of money in the stock market via mutual funds. One of the key reasons for this is the rise of the retail investor.
Ankit Shah, also known as the Equitymaster Insider, recently shared the below chart with his readers highlighting this trend.
The Phenomenal Rise of the Retail Indian Investor
The big question is - where is all this money going?
The following statistics could give a clue.
Since January 2014, the Sensex has gained 66%. The Midcap index is up 153%.
--- Advertisement ---


[BUSTED] The 'Hot Stock' Myth...

For the past 16 years, the Bombay Investing Society has stood against getting rich with the 'Next Hot Stock'...

And while maintaining its stand, has successfully guided over 7,000 of its members towards double, even triple digit returns!

Don't believe us?

Click here to know more...
------------------------------
But the real performer has been small cap index, up 177%. It has outperformed Sensex by nearly three times.
With more money chasing the stock market, and only a limited number of stocks in the large and mid-cap space, the small cap space is not that sacrosanct anymore.
Mutual funds have been encroaching on your turf (even under the schemes that are not meant to focus on small caps) in search of higher returns.
This explains the phenomenal rise in the stock prices of small cap stocks, which, in most cases is not backed by earnings recovery. With excess money being diverted to this space, most small cap stocks - the good, bad and ugly - are trading far above their intrinsic values.
For retail investors in the small cap space, this has led to (unjustified) high returns (stock performance) in the small cap space. Small cap multibaggers have been all over the news (it's a different matter that these gains are on a slippery terrain).
On the flipside, it has also made small caps less attractive for serious long-term value investors.
Because of huge liquidity, small cap valuations have soared.
Fresh buying opportunities are almost non-existent, especially in quality small caps. If at all there are buying opportunities, the upside has shrunk.
But all this is going to change for the better. And you can thank the market regulator for that.
A few months ago, the market regulator came up with reclassification norms and minimum investment requirements that will force restructuring in the mutual funds' (MF) portfolio.
In October 2017, the regulator issued a circular directing MFs to group their equity schemes under large, mid, and small-caps, based on market capitalisation of the stocks the scheme has invested.
Here is how the regulator has reclassified the space:
Large Cap: 1st -100th company in terms of full market capitalization.
Mid Cap: 101st -250th company in terms of full market capitalization.
Small Cap: 251st company onwards in terms of full market capitalization.
Coming to investment requirements for MFs...
An equity large-cap fund will have at least 80 % large-cap stocks (top 100 companies in terms of market capitalisation).
Mid-cap fund will have at least 65 % investment in mid-cap stocks (ranked between 100 and 250 in market-cap), and
Small-caps would cover all other companies.
With this move, the regulator aims to bring uniformity and transparency across various MF schemes. It will indeed help a common investor understand and compare the schemes better, and make the decision to choose a particular scheme simpler.
But a lot of mutual fund managers are not happy.
Over and above the existing pressure to perform, new norms would lead to unwarranted churn in the portfolio. Not to mention rebalancing every six months (depending on shifting market caps), and higher transaction costs. They may even have to cut down the number of schemes. That's because no asset management company can have more than one fund per category.
As mutual funds gear up to be compliant and restructure portfolios, there is likely to be a considerable selling in the small cap space. As per the industry experts, around 44% of MF schemes are likely to readjust portfolios to comply with new norms.
Further, the churning of portfolio is expected to lead to an investment of about Rs 190 billion in mid-cap stocks, at the cost of large- and small-caps.
And that's something to celebrate.
Reason - such selling is likely to bring some quality small caps in the buy zone.
That's an opportunity we have been eagerly waiting for, to come up with even more actionable recommendations on solid small caps.
That said, bear in mind that there could be a period of short term volatility where stock prices correct in small caps. The best way to sail through this period will be knowing your companies and the managements very well, so that you do not press the panic button at a time when you should be buying more.
Regards,


Richa Agarwal (Research Analyst)
Editor, Hidden Treasure
PS: In a time when most small caps are too overvalued to even think about, Richa Agarwal, a leader in the small cap space, has a few recommendations you should still make part of your portfolio today. Get access to them now by subscribing here.
Copyright © Equitymaster Agora Research Private Limited. All rights reserved.
Any act of copying, reproducing or distributing this newsletter whether wholly or in part, for any purpose without the permission of Equitymaster is strictly prohibited and shall be deemed to be copyright infringement
Disclosure & Disclaimer:
Equitymaster Agora Research Private Limited (Research Analyst) bearing Registration No. INH000000537 (hereinafter referred as 'Equitymaster') is an independent equity research Company. The Author does not hold any shares in the company/ies discussed in this document. Equitymaster may hold shares in the company/ies discussed in this document under any of its other services.
This document is confidential and is supplied to you for information purposes only. It should not (directly or indirectly) be reproduced, further distributed to any person or published, in whole or in part, for any purpose whatsoever, without the consent of Equitymaster.
This document is not directed to, or intended for display, downloading, printing, reproducing or for distribution to or use by, any person or entity, who is a citizen or resident or located in any locality, state, country or other jurisdiction, where such distribution, publication, reproduction, availability or use would be contrary to law or regulation or what would subject Equitymaster or its affiliates to any registration or licensing requirement within such jurisdiction. If this document is sent or has reached any individual in such country, especially, USA, Canada or the European Union countries, the same may be ignored.
This document does not constitute a personal recommendation or take into account the particular investment objectives, financial situations, or needs of individual subscribers. Our research recommendations are general in nature and available electronically to all kind of subscribers irrespective of subscribers' investment objectives and financial situation/risk profile. Before acting on any recommendation in this document, subscribers should consider whether it is suitable for their particular circumstances and, if necessary, seek professional advice. The price and value of the securities referred to in this material and the income from them may go down as well as up, and subscribers may realize losses on any investments. Past performance is not a guide for future performance, future returns are not guaranteed and a loss of original capital may occur. Information herein is believed to be reliable but Equitymaster and its affiliates do not warrant its completeness or accuracy. The views/opinions expressed are our current opinions as of the date appearing in the material and may be subject to change from time to time without notice. This document should not be construed as an offer to sell or solicitation of an offer to buy any security or asset in any jurisdiction. Equitymaster and its affiliates, its directors, analyst and employees will not be responsible for any loss or liability incurred to any person as a consequence of his or any other person on his behalf taking any decisions based on this document.
As a condition to accessing Equitymaster content and website, you agree to our
Terms and Conditions of Use
, available here. The performance data quoted represents past performance and does not guarantee future results.
SEBI (Research Analysts) Regulations 2014, Registration No. INH000000537.

Equitymaster Agora Research Private Limited (Research Analyst) 103, Regent Chambers, Above Status Restaurant, Nariman Point, Mumbai - 400 021. India.
Telephone: +91-22-61434055. Fax: +91-22-22028550. Email: info@equitymaster.com. Website: www.equitymaster.com. CIN:U74999MH2007PTC175407