On This Day - 11 MAY 2018
Walmart Buys Flipkart...What Are You Buying?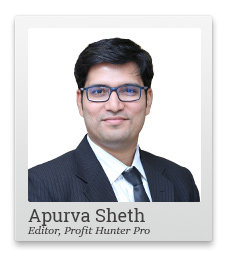 The Bansals are probably still celebrating Walmart's decision to buy Flipkart for 16 billion dollars. This will push the overall valuation of the company closer to Rs 1.4 lakh crore.
Now that's quite a feat to achieve in 11 years. If it was listed, Flipkart would rank in the 20 most valuable companies of India at this valuation.
In fact, it is now technically valued at much more than both Dabur and Britannia (120-year-old companies) put together.
But while everyone at Flipkart is probably ecstatic about Walmart coming on board, shareholders of Walmart are not that excited. Walmart opened gap down in the New York Stock Exchange on Wednesday and ended lower by 3% wiping out nearly 10 billion dollars of market cap in a day.
Now, I am sure Walmart and Flipkart both will remain in the news for some days to come. They will be on the front page of newspapers and occupy prime time slots.
But don't let that overshadow your goal which is to make money from the markets.
The Bansals have made money by bringing Walmart on board.
Now it's your turn to think about which stocks you will acquire to make money from the markets?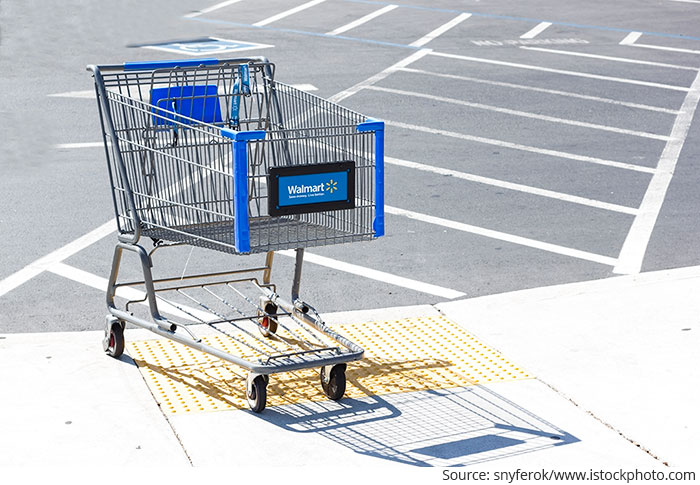 I don't know about you.
But readers of Profit Hunter Pro don't have to think too hard about this. They get the best of the best trading opportunities filtered first by fundamentals and then by technicals.
I am sure you are aware that I am the editor of Profit Hunter Pro - a premium newsletter service where I combine the best of both the worlds fundamentals and technicals.
I have built a unique three-step process to identify the best fundamentally and technically strong trading opportunities.
--- Advertisement ---


This Piece of Paper in Your Wallet Could Potentially Make You a Fortune...

You may have a few of these lying around in your wallet...

Or not...

Either way, you need to know this.

This secret has changed lives forever - and it could change yours.

Click here for the full story…
------------------------------
First, I apply qualitative filters to build a universe of fundamentally strong stocks. I create a bucket of stocks chosen through the magnified lens of the Equitymaster Research team. You know that Equitymaster's research is one of the best in the country. So, a stock which has passed through their lens has good potential.
Secondly, I apply technical analysis tools like trendlines, volumes, support and resistance, momentum to identify timely entry and exit points. This helps in effectively utilising capital. This means you are invested in the stock only when the chances of moving up are highest.
And finally, I recommend stocks which pass both filters with a maximum buy price along with target and stoploss percentages.
Three-Step Process to Identify Best Techno Funda Trading Opportunities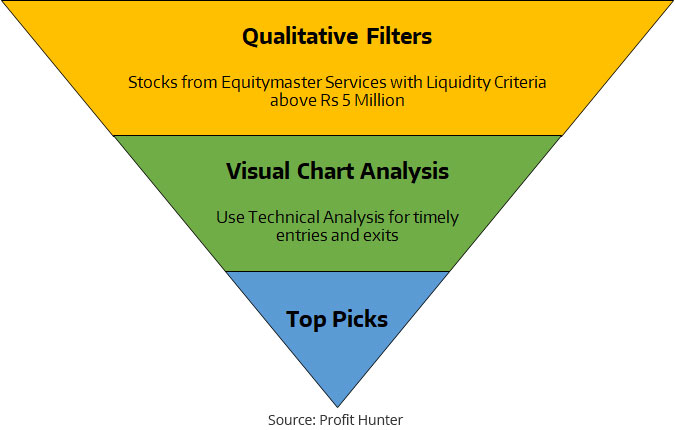 I have been using this process for the last six months and am more than happy with the results.
And it's not just me, our subscribers are also a happy lot. Recently, Profit Hunter Pro completed six months.
I reviewed our performance and invited feedback from our subscribers. I told them to feel free to shower us either with golden roses or rotten tomatoes.
So far, I haven't tasted a single tomato. 😊 🍅
Now Walmart is buying Flipkart and none of our readers are buying tomatoes. But they surely have their shopping carts full.
I recommended that subscribers buy two stocks which passed both the fundamental and technical filters.
The first company is an undisputed king in its area of operation. It plays an important role in the link between a borrower and lender.
It's currently trading at multi-month support levels and looks ready for a bounce back.
And you know the best part about it?
I had recommended the stock earlier and we closed it with average gains of 11% once. This is the second time its throwing an opportunity.
The second one is a chemical company which may benefit substantially due to closure of chemical plants in China. It is one of the leading companies in dye and dye intermediates.
The stock moved up five to six times between 2015 and 2017. Recently it gave up nearly half of these gains and retested the support level twice.
It seems like if all goes as per expectation then the stock can generate gains of more than 16% in a short time.
So, if you are in a mood to go shopping this summer like Walmart then you know where to look.
Stay tuned...


Apurva Sheth
Editor, Profit Hunter Pro
PS: If you want to join Apurva's legions of happy subscribers - and we recommend that you should - just click here.
Copyright © Equitymaster Agora Research Private Limited. All rights reserved.
Any act of copying, reproducing or distributing this newsletter whether wholly or in part, for any purpose without the permission of Equitymaster is strictly prohibited and shall be deemed to be copyright infringement
Disclosure & Disclaimer:
Equitymaster Agora Research Private Limited (Research Analyst) bearing Registration No. INH000000537 (hereinafter referred as 'Equitymaster') is an independent equity research Company. The Author does not hold any shares in the company/ies discussed in this document. Equitymaster may hold shares in the company/ies discussed in this document under any of its other services.
This document is confidential and is supplied to you for information purposes only. It should not (directly or indirectly) be reproduced, further distributed to any person or published, in whole or in part, for any purpose whatsoever, without the consent of Equitymaster.
This document is not directed to, or intended for display, downloading, printing, reproducing or for distribution to or use by, any person or entity, who is a citizen or resident or located in any locality, state, country or other jurisdiction, where such distribution, publication, reproduction, availability or use would be contrary to law or regulation or what would subject Equitymaster or its affiliates to any registration or licensing requirement within such jurisdiction. If this document is sent or has reached any individual in such country, especially, USA, Canada or the European Union countries, the same may be ignored.
This document does not constitute a personal recommendation or take into account the particular investment objectives, financial situations, or needs of individual subscribers. Our research recommendations are general in nature and available electronically to all kind of subscribers irrespective of subscribers' investment objectives and financial situation/risk profile. Before acting on any recommendation in this document, subscribers should consider whether it is suitable for their particular circumstances and, if necessary, seek professional advice. The price and value of the securities referred to in this material and the income from them may go down as well as up, and subscribers may realize losses on any investments. Past performance is not a guide for future performance, future returns are not guaranteed and a loss of original capital may occur. Information herein is believed to be reliable but Equitymaster and its affiliates do not warrant its completeness or accuracy. The views/opinions expressed are our current opinions as of the date appearing in the material and may be subject to change from time to time without notice. This document should not be construed as an offer to sell or solicitation of an offer to buy any security or asset in any jurisdiction. Equitymaster and its affiliates, its directors, analyst and employees will not be responsible for any loss or liability incurred to any person as a consequence of his or any other person on his behalf taking any decisions based on this document.
As a condition to accessing Equitymaster content and website, you agree to our
Terms and Conditions of Use
, available here. The performance data quoted represents past performance and does not guarantee future results.
SEBI (Research Analysts) Regulations 2014, Registration No. INH000000537.

Equitymaster Agora Research Private Limited (Research Analyst) 103, Regent Chambers, Above Status Restaurant, Nariman Point, Mumbai - 400 021. India.
Telephone: +91-22-61434055. Fax: +91-22-22028550. Email: info@equitymaster.com. Website: www.equitymaster.com. CIN:U74999MH2007PTC175407