On This Day - 28 MAY 2019
The Stocks That Will See the Most Upside Under Modi 2.0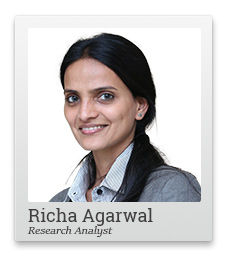 It's been less than a week since election results were announced and Mr Modi was declared winner with a clear mandate.
The market has given Modi two thumbs up.
The Sensex has touched 40K. And it looks like it won't take long for it to cross the 1 lac mark.
But there is an even more exciting trend that I believe is going to unfold in equity investing.
In fact, it is already visible. And this, I believe, should be your investing strategy for Modi's second term.
I have been writing to you about smallcap rebound for quite some months now.
Modi's victory seems to be the inflection point this phenomenon has been waiting for.
---

Advertisement

---

How Modi Could Take The Sensex from 40,000 to 100,000

A few days ago the Sensex hit 40,000…for the first time ever.

This was right after the election results revealed that the BJP-led NDA was on course to secure a large majority in the Parliament.

Sensex 40,000 seemed like a distant dream until not too long ago…but we have breached it.

And now, we're confident that over the course of the next few years, the Sensex is headed to 100,000.

Here's how you could profit from the journey…

NOTE – As the Sensex scales new heights and inches towards 100,000…there are 4 stocks we believe will perform exceptionally well, and potentially multiply investors' wealth. Here are the details.
------------------------------
In the last week itself, the small cap index is up nearly 8%. And this is just the beginning...
You see, over the last one and a half year, a huge gap has emerged between smallcap index and Sensex.
Despite a lackluster performance on earnings front for both, smallcap stocks crashed...while Sensex flirted with lifetime highs.
Since Jan 2018, the Sensex has gained 14% while smallcap index has lost 25%. That's a relative underperformance of 39%.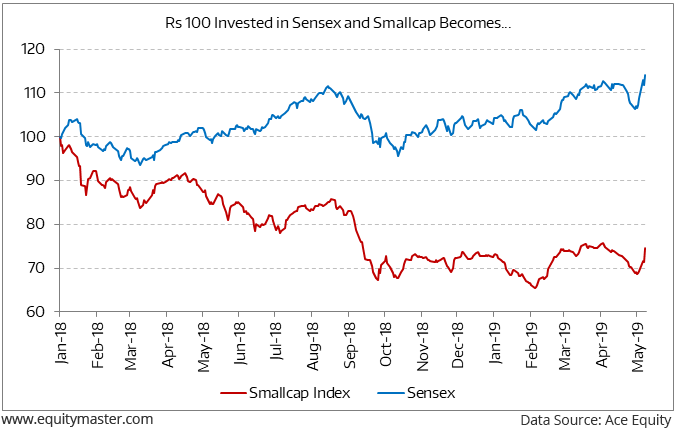 But this dichotomy cannot keep on growing forever.
You see, last time the market showed a similar trend was in the year 2013...just before Modi rose to power.
Between January 2013 to August 2013, the smallcap index has crashed by over 30%, while Sensex stayed put. And smallcaps were approached with the same scepticism they have witnessed over the last year.
But what happened after that was even more interesting.
Within a few months post August 2013, the smallcap index caught up with the Sensex. And it didn't just catch up.
Under Modi's first term, until January 2018, the smallcap index rose nearly four times versus a less than 2 times gain in Sensex.
In my view, history is going to repeat itself.
But it's not just any or all smallcaps that will participate in the next smallcap bull run.
---

Advertisement

---

7 Stocks Likely to Benefit Greatly From Modi's Policies In The Coming Years…

We believe that thing that set Modi apart from the first day he took office in 2014 was his ability to take difficult policy decisions.

We believe his policies have helped a number of companies grow in the last 5 years.

And now, our Co-Head of Research, Tanushree Banerjee, has identified 7 stocks that could benefit greatly during Modi's second tenure and beyond also.

Full details of these 7 stocks are included in Tanushree's special report.

Click here to know how you could get this report for FREE now…
------------------------------
As more money flows to the smallcaps, it will chase stocks with strong fundamentals, competent managements and most importantly, companies with good corporate governance practices.
Of all the open positions we have in Hidden Treasure, there are 4 smallcaps that I believe are ripe for a smallcap rebound and offer downside protection as well.
So if you are interested in riding the volatility and earning great returns in the long term, you could join my small cap club and invest in these 4 solid small caps.
But mind you, the opportunity to get in may not last for long.
As Sensex rides to the 1 lac level, the rise in select smallcaps could be even quicker, and the window to enter these smallcap stocks, shorter.
That's because smallcaps being less liquid tend to move fast. So make the most of this window while it lasts.
Warm regards,



Richa Agarwal
Editor and Research Analyst, Hidden Treasure
PS: We all know what a Modi win could do to the markets - but are you prepared with the right stocks in your portfolio to take advantage? Here are 4 rebound stocks that could shoot straight up when election results are announced - get them now.
Copyright © Equitymaster Agora Research Private Limited. All rights reserved.
Any act of copying, reproducing or distributing this newsletter whether wholly or in part, for any purpose without the permission of Equitymaster is strictly prohibited and shall be deemed to be copyright infringement
Disclosure & Disclaimer:
Equitymaster Agora Research Private Limited (Research Analyst) bearing Registration No. INH000000537 (hereinafter referred as 'Equitymaster') is an independent equity research Company. The Author does not hold any shares in the company/ies discussed in this document. Equitymaster may hold shares in the company/ies discussed in this document under any of its other services.
This document is confidential and is supplied to you for information purposes only. It should not (directly or indirectly) be reproduced, further distributed to any person or published, in whole or in part, for any purpose whatsoever, without the consent of Equitymaster.
This document is not directed to, or intended for display, downloading, printing, reproducing or for distribution to or use by, any person or entity, who is a citizen or resident or located in any locality, state, country or other jurisdiction, where such distribution, publication, reproduction, availability or use would be contrary to law or regulation or what would subject Equitymaster or its affiliates to any registration or licensing requirement within such jurisdiction. If this document is sent or has reached any individual in such country, especially, USA, Canada or the European Union countries, the same may be ignored.
This document does not constitute a personal recommendation or take into account the particular investment objectives, financial situations, or needs of individual subscribers. Our research recommendations are general in nature and available electronically to all kind of subscribers irrespective of subscribers' investment objectives and financial situation/risk profile. Before acting on any recommendation in this document, subscribers should consider whether it is suitable for their particular circumstances and, if necessary, seek professional advice. The price and value of the securities referred to in this material and the income from them may go down as well as up, and subscribers may realize losses on any investments. Past performance is not a guide for future performance, future returns are not guaranteed and a loss of original capital may occur. Information herein is believed to be reliable but Equitymaster and its affiliates do not warrant its completeness or accuracy. The views/opinions expressed are our current opinions as of the date appearing in the material and may be subject to change from time to time without notice. This document should not be construed as an offer to sell or solicitation of an offer to buy any security or asset in any jurisdiction. Equitymaster and its affiliates, its directors, analyst and employees will not be responsible for any loss or liability incurred to any person as a consequence of his or any other person on his behalf taking any decisions based on this document.
As a condition to accessing Equitymaster content and website, you agree to our
Terms and Conditions of Use
, available here. The performance data quoted represents past performance and does not guarantee future results.
SEBI (Research Analysts) Regulations 2014, Registration No. INH000000537.

Equitymaster Agora Research Private Limited (Research Analyst) 103, Regent Chambers, Above Status Restaurant, Nariman Point, Mumbai - 400 021. India.
Telephone: +91-22-61434055. Fax: +91-22-22028550. Email: info@equitymaster.com. Website: www.equitymaster.com. CIN:U74999MH2007PTC175407