On This Day - 29 MAY 2019
How to Change Your Strategy for Stocks Post Modi's Win...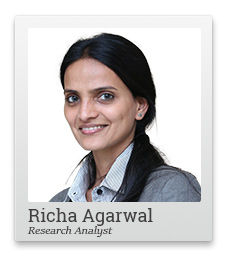 Post the elections, a very interesting trend is beginning to shape up.
Since the election results have been announced, the BSE Sensex may have been busy stealing the limelight by touching new highs...
But something a lot of investors are missing out on - and what may just be the beginning of a trend is - is that small cap stocks are moving up way faster than then their larger brethren.
Sample this: In the short time since the elections, while the BSE Sensex is up 1.5%, the BSE Smallcap index is up 4.1%.
And while this may be too short a period to draw any conclusions from, there do appear to be signs that this may only be the start of a trend in the months to come.
For a good part of 2018 and since the start of 2019, foreign institutional investors (FIIs) had been selling and smaller companies had been tumbling.
This state of affairs has meant that the environment has been increasingly marked by neglect in smaller companies. Investors, who were falling head over heels for small caps at the start of the year, lost interest big time.
In fact, liquidity in value terms for the BSE Small cap index was down from a high of over Rs 50 billion to just Rs 5 billion by March of this year.
Liquidity had all but dried up in small cap stocks.
But you see, this is a very natural part of the small cap cycle as liquidity tends to be quite elastic with significant increases as stock prices and investor enthusiasm increase and the reverse when prices and interest levels fall.
While this could make buying and selling stocks in larger quantities a little difficult, other than that in itself this is nothing to worry about. Especially if you have patient capital that can sit out any bad liquidity patch and the investor maturity to ride out the extreme volatility.
So you see, it's all part of the market cycle.
But why bother with them at all?
Well, simply put, the potential profits in small cap stocks at such times are just too hard to ignore.
In fact, the best stocks in the small cap world can be bought at the most lucrative prices when they are being neglected by investors.
And at times such as these when the whole category - i.e. small cap stocks as a group - are being neglected.
Investors have always had a manic love/hate relationship with small caps.
And they begin to neglect them when they're in the 'hate' phase and want nothing to do with them.
This usually happens when they've fallen or gone nowhere for a while. It is then that neglect begins to creep in, volumes and liquidity in these stocks starts drying up, investors start ignoring fundamentals, and stocks begin to fall further getting caught in a vicious downward spiral.
This is what was happening all this while.
And that's where things really get interesting. Because that downward spiral that they were stuck in for all this while is now - post the election results and the return of foreign as well as domestic investor enthusiasm - finally showing signs of giving way to an up cycle.
And when small caps start rising, they can set the charts on fire!
The low competition in such stocks from other investors, and the resultant opportunity to scoop them up low and early - before others get on their trail in a few years - offers the potential for massive profits. Profits of the kind that are too hard to ignore.
I don't know how what will happen over the next few days. But I do know that mouth-watering opportunities exist today in many small caps that are selling at bargain valuations thus making them poised to generate a lot of wealth in the years to come...
While the Sensex and large caps have had their dream run, it may be the turn of the undiscovered small caps now.
Get in before investors drive up their prices once again!
Warm regards,



Richa Agarwal
Editor and Research Analyst, Hidden Treasure
PS: The Modi win could give the markets just the boost it needs - but are you prepared with the right stocks in your portfolio to take advantage? Here are 4 rebound stocks that are poised to benefit from Modi's continued reign - get them now.
Copyright © Equitymaster Agora Research Private Limited. All rights reserved.
Any act of copying, reproducing or distributing this newsletter whether wholly or in part, for any purpose without the permission of Equitymaster is strictly prohibited and shall be deemed to be copyright infringement
Disclosure & Disclaimer:
Equitymaster Agora Research Private Limited (Research Analyst) bearing Registration No. INH000000537 (hereinafter referred as 'Equitymaster') is an independent equity research Company. The Author does not hold any shares in the company/ies discussed in this document. Equitymaster may hold shares in the company/ies discussed in this document under any of its other services.
This document is confidential and is supplied to you for information purposes only. It should not (directly or indirectly) be reproduced, further distributed to any person or published, in whole or in part, for any purpose whatsoever, without the consent of Equitymaster.
This document is not directed to, or intended for display, downloading, printing, reproducing or for distribution to or use by, any person or entity, who is a citizen or resident or located in any locality, state, country or other jurisdiction, where such distribution, publication, reproduction, availability or use would be contrary to law or regulation or what would subject Equitymaster or its affiliates to any registration or licensing requirement within such jurisdiction. If this document is sent or has reached any individual in such country, especially, USA, Canada or the European Union countries, the same may be ignored.
This document does not constitute a personal recommendation or take into account the particular investment objectives, financial situations, or needs of individual subscribers. Our research recommendations are general in nature and available electronically to all kind of subscribers irrespective of subscribers' investment objectives and financial situation/risk profile. Before acting on any recommendation in this document, subscribers should consider whether it is suitable for their particular circumstances and, if necessary, seek professional advice. The price and value of the securities referred to in this material and the income from them may go down as well as up, and subscribers may realize losses on any investments. Past performance is not a guide for future performance, future returns are not guaranteed and a loss of original capital may occur. Information herein is believed to be reliable but Equitymaster and its affiliates do not warrant its completeness or accuracy. The views/opinions expressed are our current opinions as of the date appearing in the material and may be subject to change from time to time without notice. This document should not be construed as an offer to sell or solicitation of an offer to buy any security or asset in any jurisdiction. Equitymaster and its affiliates, its directors, analyst and employees will not be responsible for any loss or liability incurred to any person as a consequence of his or any other person on his behalf taking any decisions based on this document.
As a condition to accessing Equitymaster content and website, you agree to our
Terms and Conditions of Use
, available here. The performance data quoted represents past performance and does not guarantee future results.
SEBI (Research Analysts) Regulations 2014, Registration No. INH000000537.

Equitymaster Agora Research Private Limited (Research Analyst) 103, Regent Chambers, Above Status Restaurant, Nariman Point, Mumbai - 400 021. India.
Telephone: +91-22-61434055. Fax: +91-22-22028550. Email: info@equitymaster.com. Website: www.equitymaster.com. CIN:U74999MH2007PTC175407