On This Day - 30 MAY 2018
When the Stock You Invested in Corrects 30%, or More...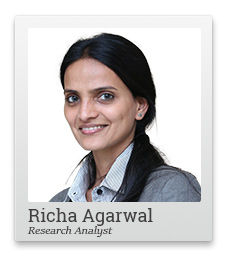 As I write this, Sonata Software, a stock I recommended in Hidden Treasure, is nearing its target price.
It's up 130% since recommendation in June 2016.
Hidden Treasure subscribers have reasons to be happy.
But their journey to these gains has not been smooth.
Take a look...
Sonata Software: A Rewarding Journey for a Patience Investor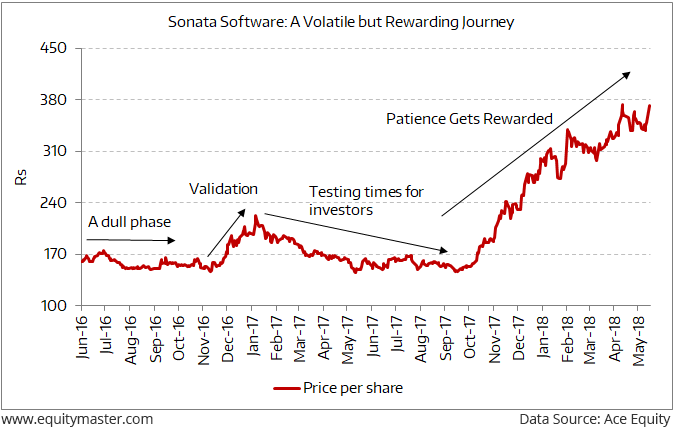 After I recommended it, the stock price was stagnant for six months, lagging the small cap index.
And then, just like that, in January 2017, the stock surged 40%, over the next one month.
Just when the investors and subscribers were feeling validated and relieved, the very next month brought in a sense of deflation.
--- Advertisement ---


A Couple of Good Small Cap Stocks Could Transform Your Life

Small caps are capable of giving BIG returns in the long run. And you need just a couple of them to take off to completely transform your life.

But for that, you need to invest in the 'right' small cap stocks.

To know how you could find the right small cap stocks, just click here…
------------------------------
By February 2017, the stock had corrected by 17%.
The ensuing months tested the fortitude of value investors. By May 2017, the stock had corrected by 35% from its January 2017 peak.
By then, it had been a year since I recommended it. And it was showing a loss of 9%. In comparison, the small cap index was up 27%.
We maintained our Buy view. There was no stop loss.
I had to face some tough questions about recommending a stock like this.
While I picked this example to share with you, it was not the first time I faced this question, nor it will be the last.
Since my association with Hidden Treasure, there have been countless examples where the stock has refused to budge, or has corrected sharply from the recommended price within the first year.
A case in point is Ambika Cotton Mills Ltd that was down by over 30% within a month of recommendation.
I maintained the buy view. Again, without a stop loss.
The reason why we did not change our view is not loss aversion or inflexibility.
The simple reason is: I recommend stocks purely based on strong fundamentals of the business and attractive valuations, for the long-term.
Unless there is a deterioration in fundamentals, any correction in price is not a setback in my view, but an opportunity to enter a great business at an even more attractive price.
It goes without saying that one needs to be patient and focused. Volatility in stock prices, especially in small caps that are less liquid, is inherent.
If you could befriend volatility instead of losing your sleep and pressing the panic button over short-term price corrections, the holy grain of extra ordinary profits is yours to take.
That conviction comes from understanding the businesses and managements, and cultivating the temperament of true value investor. And to understand small cap companies and businesses, I believe meeting managements is a must.
Coming back to Sonata Software, subscribers who followed our view throughout and did not lose patience, are now sitting on 130% gains.
Ambika Cotton too, is up 86% from the lows it touched post our recommendation.
The reason I'm writing about this today is because a wave of correction has hit small caps once again. The small cap index is down by over 13% from the January 2018 highs.
The new regulation for reclassification in mutual funds' portfolio is further leading to some correction. As mutual funds gear up to be compliant and restructure portfolios, there is likely to be a considerable selling in the small cap space. As per the industry experts, around 44% of mutual fund schemes are likely to adjust their portfolios to comply with new norms.
Further, this churning could lead to an investment of about Rs 190 billion in mid-cap stocks, at the cost of large and small-cap stocks.
For those who have done their homework before buying stocks, this could be a golden period to enter in quality small caps.
And if you are already invested in such stocks, don't let short-term corrections deter you. In fact, I believe it would not be a bad idea to print out and paste this quote from Warren Buffett somewhere you could see it easily.
"The stock market is a device for transferring money from the impatient to the patient."
Make sure you do not let the volatility fool you into parting with your wealth.
Regards,


Richa Agarwal (Research Analyst)
Editor, Hidden Treasure
PS: Research Analyst Ankit Shah, has just released his latest special report about 5 stocks that have the potential to generate solid returns. These 5 stocks were recommended under our most premium services, but thanks to an unusual new offer, he can share them with you... But this offer is available ONLY till 11:59 PM, 31st May. Find out how you can get this report here...
Copyright © Equitymaster Agora Research Private Limited. All rights reserved.
Any act of copying, reproducing or distributing this newsletter whether wholly or in part, for any purpose without the permission of Equitymaster is strictly prohibited and shall be deemed to be copyright infringement
Disclosure & Disclaimer:
Equitymaster Agora Research Private Limited (Research Analyst) bearing Registration No. INH000000537 (hereinafter referred as 'Equitymaster') is an independent equity research Company. The Author does not hold any shares in the company/ies discussed in this document. Equitymaster may hold shares in the company/ies discussed in this document under any of its other services.
This document is confidential and is supplied to you for information purposes only. It should not (directly or indirectly) be reproduced, further distributed to any person or published, in whole or in part, for any purpose whatsoever, without the consent of Equitymaster.
This document is not directed to, or intended for display, downloading, printing, reproducing or for distribution to or use by, any person or entity, who is a citizen or resident or located in any locality, state, country or other jurisdiction, where such distribution, publication, reproduction, availability or use would be contrary to law or regulation or what would subject Equitymaster or its affiliates to any registration or licensing requirement within such jurisdiction. If this document is sent or has reached any individual in such country, especially, USA, Canada or the European Union countries, the same may be ignored.
This document does not constitute a personal recommendation or take into account the particular investment objectives, financial situations, or needs of individual subscribers. Our research recommendations are general in nature and available electronically to all kind of subscribers irrespective of subscribers' investment objectives and financial situation/risk profile. Before acting on any recommendation in this document, subscribers should consider whether it is suitable for their particular circumstances and, if necessary, seek professional advice. The price and value of the securities referred to in this material and the income from them may go down as well as up, and subscribers may realize losses on any investments. Past performance is not a guide for future performance, future returns are not guaranteed and a loss of original capital may occur. Information herein is believed to be reliable but Equitymaster and its affiliates do not warrant its completeness or accuracy. The views/opinions expressed are our current opinions as of the date appearing in the material and may be subject to change from time to time without notice. This document should not be construed as an offer to sell or solicitation of an offer to buy any security or asset in any jurisdiction. Equitymaster and its affiliates, its directors, analyst and employees will not be responsible for any loss or liability incurred to any person as a consequence of his or any other person on his behalf taking any decisions based on this document.
As a condition to accessing Equitymaster content and website, you agree to our
Terms and Conditions of Use
, available here. The performance data quoted represents past performance and does not guarantee future results.
SEBI (Research Analysts) Regulations 2014, Registration No. INH000000537.

Equitymaster Agora Research Private Limited (Research Analyst) 103, Regent Chambers, Above Status Restaurant, Nariman Point, Mumbai - 400 021. India.
Telephone: +91-22-61434055. Fax: +91-22-22028550. Email: info@equitymaster.com. Website: www.equitymaster.com. CIN:U74999MH2007PTC175407