On This Day - 31 MAY 2019
9% Gains in 4 Days - How I Picked the Right Stock at Election Time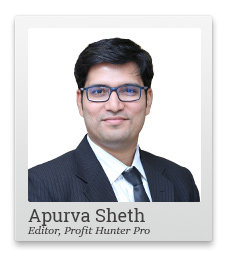 PM Modi is back in power and will be the man in charge atleast until 2024. Investors can now be assured of a stable government that will hopefully push through more economic reforms to give a boost to the economy.
The PM has already started building his team with a new council of ministers who will assist him in achieving this mammoth task.
Now, even before the PM and his team achieve this task the markets have already started pricing in the potential future events which could lift stock prices. The smarter ones who could foresee these events and act accordingly could generate solid gains.
Tanushree Banerjee, co-head research at Equitymaster is one amongst the very few smart people out there.
Like most of us Tanushree strongly believes in India's future potential. She believes India will be one of the fastest growing nations soon.
India will transform itself from a sleeping giant to a global powerhouse.
But what makes her stand apart from the rest is her belief in the idea of Rebirth of India.
Now I'd like to share an edited excerpt from her piece where she talks about this idea in detail and later share how my Profit Hunter Pro readers have already started reaping rewards from it.
I have discovered, 50 irreversible trends that will lead India to its growth path.

Trends that will surely carry Sensex to 1,00,000.

So how do you benefit from this?

One way to look at it would be how India benefits from a stable government at the centre.

Will there be focus on financialisation?
Will we see an increase in urbanisation?
Will we strengthen our defence forces?
Will there be an increase in manufacturing and thus exports?

The answer to these questions is yes.

I believe that your stock selection must factor in these trends. They are likely to get a major push with the Modi government returning to power.

Keeping all these factors in mind, I have zeroed in on 7 stocks that will benefit the most this decisive election mandate which has come after 35 years. You wouldn't want to wait that long for your next chance, would you?
Tanushree has just picked 7 stocks that could benefit from the trend. But my Profit Hunter Pro readers have already started reaping benefits from it.
I am sure you are aware that at Profit Hunter Pro I recommend only fundamentally strong stocks to my subscribers. These stocks should have gone through the filters decided by the Equitymaster research team.
In short, only a stock recommended by Equitymaster will feature as a recommendation in Profit Hunter Pro.
Last Friday I recommended a trade in one of these 7 stocks to my Profit Hunter Pro readers.
I can't reveal the stock name since it's still a live recommendation under Tanushree's premium service StockSelect. But I can tell you that its related to the Auto industry. Now here's the chart...
Generated 9% Gains In 4 Days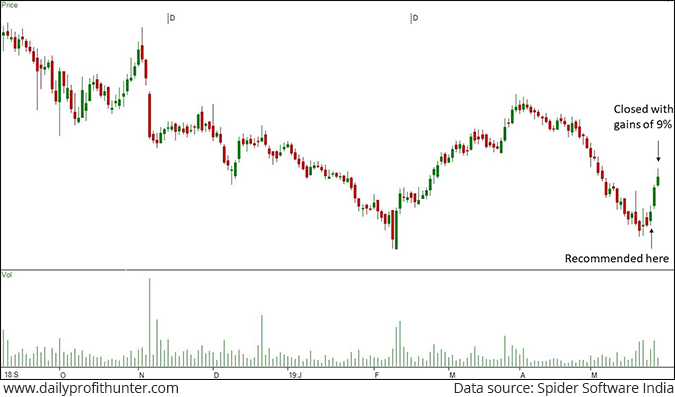 This stock trended lower after topping out in August 2018 along with the markets. The stock nearly halved from the highs before hitting a low in February 2019.
It managed to bounce back almost 50% by March 2019. However, it couldn't sustain there for long and slipped lower once again.
The stock was now retesting the previous lows it hit in February 2019 and even witnessed heavy volumes over the last few days. This indicated entry of strong hands in the stock at lower levels.
I spotted an entry opportunity and recommended the stock to my Profit Hunter Pro readers on Friday.
The stock opened strongly on Monday and continued with the uptrend on Tuesday as well.
The stock achieved our target price early in the day clocking a neat gain of 9% in just 4 days.
Now I am not writing about this to boast about my stock picking abilities or anything. I have gone wrong many times with my stocks and still do.
I am writing this because I believe in the idea of trading only in fundamentally strong stocks. Rebirth of India is real and here to stay which could take the Sensex to 100,000 sooner than you think. But simply because Sensex reaches 100,000 doesn't mean you will make money.
You need to be invested in the right stocks at the right time. Equitymaster Research team helps us pick the right stock while I tell my readers the right time to get in. What more could one ask for?
If you feel this is the right approach to trading then you are amongst thousands who are already enjoying reading the Profit Hunter Pro.
You too could enjoy these and many other exciting opportunities as I bring them closer to you at Profit Hunter Pro.
Warm regards,

Apurva Sheth
Editor and Research Analyst, Profit Hunter Pro
PS: Be invested in the right stocks at the right time with Profit Hunter Pro. Get recommendations for the right stocks now by clicking here.
Copyright © Equitymaster Agora Research Private Limited. All rights reserved.
Any act of copying, reproducing or distributing this newsletter whether wholly or in part, for any purpose without the permission of Equitymaster is strictly prohibited and shall be deemed to be copyright infringement
Disclosure & Disclaimer:
Equitymaster Agora Research Private Limited (Research Analyst) bearing Registration No. INH000000537 (hereinafter referred as 'Equitymaster') is an independent equity research Company. The Author does not hold any shares in the company/ies discussed in this document. Equitymaster may hold shares in the company/ies discussed in this document under any of its other services.
This document is confidential and is supplied to you for information purposes only. It should not (directly or indirectly) be reproduced, further distributed to any person or published, in whole or in part, for any purpose whatsoever, without the consent of Equitymaster.
This document is not directed to, or intended for display, downloading, printing, reproducing or for distribution to or use by, any person or entity, who is a citizen or resident or located in any locality, state, country or other jurisdiction, where such distribution, publication, reproduction, availability or use would be contrary to law or regulation or what would subject Equitymaster or its affiliates to any registration or licensing requirement within such jurisdiction. If this document is sent or has reached any individual in such country, especially, USA, Canada or the European Union countries, the same may be ignored.
This document does not constitute a personal recommendation or take into account the particular investment objectives, financial situations, or needs of individual subscribers. Our research recommendations are general in nature and available electronically to all kind of subscribers irrespective of subscribers' investment objectives and financial situation/risk profile. Before acting on any recommendation in this document, subscribers should consider whether it is suitable for their particular circumstances and, if necessary, seek professional advice. The price and value of the securities referred to in this material and the income from them may go down as well as up, and subscribers may realize losses on any investments. Past performance is not a guide for future performance, future returns are not guaranteed and a loss of original capital may occur. Information herein is believed to be reliable but Equitymaster and its affiliates do not warrant its completeness or accuracy. The views/opinions expressed are our current opinions as of the date appearing in the material and may be subject to change from time to time without notice. This document should not be construed as an offer to sell or solicitation of an offer to buy any security or asset in any jurisdiction. Equitymaster and its affiliates, its directors, analyst and employees will not be responsible for any loss or liability incurred to any person as a consequence of his or any other person on his behalf taking any decisions based on this document.
As a condition to accessing Equitymaster content and website, you agree to our
Terms and Conditions of Use
, available here. The performance data quoted represents past performance and does not guarantee future results.
SEBI (Research Analysts) Regulations 2014, Registration No. INH000000537.

Equitymaster Agora Research Private Limited (Research Analyst) 103, Regent Chambers, Above Status Restaurant, Nariman Point, Mumbai - 400 021. India.
Telephone: +91-22-61434055. Fax: +91-22-22028550. Email: info@equitymaster.com. Website: www.equitymaster.com. CIN:U74999MH2007PTC175407