On This Day - 11 JUNE 2019
US$2,000 versus US$ 7 Million: A Single Stock That Made All the Difference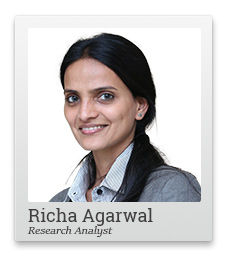 Ever heard of Grace Groner?
Grace was born in 1909 in the US, in a small farming community.
At the age of 12, she was orphaned and taken in by a kind man of her community who paid for her education.
After graduation, she lived in a small cottage that she received in a will. She used to shop for clothes at rummage sales. She never married. She is known to have never used a car. She was frugal and preferred to walk.
For more than four decades of her life, she worked with the same company.
On January 19, 2010, at the age of 100, she passed away.
Now that doesn't make much of a story. And I will not be surprised if you have never heard of her.
So why am I talking about her?
Well, the story of Grace Groner gets interesting on account of what happened after her death.
---

Advertisement

---

How to Find the NEXT Stock That Has the Potential to Make One A Crore… Or More

Do you ever regret missing some big opportunities in the stock market?

The opportunities which could have made one a Lakhpati…

Heck, even a Crorepati…

Opportunities like Wipro, MRF, Titan which could have made one a Crorepati had he taken timely action.

Of course, we can't go back in the past and tap into those opportunities.

But we can look for the next one.

So, how do you find the NEXT stock that has the potential to make a crore…or maybe even more?

Join my first-ever 'One Stock Crorepati' MEGA summit on 24th June for full details…

This time don't miss the opportunity of finding one stock that could make one rich.

Click Here to Claim Your FREE Pass for this MEGA Summit…

Here's another reason why you need to block your seat today…

At this MEGA Summit, Research Analyst Richa Agarwal will reveal details of what she calls a 'crorepati' stock.

Yes…a single stock that has the potential of making one a crorepati in the long term.

It's happened in the past.

And if Richa is right, this could happen again.

So, we strongly recommend you don't miss this MEGA Summit…

Click Here to Claim Your FREE Pass…
------------------------------
You see, in her will, she had left a gift of US$7 million to her alma mater to start a scholarship program for students who were financially challenged.
Her wealth wasn't an inheritance. She did not retire with hefty pay package. And it wasn't a result of her savings either.
So how did she manage to amass such wealth?
Her will left many in shock...even the people in her own community. And it became the talk of the town when leading dailies covered it, including Los Angeles Times and Huffington post.
Turns out that in 1935, after a few years in work, she had bought three shares of Abott Laboratories (the same company where she worked for over four decades), all for US$180 (US$ 60 per share).
For 75 years, she held those shares, which after all the splits and dividend reinvestments had turned into 1 lac shares by the time she died. And that was the reason why she was able to leave such a will behind.
It's a different thing she did not choose to spend on herself, but she was indeed a 'One Stock Crorepati'.
Imagine the kind of difference one decision, one stock made to her life.
Had she saved the initial investment worth US$180 in bank, she would have died with an amount less than US$2000 after 75 years. But she invested in the right stock at the right time, and most importantly, had the patience to let her investment grow and witness the magic of compounding (mind you she could easily have enjoyed an early and wealthy retirement on account of this investment had she wanted).
Stories like these, globally and back home have inspired me to study 'Crorepati stocks'...and all that goes into making them.
After a decade long career in equity research and subjecting my experience to some hard analysis, I think I have found the recipe.
And I'm all ready to share it with you.
If you want to be a part of this journey, join me on June 24th for the 'One Stock Crorepati' Mega Summit. I look forward to seeing you there.
Warm regards,



Richa Agarwal
Editor and Research Analyst, Hidden Treasure
PS: Registrations for the 'one Stock Crorepati' Mega Summit will close soon. Book your FREE seat now. Click here to make 2019 the year of your massive investing success!
Copyright © Equitymaster Agora Research Private Limited. All rights reserved.
Any act of copying, reproducing or distributing this newsletter whether wholly or in part, for any purpose without the permission of Equitymaster is strictly prohibited and shall be deemed to be copyright infringement
Disclosure & Disclaimer:
Equitymaster Agora Research Private Limited (Research Analyst) bearing Registration No. INH000000537 (hereinafter referred as 'Equitymaster') is an independent equity research Company. The Author does not hold any shares in the company/ies discussed in this document. Equitymaster may hold shares in the company/ies discussed in this document under any of its other services.
This document is confidential and is supplied to you for information purposes only. It should not (directly or indirectly) be reproduced, further distributed to any person or published, in whole or in part, for any purpose whatsoever, without the consent of Equitymaster.
This document is not directed to, or intended for display, downloading, printing, reproducing or for distribution to or use by, any person or entity, who is a citizen or resident or located in any locality, state, country or other jurisdiction, where such distribution, publication, reproduction, availability or use would be contrary to law or regulation or what would subject Equitymaster or its affiliates to any registration or licensing requirement within such jurisdiction. If this document is sent or has reached any individual in such country, especially, USA, Canada or the European Union countries, the same may be ignored.
This document does not constitute a personal recommendation or take into account the particular investment objectives, financial situations, or needs of individual subscribers. Our research recommendations are general in nature and available electronically to all kind of subscribers irrespective of subscribers' investment objectives and financial situation/risk profile. Before acting on any recommendation in this document, subscribers should consider whether it is suitable for their particular circumstances and, if necessary, seek professional advice. The price and value of the securities referred to in this material and the income from them may go down as well as up, and subscribers may realize losses on any investments. Past performance is not a guide for future performance, future returns are not guaranteed and a loss of original capital may occur. Information herein is believed to be reliable but Equitymaster and its affiliates do not warrant its completeness or accuracy. The views/opinions expressed are our current opinions as of the date appearing in the material and may be subject to change from time to time without notice. This document should not be construed as an offer to sell or solicitation of an offer to buy any security or asset in any jurisdiction. Equitymaster and its affiliates, its directors, analyst and employees will not be responsible for any loss or liability incurred to any person as a consequence of his or any other person on his behalf taking any decisions based on this document.
As a condition to accessing Equitymaster content and website, you agree to our
Terms and Conditions of Use
, available here. The performance data quoted represents past performance and does not guarantee future results.
SEBI (Research Analysts) Regulations 2014, Registration No. INH000000537.

Equitymaster Agora Research Private Limited (Research Analyst) 103, Regent Chambers, Above Status Restaurant, Nariman Point, Mumbai - 400 021. India.
Telephone: +91-22-61434055. Fax: +91-22-22028550. Email: info@equitymaster.com. Website: www.equitymaster.com. CIN:U74999MH2007PTC175407