On This Day - 13 JUNE 2018
Alert: Pharma Stocks Are About to Shoot Up - And a Superb Stock for Trading


Editor's Note: By the way, Apurva wrote this piece yesterday - BEFORE Sun Pharma received its EIR clearance! Within a couple of hours after we produced the piece, the EIR news broke - and we were all a bit in awe of his fantastic timing - I have added an update about the clearance inside the note.
---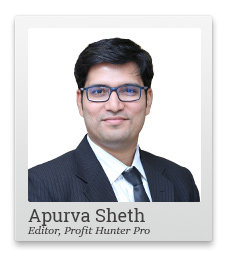 The pharma sector has been one of the worst performers of the last couple of years. It was the biggest loser on a year-to-date basis by May 2018 with a cut of more than 8%.
Most folks in the markets had given up hope of a turnaround on this ungainly sector.
But, that is when a turnaround occurs - when no one is expecting it.
And I've just seen something, interesting...
See for yourself...
The chart below shows the performance of various sectoral indices over the last 15 trading sessions...
% Change Over Last 15 Trading Sessions
Most sectoral indices are trading up... But Nifty Pharma index is the best performer of all.
It is up 9.1% over the last 15 trading sessions.
The second-best sector's gains over the same period are nearly half of Pharma index's gains.
--- Advertisement ---


A Method That Doesn't Take YEARS To Grow Investors' Money…

The fact is, most stock market strategies take YEARS to grow investors' money.

But what if a person needs the returns fast for some reason?

A method revealed by research analyst, Apurva Sheth, has the potential to generate returns in a fairly short time. And that too, from some of the best companies in the market.

Yes! To find out all about that method, just click here…
------------------------------
Pharma sector's towering gains dwarf the other sectors - a clear sign of outperformance.
One of the major reasons behind this outperformance is Sun Pharma - the largest pharma company in India with the highest weightage in the index.
Sun Pharma was up more than 7% on 28th May after it announced results for fourth quarter ending in March 2018.
The company's consolidated net profit rose 6.94% year-on-year (YoY) to Rs 13.1 billion - which is, frankly not that great.
Its consolidated revenue for the quarter went down by 1.11% to Rs 72.7 billion. So a mild dip, but nothing terrible.
But these numbers - lame as they might be - were far better than what most analysts expected, which resulted in the stock price going up.
That's not all.
The company witnessed another 8% upmove last Friday - after the US Food and Drug Administration (FDA) delivered a voluntary action indicated (VAI) verdict after inspecting its Halol facility.
The VAI verdict means the Halol plant is likely to get a clearance from USFDA in a few months. Not that it is cleared, mind you, just that it could soon get an establishment inspection report (EIR) - which means there is a chance it could be cleared.
[Update: Yesterday, the company received an establishment inspection report (EIR) - which means it is now compliant to export to the US]
While this development does not impact the company's financials on an immediate basis, what it represents is hope.
Those who have washed their hands off Pharma, now have reason to dirty their hands again...
The reaction to the VAI verdict was strong. Sun Pharma moved up by 8% with highest volumes in the last three months. Even today the stock is up 3% as I write this.
There are two reasons for such strong reactions...
First, when stocks are beaten down beyond a point no bad news is also good news.
Sun Pharma topped out at 1,200 in April 2015. It has dropped more than 60% from this level. Such a fall for a heavyweight like Sun Pharma must have caused many a heart to burn.
Many people may have already exited the stock.
The stock may be so underinvested that even small positive developments can create a buying frenzy.
Beyond a point, even value investors may jump in and lend support to the stock at lower levels.
Second, stock prices are determined more by the attitude of market participants to the emerging fundamentals, than by fundamentals themselves.
The fundamentals or financials of Sun Pharma are yet to show a significant improvement but markets often discounts most of these things in advance.
So, stock prices don't move on fundamentals but on people's perception of fundamentals.
And one of the most important ways to study people's perception of fundamentals is price action. If people have a positive perception of a stock, they will buy it. Buying by a lot of people would push prices higher.
If people have a negative perception of a stock, they will sell it. Selling by a lot of people would push prices lower.
So far, it seems that people's perception on Sun Pharma is changing slowly and steadily.
Like I said before, hope is blossoming again.
And it's not alone.
The perception in other Pharma stocks could also be improving. Just dig one level deeper and see how the other pharma stocks have performed over the last 15 trading sessions.
% Change Over Last 15 Trading Sessions
Notice that Sun Pharma is the leader with gains of 21.5%. But it's not alone. Many other stocks have also moved up along with it.
Glenmark, Lupin and Dr. Reddy's Laboratories all are up more than 10% over the last 15 trading sessions.
Could this be a start of a trend reversal in the Pharma space?
I don't know. It's probably too early to take a view on that.
But one thing is certain, people's perceptions of pharma stocks is changing.
A day before yesterday Alembic Pharmaceutical Ltd. was locked in a 20% up circuit.
A mutual fund is launching a healthcare fund soon.
My universe consists of 11 pharma stocks which have passed the stringent fundamental filters of the Equitymaster research team.
One of these stocks cleared the technical filters as well. I recommended it to Profit Hunter Pro subscribers yesterday (you can find the recommendation here).
It is massively underinvested.
The stock is breaking out of a 'double bottom' pattern on daily and weekly charts. The price action suggests at least a 12% upside in the near term.
So, it seems like the pharma sector is on the path of recovery. It could offer numerous opportunity if the turnaround sustains. You can make money trading this turnaround by keeping an eye on the sector or let me do it for you.
Stay tuned...



Apurva Sheth (Research Analyst)
Editor, Profit Hunter Pro
PS: Apurva has recommended this pharma stock - just as it is turning upwards. It has the potential to go up 12% in few days to weeks. To get the recommendation now before you miss it, click here to subscribe.
Copyright © Equitymaster Agora Research Private Limited. All rights reserved.
Any act of copying, reproducing or distributing this newsletter whether wholly or in part, for any purpose without the permission of Equitymaster is strictly prohibited and shall be deemed to be copyright infringement
Disclosure & Disclaimer:
Equitymaster Agora Research Private Limited (Research Analyst) bearing Registration No. INH000000537 (hereinafter referred as 'Equitymaster') is an independent equity research Company. The Author does not hold any shares in the company/ies discussed in this document. Equitymaster may hold shares in the company/ies discussed in this document under any of its other services.
This document is confidential and is supplied to you for information purposes only. It should not (directly or indirectly) be reproduced, further distributed to any person or published, in whole or in part, for any purpose whatsoever, without the consent of Equitymaster.
This document is not directed to, or intended for display, downloading, printing, reproducing or for distribution to or use by, any person or entity, who is a citizen or resident or located in any locality, state, country or other jurisdiction, where such distribution, publication, reproduction, availability or use would be contrary to law or regulation or what would subject Equitymaster or its affiliates to any registration or licensing requirement within such jurisdiction. If this document is sent or has reached any individual in such country, especially, USA, Canada or the European Union countries, the same may be ignored.
This document does not constitute a personal recommendation or take into account the particular investment objectives, financial situations, or needs of individual subscribers. Our research recommendations are general in nature and available electronically to all kind of subscribers irrespective of subscribers' investment objectives and financial situation/risk profile. Before acting on any recommendation in this document, subscribers should consider whether it is suitable for their particular circumstances and, if necessary, seek professional advice. The price and value of the securities referred to in this material and the income from them may go down as well as up, and subscribers may realize losses on any investments. Past performance is not a guide for future performance, future returns are not guaranteed and a loss of original capital may occur. Information herein is believed to be reliable but Equitymaster and its affiliates do not warrant its completeness or accuracy. The views/opinions expressed are our current opinions as of the date appearing in the material and may be subject to change from time to time without notice. This document should not be construed as an offer to sell or solicitation of an offer to buy any security or asset in any jurisdiction. Equitymaster and its affiliates, its directors, analyst and employees will not be responsible for any loss or liability incurred to any person as a consequence of his or any other person on his behalf taking any decisions based on this document.
As a condition to accessing Equitymaster content and website, you agree to our
Terms and Conditions of Use
, available here. The performance data quoted represents past performance and does not guarantee future results.
SEBI (Research Analysts) Regulations 2014, Registration No. INH000000537.

Equitymaster Agora Research Private Limited (Research Analyst) 103, Regent Chambers, Above Status Restaurant, Nariman Point, Mumbai - 400 021. India.
Telephone: +91-22-61434055. Fax: +91-22-22028550. Email: info@equitymaster.com. Website: www.equitymaster.com. CIN:U74999MH2007PTC175407