On This Day - 14 JUNE 2019
Why I Believe Smallcaps Will Catch up to the Sensex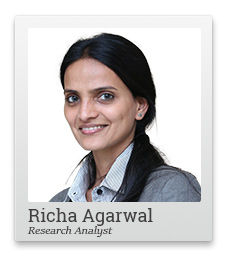 It can be frustrating to see the BSE Sensex make all-time highs, while the BSE Smallcap index hasn't made any meaningful moves.
Despite that I am quite excited about small-cap stocks right now.
Why?
I believe, as an economic recovery is on the anvil. The skeptical ones among you would argue that smallcaps have wiped out your hard-earned gains. Some of you may be thinking its best to stay away from them.
I beg to differ.
I agree that many of smallcap stocks are down more than 50% from their peaks.
But many of those had no business being valued that high in the first place.
Besides, the negative sentiment around smallcaps has also brought down excellent businesses down to never-before seen valuations!
Money has flown from the small caps to the large caps. This has pushed up the Sensex to new highs and left small caps high and dry.
---

Advertisement

---

India's Bull Market Will Continue Until This Happens…

Money manager Porinju Veliyath recently said in an interview that India's bull market will show no signs of slowing down until the economy hits $8-10 trillion.

We're a long way off from that.

A very long way…

And as the Sensex gallops towards 100,000 – there's bucketloads of wealth to be made for investors.

Here are the top 3 stocks to start with…
------------------------------
So while you may have felt the pinch in the short-term, I believe buying the right small caps now can be a massive wealth creating opportunity for the long run.
Why am I so convinced about this?
Apart from signs of a full-blown economic recovery, this phase has happened before.
And small caps have always bounced back.
You see, smallcap stocks don't enjoy the same amount of media and analyst coverage as their larger peers do. So there exists a lot of misinformation about them.
This adds to the volatility of these already illiquid stocks as panic and misinformation can spread quickly.
This means that negative sentiment in the space affects even the quality businesses. As bad stocks go down, good stocks go down with them too.
But the difference is the quality stocks come back up stronger.
Have a look at these charts.
Smallcaps Recovered Sharply After a 30% Crash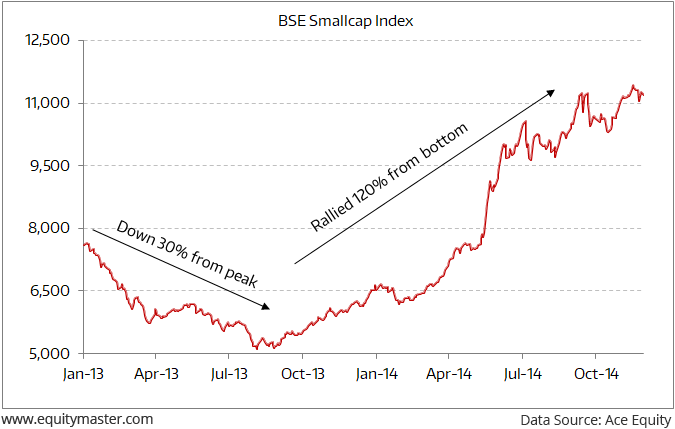 The smallcap index had fallen by over 30% in just nine months from its peak.
The panic also bought down the choicest of smallcaps at mouthwatering valuations. Once the panic subsided, the index went up over 120% in just one year.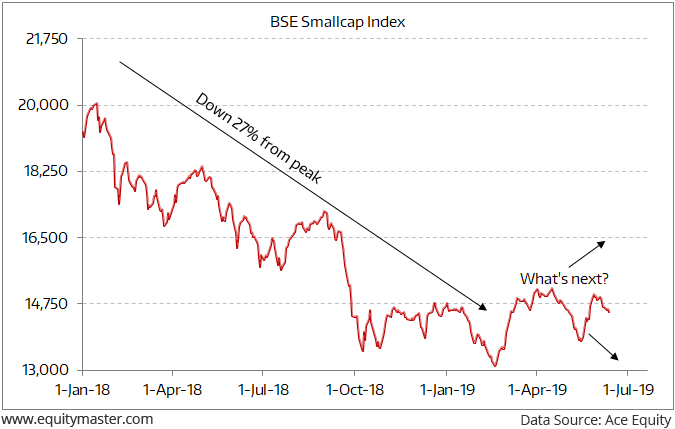 Coming back to the current situation, the smallcap index is down about 27% from its peak made in January 2018.
The liquidity crisis in NBFCs, the DHFL, and IL&FS fiascos has taken the steam out of smallcaps. Fear and misinformation reigns supreme. Quality businesses are back to cheap valuations.
Of course, the future need not necessarily mirror the past but I just want to drive home a simple point, dear reader.
This is not the first time smallcaps have fallen out of favour and then gone on to recover smartly
It certainly won't be the last time this happens either.
Reading all this about small-cap stocks being on the verge of a turnaround might have bought some questions on your mind.
How can I identify quality small caps?
How much should I invest?
How long should I hold on to it after buying?
What about the risks?
But the good news is that I do this for a living and you don't have to do the heavy lifting.
I recommend the best small-cap stocks in Hidden Treasure.
Since its launch 10 years ago, Hidden Treasure has beaten the Sensex 2.5 times.
Page Industries, eClerx Services, NIIT Technologies, Balkrishna Industries, City Union Bank, Indoco Remedies, PI Industries, Astral Polytechnic, Vinati Organics... these are just some of the big winners!
I believe this is a great time to buy the high quality smallcaps that have been beaten down.
No one is talking about smallcaps these days and that is exactly why they are the best place for your money right now.
Warren Buffet's classic maxim comes to mind...
"Be fearful when others are greedy and greedy when others are fearful."
With all the fear surrounding smallcaps, I believe now is the time to be greedy, and buy high-quality small-cap stocks, which are down simply because of this fear in the market.
But that doesn't mean you should get carried away by greed.
I'm not saying the small-cap carnage is over. No one can predict that. Anyone saying so, is merely speculating.
What I can say with confidence from all my experience is that high-quality smallcaps will not only survive but thrive in the long-term.
If a company's fundamentals and rationale to buy are intact, it simply makes sense to buy the stock... or hold on to it if you have already bought.
In such a situation, a crash only adds to the margin of safety. You could buy more and maximise your potential return while minimising risk.
So, now is not the time to shy away from smallcaps, dear reader.
The Indian stock market has great opportunities in this space right now. Pick out the best smallcaps at the dirt-cheap valuations they are available now, and sit tight for the long-term.
Do not let the negative sentiment overwhelm you. Focus on the fundamentals, and buy the stocks where quality meets value.
If you want to know which ones you can add to your portfolio right away, follow my recommendations.
Warm regards,



Richa Agarwal
Editor and Research Analyst, Hidden Treasure
PS: Dear reader, is it possible to make Rs 1 crore from just one stock? You can find out very soon! Just block your seat for the One Stock Crorepati MEGA Summit and find out how.
Copyright © Equitymaster Agora Research Private Limited. All rights reserved.
Any act of copying, reproducing or distributing this newsletter whether wholly or in part, for any purpose without the permission of Equitymaster is strictly prohibited and shall be deemed to be copyright infringement
Disclosure & Disclaimer:
Equitymaster Agora Research Private Limited (Research Analyst) bearing Registration No. INH000000537 (hereinafter referred as 'Equitymaster') is an independent equity research Company. The Author does not hold any shares in the company/ies discussed in this document. Equitymaster may hold shares in the company/ies discussed in this document under any of its other services.
This document is confidential and is supplied to you for information purposes only. It should not (directly or indirectly) be reproduced, further distributed to any person or published, in whole or in part, for any purpose whatsoever, without the consent of Equitymaster.
This document is not directed to, or intended for display, downloading, printing, reproducing or for distribution to or use by, any person or entity, who is a citizen or resident or located in any locality, state, country or other jurisdiction, where such distribution, publication, reproduction, availability or use would be contrary to law or regulation or what would subject Equitymaster or its affiliates to any registration or licensing requirement within such jurisdiction. If this document is sent or has reached any individual in such country, especially, USA, Canada or the European Union countries, the same may be ignored.
This document does not constitute a personal recommendation or take into account the particular investment objectives, financial situations, or needs of individual subscribers. Our research recommendations are general in nature and available electronically to all kind of subscribers irrespective of subscribers' investment objectives and financial situation/risk profile. Before acting on any recommendation in this document, subscribers should consider whether it is suitable for their particular circumstances and, if necessary, seek professional advice. The price and value of the securities referred to in this material and the income from them may go down as well as up, and subscribers may realize losses on any investments. Past performance is not a guide for future performance, future returns are not guaranteed and a loss of original capital may occur. Information herein is believed to be reliable but Equitymaster and its affiliates do not warrant its completeness or accuracy. The views/opinions expressed are our current opinions as of the date appearing in the material and may be subject to change from time to time without notice. This document should not be construed as an offer to sell or solicitation of an offer to buy any security or asset in any jurisdiction. Equitymaster and its affiliates, its directors, analyst and employees will not be responsible for any loss or liability incurred to any person as a consequence of his or any other person on his behalf taking any decisions based on this document.
As a condition to accessing Equitymaster content and website, you agree to our
Terms and Conditions of Use
, available here. The performance data quoted represents past performance and does not guarantee future results.
SEBI (Research Analysts) Regulations 2014, Registration No. INH000000537.

Equitymaster Agora Research Private Limited (Research Analyst) 103, Regent Chambers, Above Status Restaurant, Nariman Point, Mumbai - 400 021. India.
Telephone: +91-22-61434055. Fax: +91-22-22028550. Email: info@equitymaster.com. Website: www.equitymaster.com. CIN:U74999MH2007PTC175407