On This Day - 2 JULY 2019
This Smallcap Stock could be the next Page Industries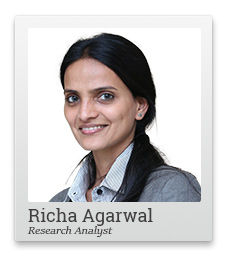 I have been writing to you about the rebound opportunity in smallcaps.
The theme is taking longer to play out.
In the last one month, the smallcap index has corrected further by around 5% (while Sensex has remained flat). The gap between the smallcap and large cap indices has widened.
There are many short-term factors - Debt defaults, auditors and credit rating agencies facing the heat, trade tensions, delayed monsoons, the upcoming budget - that are keeping the big investors away and leading to volatility in this space.
But that's not bad news at all. It gives you more of action time and opportunities to invest in.
Currently, in the smallcap space, there are great businesses available at attractive valuations.
But even among them, there is a business that is first among equals. It has the elements and the potential that companies like Balkrishna and Page Industries had, when they were undiscovered.
It's not often that one comes across the kind of opportunities, where there is conviction of holding it for the long term. And by long term, I mean not just 3 to 5 years, but 10 years or more.
In fact, of the certain mistakes that we have made in the past, one was to not hold such stocks for the long term (exit early). A case in point is Astral Polytechnik. We closed the position with 143% gains. After our closure, the stock made new highs. As I write this, it is nearly 600% from our closing price.
Now we can't afford to miss such potential opportunities. We don't want to repeat such mistakes.
So, a few days ago, we decided to search for next 'Crorepati stock' - a stock that has the potential to not just survive over the next 10 years, but become even more relevant to its clients and to the economy... Where the runway is huge and promoters have unmatched competence.
We have selected one. Amid all the disruptions that the economy has gone through in last three years, the business has proved itself resilient. It has not just shown consistent growth, but has rewarded shareholders with dividends as well. We have been tracking the stock for almost 3 years now. And our conviction in the management has only grown stronger.
If the company maintains the growth rate, even without considering an expansion in valuation multiples or rerating, we believe the stock has the potential to multiply nearly 8 times from here.
This small cap stock makes the cut to be a part of coffee can portfolio...to be held for 10 years or more.
Warm regards,



Richa Agarwal
Editor and Research Analyst, Hidden Treasure
PS: Small cap stocks are back in the news. After the recent correction, sentiment could turn positive for this segment of the market. I recommend you listen to our small cap expert Richa Agarwal. She has picked the the best small-cap stocks in the market.
Copyright © Equitymaster Agora Research Private Limited. All rights reserved.
Any act of copying, reproducing or distributing this newsletter whether wholly or in part, for any purpose without the permission of Equitymaster is strictly prohibited and shall be deemed to be copyright infringement
Disclosure & Disclaimer:
Equitymaster Agora Research Private Limited (Research Analyst) bearing Registration No. INH000000537 (hereinafter referred as 'Equitymaster') is an independent equity research Company. The Author does not hold any shares in the company/ies discussed in this document. Equitymaster may hold shares in the company/ies discussed in this document under any of its other services.
This document is confidential and is supplied to you for information purposes only. It should not (directly or indirectly) be reproduced, further distributed to any person or published, in whole or in part, for any purpose whatsoever, without the consent of Equitymaster.
This document is not directed to, or intended for display, downloading, printing, reproducing or for distribution to or use by, any person or entity, who is a citizen or resident or located in any locality, state, country or other jurisdiction, where such distribution, publication, reproduction, availability or use would be contrary to law or regulation or what would subject Equitymaster or its affiliates to any registration or licensing requirement within such jurisdiction. If this document is sent or has reached any individual in such country, especially, USA, the same may be ignored.
This document does not constitute a personal recommendation or take into account the particular investment objectives, financial situations, or needs of individual subscribers. Our research recommendations are general in nature and available electronically to all kind of subscribers irrespective of subscribers' investment objectives and financial situation/risk profile. Before acting on any recommendation in this document, subscribers should consider whether it is suitable for their particular circumstances and, if necessary, seek professional advice. The price and value of the securities referred to in this material and the income from them may go down as well as up, and subscribers may realize losses on any investments. Past performance is not a guide for future performance, future returns are not guaranteed and a loss of original capital may occur. Information herein is believed to be reliable but Equitymaster and its affiliates do not warrant its completeness or accuracy. The views/opinions expressed are our current opinions as of the date appearing in the material and may be subject to change from time to time without notice. This document should not be construed as an offer to sell or solicitation of an offer to buy any security or asset in any jurisdiction. Equitymaster and its affiliates, its directors, analyst and employees will not be responsible for any loss or liability incurred to any person as a consequence of his or any other person on his behalf taking any decisions based on this document.
As a condition to accessing Equitymaster content and website, you agree to our
Terms and Conditions of Use
, available here. The performance data quoted represents past performance and does not guarantee future results.
SEBI (Research Analysts) Regulations 2014, Registration No. INH000000537.

Equitymaster Agora Research Private Limited (Research Analyst) 103, Regent Chambers, Above Status Restaurant, Nariman Point, Mumbai - 400 021. India.
Telephone: +91-22-6143 4055. Fax: +91-22-2202 8550. Email: info@equitymaster.com. Website: www.equitymaster.com. CIN:U74999MH2007PTC175407