On This Day - 5 JULY 2018
I Discovered A Thriving Sector Even in this Depressed Market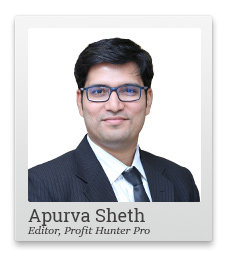 Last Friday, I showed my Profit Hunter Pro readers how dull and boring the June expiry was...
Over the past month, the benchmark Nifty 50 Index bounced back and forth in a tight range of 10,550 and 10,900. The rollover and options data indicate that July isn't going to be any different.
One might think that every sector follows the same script as the market. But I believe what famed hedge fund investor Jim Cramer likes to say...
'There is always a bull market somewhere.'
Cramer means that one or two sectors (or assets other than stocks) will often move higher...even if the rest of the market is 'sloppy'. Many sectors will usually underperform, too.
That's what was happening last month.
So, in today's letter, I'll show you how to identify sector-specific bull and bear markets.
At Profit Hunter Pro I do a monthly 'sector check-up' on the first trading day of each month.
That just means I gauge the pulse of the markets by looking at where the money is moving.
I look at the benchmark Sensex and 11 major sectors over two time frames - one month and six months.
I see what is and isn't working in Indian stocks...
And then I use that information to recommend trades for my subscribers in the coming months.
--- Advertisement ---


Handful of Good Stocks Is All One Needs

A handful of good stocks giving triple- and four-digit returns is more than enough to make one rich in the stock market. Don't believe us?

Click here to see for yourself…
------------------------------
Here's what I told my Profit Hunter Pro subscribers earlier this week.
Let's start with the shorter time frame...
Sector Indices One Month Return (%)
The benchmark Sensex ended on a pretty flattish note for the month with gains of 0.3%.
But if you don't look beyond the surface, you'll miss out on hidden bull markets that can make you a lot of money...
Right now, Healthcare and IT are the only two sectors staying afloat. The IT sector is up 3.5% and has been enjoying its place under the sun for quite some time.
But the outperformance of healthcare is a surprise package.
The healthcare sector is leading with gains of 7.7%. It may be starting a hidden bull market of its own. I have written about the pharma sector noting a possibility of a turnaround over the last two months.
There are two main reasons which favoured the possibility of a bull market beginning in the sector.
First, pharma stocks were beaten down beyond a point, when no bad news started acting as good news.
Second, the perception started changing even before the change in fundamentals of pharma stocks.
Many mutual fund houses are launching pharma-focused funds shows how the perception has changed.
Apart from this, price action also suggested a possibility of a turnaround in the sector.
So, all things put together, it seems the worst may be over in pharma stocks.
However, that doesn't mean one can buy anything and everything pharma - one needs to be selective and buy stocks when they are available 50% off.
Moving on to the other sectors, you will notice that all of them are submerged.
Realty, Capital Goods and Smallcaps are the worst performers for the month with losses of more than 7% each.
Midcap, Metal and Oil & Gas ended the month lower by 3.5%, 4% and 5.3% respectively. Auto and Banks ended with losses of about 2.5% while FMCG ended flat with a cut of 0.7%.
Now, let's move on to the longer-term trends...
Over the past six months, the Sensex is up 4%. As you can see in the chart above, the biggest gains came from the IT sector. It stands tall with gains of 23.4%. I identified the bull market in IT sector long ago. Insights from the greed and fear cycle in the IT sector helped us pick several trades.
These trades helped us generate gains like 20% and 12.2% in 72 days and 21 days respectively for my readers. Our most recent pick in this IT bellwether is already up more than 5%.
The FMCG sector looked promising in May and seemed like it could topple the IT sector from the number one position. But it hasn't kept pace with the IT stocks. The sector is up with gains of almost 5%. Anyways, it's a decent performance considering how other sectors have trailed behind.
Banks, especially the private sector ones, and a few NBFC are also in a bull market of their own. One of my long open trades in this NBFC stock aims to capture the uptrend in the sector. Banks are up by 1.4% over the last six months.
The Healthcare index is still placed in the negative territory on a six month time frame despite last month's outperformance. However, the positional ranking has improved remarkably. The sector is currently placed in fourth position. This is a big jump from last month's ninth position.
If you see how the sectoral indices are placed now you will notice that there is a clear outperformance by the defensives - IT, FMCG, Banks (mostly dominated by private ones) and pharma.
On the other hand, the high beta sectors have lagged considerably. Capital Goods, Auto and Metal are down 8.6%, 10.9% and 12.6% respectively.
Midcap, Oil&Gas, Smallcap and Realty are the worst performers on a six month time frame with losses in the range of 13-21%.
The performance of defensives and high beta sector is similar across both the time frames. As the same group of sectors are in leading and lagging positions.
Thus, at Profit Hunter Pro, I will continue to focus on what's moving right now - the defensives. And avoid what isn't - high beta.
Fortunately, I have even found a stock in the pharma space yesterday which is in a breakout mode and in a bull market of its own.
As you can see, Mr Cramer is right. There is always a bull market somewhere. And we know how to find and profit from it.
You can also profit from it by joining us here.

Apurva Sheth (Research Analyst)
Editor, Profit Hunter Pro
PS: Pharma could take you up with it - only if you get in on time. Now is the time to get Apurva's pharma recommendation, before it begins its upward journey. Get it by signing up for Apurva's incredibly successful trading newsletter, Profit Hunter Pro now - click here.
Copyright © Equitymaster Agora Research Private Limited. All rights reserved.
Any act of copying, reproducing or distributing this newsletter whether wholly or in part, for any purpose without the permission of Equitymaster is strictly prohibited and shall be deemed to be copyright infringement
Disclosure & Disclaimer:
Equitymaster Agora Research Private Limited (Research Analyst) bearing Registration No. INH000000537 (hereinafter referred as 'Equitymaster') is an independent equity research Company. The Author does not hold any shares in the company/ies discussed in this document. Equitymaster may hold shares in the company/ies discussed in this document under any of its other services.
This document is confidential and is supplied to you for information purposes only. It should not (directly or indirectly) be reproduced, further distributed to any person or published, in whole or in part, for any purpose whatsoever, without the consent of Equitymaster.
This document is not directed to, or intended for display, downloading, printing, reproducing or for distribution to or use by, any person or entity, who is a citizen or resident or located in any locality, state, country or other jurisdiction, where such distribution, publication, reproduction, availability or use would be contrary to law or regulation or what would subject Equitymaster or its affiliates to any registration or licensing requirement within such jurisdiction. If this document is sent or has reached any individual in such country, especially, USA, Canada or the European Union countries, the same may be ignored.
This document does not constitute a personal recommendation or take into account the particular investment objectives, financial situations, or needs of individual subscribers. Our research recommendations are general in nature and available electronically to all kind of subscribers irrespective of subscribers' investment objectives and financial situation/risk profile. Before acting on any recommendation in this document, subscribers should consider whether it is suitable for their particular circumstances and, if necessary, seek professional advice. The price and value of the securities referred to in this material and the income from them may go down as well as up, and subscribers may realize losses on any investments. Past performance is not a guide for future performance, future returns are not guaranteed and a loss of original capital may occur. Information herein is believed to be reliable but Equitymaster and its affiliates do not warrant its completeness or accuracy. The views/opinions expressed are our current opinions as of the date appearing in the material and may be subject to change from time to time without notice. This document should not be construed as an offer to sell or solicitation of an offer to buy any security or asset in any jurisdiction. Equitymaster and its affiliates, its directors, analyst and employees will not be responsible for any loss or liability incurred to any person as a consequence of his or any other person on his behalf taking any decisions based on this document.
As a condition to accessing Equitymaster content and website, you agree to our
Terms and Conditions of Use
, available here. The performance data quoted represents past performance and does not guarantee future results.
SEBI (Research Analysts) Regulations 2014, Registration No. INH000000537.

Equitymaster Agora Research Private Limited (Research Analyst) 103, Regent Chambers, Above Status Restaurant, Nariman Point, Mumbai - 400 021. India.
Telephone: +91-22-61434055. Fax: +91-22-22028550. Email: info@equitymaster.com. Website: www.equitymaster.com. CIN:U74999MH2007PTC175407