On This Day - 16 JULY 2018
Take a Breath and Repeat After Me: 'Share Market Losses Acche Hai'

There's a reason Warren Buffett's two most important rules in investing are about avoiding losses.
Rule # 1 - Don't lose money
Rule # 2 - Don't forget Rule no. 1
Now, take a look at the chart below.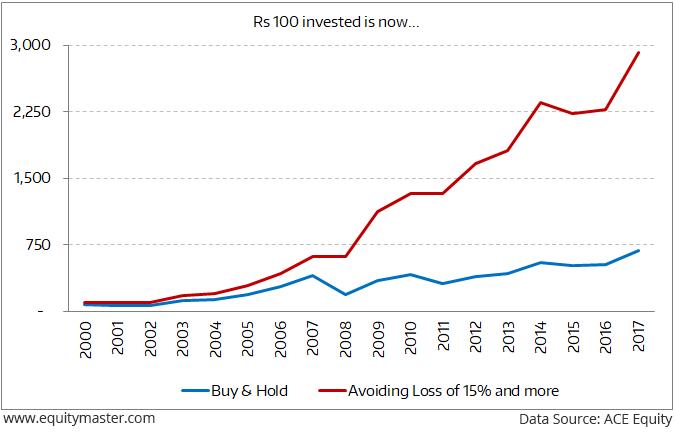 The red line has knocked the daylights out of the blue one, outperforming it by a factor of more than 4x.
The blue line is the Sensex rebased to 100 at the start of the year 2000.
A simple buy and hold strategy in stocks mimicking the Sensex would have earned around 13% CAGR since the turn of the century, a near 7-bagger. Not a bad deal at all.
However, tweak it a bit and what you get is a massive 29-bagger, a CAGR of 21% and an outperformance of more than 4x over the buy and hold strategy.
--- Advertisement ---


31 Winning Recommendations Out of 35!

Our top Benjamin-Graham-style research analyst, Rahul Shah, boasts an incredible 88.6 % success rate.

He's closed 31 winners out of 35 recommendations, giving subscribers a chance at breakthrough profits…

Most of which were within a 2-year time period.

Today, you can see just how amazing Rahul's research is by giving Microcap Millionaires a test run…

At only 5% of the normal price!

So go on, you have nothing to lose…

Start your trial of Microcap Millionaires today…
------------------------------
Impressed? Well, the tweak is nothing but Warren Buffett's two rules in action.
All I have done is assumed that whenever the index has fallen 15% or more in a calendar year, the investor has been able to move into cash and thus avoid the losses.
| Year | Decline in Sensex |
| --- | --- |
| 2000 | -20.6% |
| 2001 | -17.9% |
| 2008 | -52.4% |
| 2011 | -24.6% |
There were four such occasions in the entire 17-year period with the worst being the year 2008 where the Sensex was cut in half because of the global financial crisis.
So, if an investor would have somehow been able to move into cash just when the carnage was about to begin, he would have had more than four times the corpus of a simple buy and hold guy.
Is it any wonder Buffett's most important rules have nothing to do with finding the next set of multi-baggers or identifying the next big theme but on the simple strategy of avoiding losses?
There's a small glitch though.
It is a mistake to assume we can replicate the exact same strategy in real time. For it involves timing the market's fall to perfection every single time it falls more than 15% in a year.
This is a skill, no human has perfected yet, and perhaps never will.
So, does this mean the upside on offer when we lose less than the market is just a mirage?
Should we abandon the effort and try beating the index some other way?
I don't think so.
By doing what I recommend to my subscribers in Microcap Millionaires, we could try and capture some of the upside, if not all.
You see, the market is most vulnerable to a fall when it has risen so much that valuations no longer justify the long-term fundamentals.
In other words, a stock market meltdown is often the result of valuations becoming very expensive.
Therefore, it could be a good idea to keep reducing exposure to stocks as markets turn expensive and there is too much greed in the system.
This is exactly what we have done in Microcap Millionaires so far.
Whenever the markets have turned expensive, we have trimmed our exposure to stocks to no more than 25% of the total corpus and have recommended subscribers to invest the remaining 75% in fixed deposits.
It's worth pointing out that the service has been able to avoid the current meltdown in Mid and Small Caps on account of having this very rule in place.
Thus, even as the BSE Small Cap index has corrected around 25% since the start of the year, Microcap Millionaires is down only 5%, achieving the Buffett objective in style.
And this is not the first time it has lost less than the index in a correction.
Smartly moving money between equities and fixed deposits based on market valuations has played a key role in the service outperforming the Sensex by more than 100% and returning 173% since inception.
My readers think this is purely because of the multiple winners we have recommended over the years.
Yes, that's certainly part of the reason. However, it would be wrong not to acknowledge the role this principle of avoiding big losses has played.
It actually makes one want to look forward to a bear market as much as a bull market.
Good Investing,



Rahul Shah (Research Analyst)
Editor, Profit Hunter
PS: There is a Special category of small caps which could not only create a lot of wealth over long term...but could even become the Blue Chips of tomorrow. We call such small caps - Junior Blue Chips. Learn about them here.
Copyright © Equitymaster Agora Research Private Limited. All rights reserved.
Any act of copying, reproducing or distributing this newsletter whether wholly or in part, for any purpose without the permission of Equitymaster is strictly prohibited and shall be deemed to be copyright infringement
Disclosure & Disclaimer:
Equitymaster Agora Research Private Limited (Research Analyst) bearing Registration No. INH000000537 (hereinafter referred as 'Equitymaster') is an independent equity research Company. The Author does not hold any shares in the company/ies discussed in this document. Equitymaster may hold shares in the company/ies discussed in this document under any of its other services.
This document is confidential and is supplied to you for information purposes only. It should not (directly or indirectly) be reproduced, further distributed to any person or published, in whole or in part, for any purpose whatsoever, without the consent of Equitymaster.
This document is not directed to, or intended for display, downloading, printing, reproducing or for distribution to or use by, any person or entity, who is a citizen or resident or located in any locality, state, country or other jurisdiction, where such distribution, publication, reproduction, availability or use would be contrary to law or regulation or what would subject Equitymaster or its affiliates to any registration or licensing requirement within such jurisdiction. If this document is sent or has reached any individual in such country, especially, USA, Canada or the European Union countries, the same may be ignored.
This document does not constitute a personal recommendation or take into account the particular investment objectives, financial situations, or needs of individual subscribers. Our research recommendations are general in nature and available electronically to all kind of subscribers irrespective of subscribers' investment objectives and financial situation/risk profile. Before acting on any recommendation in this document, subscribers should consider whether it is suitable for their particular circumstances and, if necessary, seek professional advice. The price and value of the securities referred to in this material and the income from them may go down as well as up, and subscribers may realize losses on any investments. Past performance is not a guide for future performance, future returns are not guaranteed and a loss of original capital may occur. Information herein is believed to be reliable but Equitymaster and its affiliates do not warrant its completeness or accuracy. The views/opinions expressed are our current opinions as of the date appearing in the material and may be subject to change from time to time without notice. This document should not be construed as an offer to sell or solicitation of an offer to buy any security or asset in any jurisdiction. Equitymaster and its affiliates, its directors, analyst and employees will not be responsible for any loss or liability incurred to any person as a consequence of his or any other person on his behalf taking any decisions based on this document.
As a condition to accessing Equitymaster content and website, you agree to our
Terms and Conditions of Use
, available here. The performance data quoted represents past performance and does not guarantee future results.
SEBI (Research Analysts) Regulations 2014, Registration No. INH000000537.

Equitymaster Agora Research Private Limited (Research Analyst) 103, Regent Chambers, Above Status Restaurant, Nariman Point, Mumbai - 400 021. India.
Telephone: +91-22-61434055. Fax: +91-22-22028550. Email: info@equitymaster.com. Website: www.equitymaster.com. CIN:U74999MH2007PTC175407