On This Day - 20 JULY 2018
The 'Profitable' Ola and Uber You Can lnvest In Right Now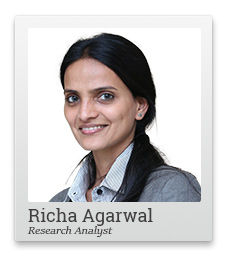 Uber and Ola own zero vehicles, yet they have changed the way we commute.
Airbnb has not one hotel property. Still, it has redefined the hotel industry.
These businesses are immensely successful. The key is their asset-light business model. It enables them to quickly achieve scale and efficiency, and then to exploit new revenue opportunities.
But, they are not profitable businesses.
Airbnb struggled for 10 years before having its first taste of profits. Ola and Uber are still burning money and seem to have an infinite time horizon when it comes to making profits.
It would have been exciting to invest in such industry 'disruptors', but not for me. I believe in profits.
You see, I would not want to invest in just any company that disrupts the conventional business models. I would leave that to start up owners or venture capitalists.
I wanted to see if there were any asset-light business models that have been implemented successfully in a capital-intensive industry.
Most importantly, I wondered, can such businesses be profitable?
--- Advertisement ---


Unbelievable Winning Streak…Since 2015!

Most investors would be happy if they are able to close 2…3…or maybe even 5 consecutive positions at profit… And am sure they'd be ecstatic if they get 10 in a row.

But, what if we told you that out of the last 20 positions that we closed...none were closed at a loss.

And the best part…this is the Unbelievable Winning Streak for our Premium Small Cap Recommendation service! we're sure you're interested to know more…

So, don't delay…

Click here to know how you could benefit from our small cap research.
------------------------------
Which is why I was so excited when I discovered a disruptor that is making fantastic profits as well.
I found this player disrupting the hotel industry. A company that has changed the industry dynamics.
The hotel business is capital intensive with large upfront investments needed in land, construction, furniture, and equipment...usually funded with debt. Excess debt results in poor profitability and subdued return ratios. The largest hotel companies in India - Indian Hotels and Hotel Leela Venture - are reeling in losses.
But this company is crushing the industry!
It has registered impressive sales and profit growth in the last five years. And that too without taking too much debt or burning cash. It has also created a strong brand presence.
With the tailwinds from growing domestic tourism, rising discretionary consumption, urbanisation, and the burgeoning middle-class population, this is an ideal opportunity for investment.
But its fundamentals are not the only reason why I'm talking to you about this company today.
As I have been observing, and you can't have missed, the Smallcap Index is down 20% from its peak.
The median correction in these stocks from their 52-week high is a massive 38%. And while correction in some stocks is long due, some good businesses too have been unfairly penalized.
Th hospitality company I discovered belongs to the latter group. Despite a double-digit profit growth this year, the stock is down by over 40% since the beginning of the year. And that has made it a low hanging fruit at current valuations.
Make sure you do not miss the opportunity - now is the time to grab it.
Now, I can't name the company here because it is one of my recommendations.
But if I were you, I would take note of this exciting new idea of 'asset-light' disruptors, and keep an eye out for them.
In my search for exciting small caps, I often discover business ideas that are beyond the ordinary. And as always, I make sure you hear about them too.
Regards,

Richa Agarwal (Research Analyst)
Editor, Hidden Treasure
PS: Richa has recommended three brilliant companies like this one that are set to become future blue chips. Get here report by subscribing here.
Copyright © Equitymaster Agora Research Private Limited. All rights reserved.
Any act of copying, reproducing or distributing this newsletter whether wholly or in part, for any purpose without the permission of Equitymaster is strictly prohibited and shall be deemed to be copyright infringement
Disclosure & Disclaimer:
Equitymaster Agora Research Private Limited (Research Analyst) bearing Registration No. INH000000537 (hereinafter referred as 'Equitymaster') is an independent equity research Company. The Author does not hold any shares in the company/ies discussed in this document. Equitymaster may hold shares in the company/ies discussed in this document under any of its other services.
This document is confidential and is supplied to you for information purposes only. It should not (directly or indirectly) be reproduced, further distributed to any person or published, in whole or in part, for any purpose whatsoever, without the consent of Equitymaster.
This document is not directed to, or intended for display, downloading, printing, reproducing or for distribution to or use by, any person or entity, who is a citizen or resident or located in any locality, state, country or other jurisdiction, where such distribution, publication, reproduction, availability or use would be contrary to law or regulation or what would subject Equitymaster or its affiliates to any registration or licensing requirement within such jurisdiction. If this document is sent or has reached any individual in such country, especially, USA, Canada or the European Union countries, the same may be ignored.
This document does not constitute a personal recommendation or take into account the particular investment objectives, financial situations, or needs of individual subscribers. Our research recommendations are general in nature and available electronically to all kind of subscribers irrespective of subscribers' investment objectives and financial situation/risk profile. Before acting on any recommendation in this document, subscribers should consider whether it is suitable for their particular circumstances and, if necessary, seek professional advice. The price and value of the securities referred to in this material and the income from them may go down as well as up, and subscribers may realize losses on any investments. Past performance is not a guide for future performance, future returns are not guaranteed and a loss of original capital may occur. Information herein is believed to be reliable but Equitymaster and its affiliates do not warrant its completeness or accuracy. The views/opinions expressed are our current opinions as of the date appearing in the material and may be subject to change from time to time without notice. This document should not be construed as an offer to sell or solicitation of an offer to buy any security or asset in any jurisdiction. Equitymaster and its affiliates, its directors, analyst and employees will not be responsible for any loss or liability incurred to any person as a consequence of his or any other person on his behalf taking any decisions based on this document.
As a condition to accessing Equitymaster content and website, you agree to our
Terms and Conditions of Use
, available here. The performance data quoted represents past performance and does not guarantee future results.
SEBI (Research Analysts) Regulations 2014, Registration No. INH000000537.

Equitymaster Agora Research Private Limited (Research Analyst) 103, Regent Chambers, Above Status Restaurant, Nariman Point, Mumbai - 400 021. India.
Telephone: +91-22-61434055. Fax: +91-22-22028550. Email: info@equitymaster.com. Website: www.equitymaster.com. CIN:U74999MH2007PTC175407