On This Day - 13 AUGUST 2018
When a Nobel Prize Winner and a Super Investor Both Endorse the Same Market Beating Strategy

One of my favourite puzzles is the 'Linda Problem'.
It goes something like this.
Linda is 31 years old, single, outspoken, and very bright. She majored in philosophy. As a student, she was deeply concerned with issues of discrimination and social justice, and also participated in anti-nuclear demonstrations.

Which of the following two alternatives is more probable?
Linda is a bank teller.
Linda is a bank teller and active in the feminist movement.
If your answer is option number two, welcome to the club of the 90% people who got it wrong.
Yes, you read that right.
Option number two is the wrong answer. Chew on it some more and you'll realise there are likely to be more bank tellers in the world than bank tellers who are also active in the feminist movement.
We may have sent people into space and invented weapons that could flatten our planet in a matter of days, but our brains are still a product of evolution. Which means if you are not careful enough, they can mess up something as simple as the 'Linda Problem' and do it over and over again.
In fact, these biases interfere so much with our decision making, there is seldom a day we don't fall prey to them.
--- Advertisement ---


Accelerated Profits Summit: Reserve Your Spot Today...

All the preparations are done...

Hundreds of our valued readers have already claimed their spots…

Hurry! In just a few days Anisa Virji will start sharing CONFIDENTIAL details on Rahul Shah's Accelerated Profits Strategy with everyone who has claimed their spot for the Summit.

So, if you still haven't Reserved your FREE spot… Don't delay!

Click Here To Reserve Your Free Spot
(As soon as you reserve your spot, you will also get an Absolutely Free Copy of The Special Guide: The Secret Sauce Behind Accelerated Profits (Worth Rs 950)…Hurry!)
------------------------------
No one is better than Nobel prize winner, Daniel Kahneman, in exposing our vulnerability to them.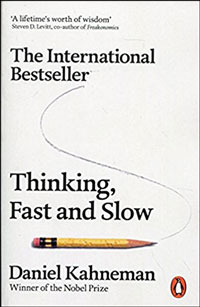 His book, Thinking, Fast and Slow, is a great read and I can't recommend it highly enough.
Read it cover to cover and you will come out the other side much wiser.
There's something Kahneman said recently that struck a deep chord with me.
There are very few examples of people outperforming algorithms in making predictive judgments. So when there's the possibility of using an algorithm, people should use it. We have the idea that it is very complicated to design an algorithm. An algorithm is a rule. You can just construct rules.
Does Kahneman's insight apply to the field of investing?
Do algorithms or rules-based investing do better than experts in the field of investing?
Well, turns out most experts not only fail to beat the markets consistently over a long period of time, they fail to do so miserably.
As a matter of fact, Benjamin Graham, the father of value investing, was the first to realise this.
Yes, that's right. The very same person who wrote a couple of investing best sellers about how one can build an investing expertise and can outclass the stock market indices was now skeptical of his own theories.
It later dawned on Graham becoming an expert in stock picking may not be everyone's cup of tea.
Instead, following a few simple rules could work better over the long term.
Here's Graham in his own words.
Yes, well now I have lost most of the interest I had in the details of security analysis which I devoted myself to so strenuously for many years.

I feel that they are relatively unimportant, which, in a sense, has put me opposed to developments in the whole profession. I think we can do it successfully with a few techniques and simple principles. The main point is to have the right general principles and the character to stick to them.
Nobel-winning Kahneman and Ben Graham are on the same page after all.
I decided to go down the path so highly recommended by both these luminaries back in 2014. I often wonder why I didn't listen to them earlier.
Here's the breakup of returns my rule based service Microcap Millionaires has generated vis-à-vis the benchmark index over the years.
When Simple Rules Work their Charm...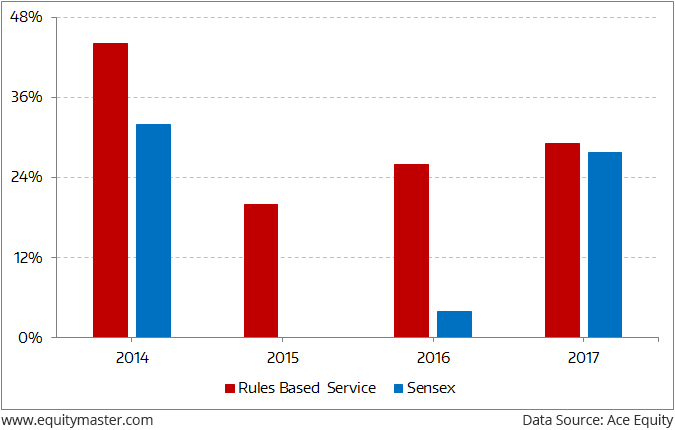 A 177% point to point return since inception.
That's more than double the Sensex's 84% return in the same period.
All by following three simple rules.
A definite buying rule;
A definite selling rule; and
A rule that automatically turns you greedy when others are fearful and fearful when others are greedy.
You too should give it a try.
It will add a new dimension to the entire process of investing and set you up for fabulous long-term returns.
Good Investing,



Rahul Shah (Research Analyst)
Editor, Profit Hunter
PS: The last time we published Equitymaster's Secrets: The Biggest Lessons from Our Entire 20+ Years Investing Journey, over 20,000 readers claimed their copies. This time, we are printing only 1,000 copies of the updated version which includes a special message from co-head of research, Tanushree Banerjee. Claim your copy before we run out of stock!
Copyright © Equitymaster Agora Research Private Limited. All rights reserved.
Any act of copying, reproducing or distributing this newsletter whether wholly or in part, for any purpose without the permission of Equitymaster is strictly prohibited and shall be deemed to be copyright infringement
Disclosure & Disclaimer:
Equitymaster Agora Research Private Limited (Research Analyst) bearing Registration No. INH000000537 (hereinafter referred as 'Equitymaster') is an independent equity research Company. The Author does not hold any shares in the company/ies discussed in this document. Equitymaster may hold shares in the company/ies discussed in this document under any of its other services.
This document is confidential and is supplied to you for information purposes only. It should not (directly or indirectly) be reproduced, further distributed to any person or published, in whole or in part, for any purpose whatsoever, without the consent of Equitymaster.
This document is not directed to, or intended for display, downloading, printing, reproducing or for distribution to or use by, any person or entity, who is a citizen or resident or located in any locality, state, country or other jurisdiction, where such distribution, publication, reproduction, availability or use would be contrary to law or regulation or what would subject Equitymaster or its affiliates to any registration or licensing requirement within such jurisdiction. If this document is sent or has reached any individual in such country, especially, USA, Canada or the European Union countries, the same may be ignored.
This document does not constitute a personal recommendation or take into account the particular investment objectives, financial situations, or needs of individual subscribers. Our research recommendations are general in nature and available electronically to all kind of subscribers irrespective of subscribers' investment objectives and financial situation/risk profile. Before acting on any recommendation in this document, subscribers should consider whether it is suitable for their particular circumstances and, if necessary, seek professional advice. The price and value of the securities referred to in this material and the income from them may go down as well as up, and subscribers may realize losses on any investments. Past performance is not a guide for future performance, future returns are not guaranteed and a loss of original capital may occur. Information herein is believed to be reliable but Equitymaster and its affiliates do not warrant its completeness or accuracy. The views/opinions expressed are our current opinions as of the date appearing in the material and may be subject to change from time to time without notice. This document should not be construed as an offer to sell or solicitation of an offer to buy any security or asset in any jurisdiction. Equitymaster and its affiliates, its directors, analyst and employees will not be responsible for any loss or liability incurred to any person as a consequence of his or any other person on his behalf taking any decisions based on this document.
As a condition to accessing Equitymaster content and website, you agree to our
Terms and Conditions of Use
, available here. The performance data quoted represents past performance and does not guarantee future results.
SEBI (Research Analysts) Regulations 2014, Registration No. INH000000537.

Equitymaster Agora Research Private Limited (Research Analyst) 103, Regent Chambers, Above Status Restaurant, Nariman Point, Mumbai - 400 021. India.
Telephone: +91-22-61434055. Fax: +91-22-22028550. Email: info@equitymaster.com. Website: www.equitymaster.com. CIN:U74999MH2007PTC175407